2013 Voice of Modern Cancer Hospital Guangzhou –Hospital Staff Singing Contest Came to a Successful End
  On the evening of July 25th, the final of 2013 Voice of Modern Cancer Hospital Guangzhou–Hospital Staff Singing Contest was unveiled in the hospital's conference room on the 9th floor. The contested was divided into patient group and staff group and two fierce preliminary rounds preceded the final. The final was interspersed with highlights and surprises. Onstage, the songs varied from being beautiful, affectionate to passionate, accompanied by the singer's dynamic, enthusiastic or elegant dances. Offstage, the audience's clapping, cheers, shouts came incessantly and overlapped one another, suffusing the room with vigor and vitality. .
  At that night, the final was started by an English song—you raise me up by an Indonesia patient Lin Wenbin while playing a guitar. Lin Wenbin, an osteosarcoma patient from the international ward, presented the audience a song full of hope, affection and perseverance, signaling his unyielding will against his miserable fate. Meanwhile, Mr. Liu expressed his heartfelt gratitude to his family and friends, who unconditionally supported him with their warm hands during his sickness. Also, his thanks went to Modern Cancer Hospital Guangzhou, for the hospital offer him hope and courage to fight against the deadly disease when he was mired in a hopeless situation. You Raise Me Up is a song that needs to be listened with empathy. Lin Wenbin sang his own thankfulness for being alive, which unconsciously moved everyone in the audience
  After Lin Wenbin's affectionate singing, the contest reached a fevered pitch, in which the atmosphere at the final was brought to one climax after another by the singers' beautiful songs and wonderful dances. The Love in the World sang by Cao Chun-head of the international patient center was both soulful and beautiful. While, Perturbed by Song Yang from the operation center is not only cheerful but also passionate. Most surprisingly, Wang Huaizhong- the hospital president attended the scene as the special guest and presented a melodious prairie song Droma to all the people there. President Wang's song brought that evening's singing competitions to a successful end. And based on the judges' careful appraise and comparison, the top 10 singers of Modern Cancer Hospital Guangzhou were elected. The list is as follows(in alphabetical order): Guo Meimei, Hou Zhiying, Fu Fang, Wu Qiongmin, Zhong Wen, Wang Zhiqiang, Li Peishan, Wang Shu - Mo Weiquan, Li Na, Song Yang, Qiu Ping.
  The singing contest not only enriches the lives of inpatients, but also helps promote a harmonious doctor-patient relationship in the hospital. And it's worth mentioning that Modern Cancer Hospital Guangzhou also provides many other free and value-added services to inpatients in a bid to relieve them of boredom during the treatments. Those services include celebrating the patient's birthday, taking a one-day sightseeing tour around Guangzhou twice a month, accompanying patients to go shopping with special person filming simultaneously which will be presented to the patients as memorials when they were discharged. Besides, cultural, physical fitness and recreational activities like singing and table tennis competitions, basketball games and weekly movie-watching are also be held in the hospital. Besides, the television of each ward is ensured to have at least three Indonesian channels, updating patients with their own national news. As for patients of various religions, the hospital offers a place of prayer for them and even contacts near-by temples to facilitate their visits. For one thing, it is these considerate services that establish a good image for Modern Cancer Hospital Guangzhou. For another thing, the services of high quality give patients a warm feeling of being at home, which can play supplementary roles in patients' recovery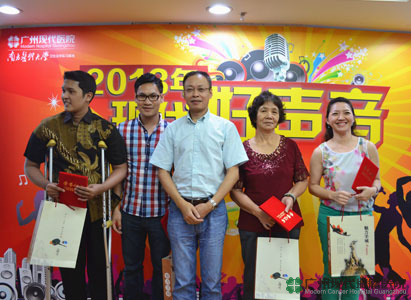 President Wang taking pictures together with patients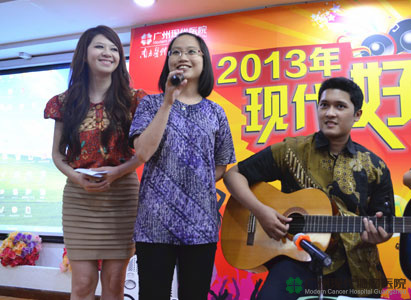 Patient Lin Wenbin is singing affectionately
If you have any questions, please contact us via online consultation, email or phone call. If you find our website useful, please follow our FaceBook and YouTube, health information will be updated regularly.
Online Inquiry
CLICK HERE!
Let's Have A Healthy Life!
Video
To show you
what is cancer by
videos
Chatting on Facebook

Become a fan of us!
+Follow
We are waiting for you.