The First 2013 Modern International Medical Exchange Day Successfully Held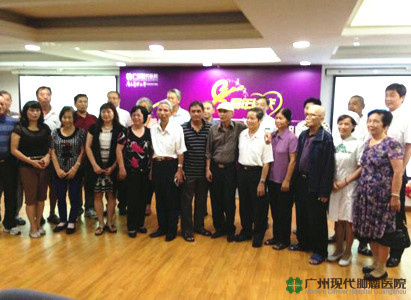 The First 2013 Modern International Medical Exchange Day provided a stage for exchanging
  Foreign patients receiving treatment in Guangzhou favor the Chinese way of treating both body and mind
  As Guangzhou's economy develops, its cultural and regional inclusiveness increases, more and more foreigners choose to work, take up long-term or even permanent residence here. In recent years, there have been many foreigners who know about medical technologies in China flying here to see a doctor. On "the First 2013 Modern International Medical Exchange Day" held on August 8th, patients from Indonesia, Vietnam, Philippines, Bangladesh and Thailand shared their experiences of seeking treatments in Guangzhou. They told us how they tackled problems like physical discomfort, unfamiliar environment, language barrier, cultural contrary and loneliness etc, and also how they overcame the illness with the encouragement and help from medical staff in Guangzhou.
  It is learned that many hospitals including Modern Cancer Hospital Guangzhou have organized international medical service teams for overseas patients and opened up "green channels" for their treatment. Some experts say that advanced medical technologies and equipments can help patients control and eradicate diseases. If there can be more opportunities like exchange day for doctors and patients, patients and patients, caring groups and patients to share and exchange, it will be very helpful for patients to get rid of fear, maintain a good state and improve quality of life and extend patients life. It will also be very good for treatment and rehabilitation.
  Survey: foreigners receiving treatments in Guangzhou increase by 20% yearly
  "As far as our hospital is concerned, everyday we have overseas patients coming here to consult or receive treatments. Most of them know us from their friends, some from our overseas offices and some find us after reading reports on Chinese medical technologies," said President Wang Huaizhong of Modern Cancer Hospital Guangzhou. According to him, every year the hospital receives about 10,000 outpatients and 7000 inpatients. And 90% inpatients are from Southeast Asia countries. "Take the Oncology Department as an example, most of its patients are from regions outside of China, including Vietnam, Indonesia, Philippines, Cambodia, Bangladesh, Thailand, Malaysia, European and American counties."
  According to Wang Huaizhong, it is obvious that since hosting the Asian games, more and more foreigners come to Guangzhou to receive treatments. "The number of patients the hospital receives has a 20% yearly increase." In order to meet market needs and show the hospital's humanistic concern, the hospital set up the International Affairs Department and Translation Department in 2006. The international service team provides convenience for overseas patients to seek treatments. Moreover, there are more than 10 special value-added services like regular lectures, central business centers, and outdoor tours and relax.
  On August 8th, Modern Cancer Hospital Guangzhou specially carried out the First Modern International Medical Care Exchange Day 2013 in the name of the 8th anniversary. They invited "Modern Cancer Fighters" who have been treated in this hospital, "Modern Health Ambassadors" and several volunteer groups in Guangzhou to share and exchange. "We hope that this opportunity can boost patients' confidence to treat the disease and help them experience the good cultural atmosphere in Guangzhou."
  Cases: enjoying Chinese medical service of treating both the body and the mind in Guangzhou
  On the exchange day, more than 100 patients from Vietnam, Indonesia, Philippines, Cambodia, Bangladesh, Thailand, Malaysia etc communicated with Modern Health Ambassadors and shared their experience of seeking treatment in Guangzhou. Baiyun Mountain Singing Group, a voluntary art group in Guangzhou also showed overseas patients their regards and care for them and gave dance and musical performances that are directed by themselves.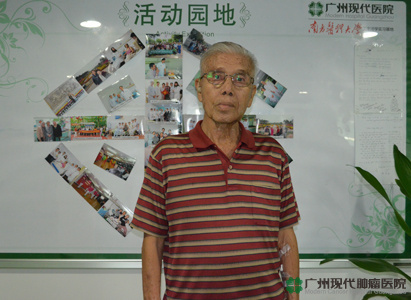 Luo Siming, an 83-year-old patient from Thailand
  "China has a higher level of medical technologies that Vietnam and Chinese patients are very kind to patients, so many Vietnamese tend to come to China for treatment. Besides, China owns the mysterious TCM such as Chinese medicine recuperation, acupuncture and massage. We all want to have a try for that." Luo Siming, a patient from Thailand said. According to the reporter, most overseas patients come to Modern Cancer Hospital after knowing about the hospital from either their friends or the hospital's foreign offices, and after reading reports on medical technology in China.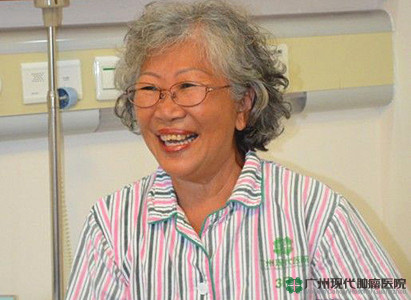 Ms. Wang Youhua, an overseas Chinese in Indonesia
  Ms. Wang Youhua, an overseas Chinese from Indonesia was diagnosed with right breast invasive ductal carcinoma two years ago in Modern Cancer Hospital Guangzhou and received treatment here. As her condition improved, she was discharged. Now her condition is good. During the exchange day, she was vigorous and smiled happily. "In June, my husband and I came back from our trip to Xinjiang and Inner Mongolia. Now I am in a very good condition. In Indonesia, people say I don't look like a cancer patient at all."
  Vice-President of Modern Cancer Hospital Guangzhou Chen Bing who is in charge of medical affairs said, "as medicine develops, many disease can be treated with multiple means and some diseases regarded as serious in the past can be controlled or even cured. Those real patients around us who recover well and begin a fresh life after timely treatment sharing experience can help other patients cheer up and get rid of fear gradually, which is very beneficial for receiving treatment and rehabilitation."
  Appeal: provide easy medical environment for overseas patients
  It is learned that foreigners encounter many embarrassing situations when they want to see a doctor in Guangzhou. As they are not familiar with public hospitals in China, they will first call an insurance company to find a hospital instead of calling 120 if emergency like an injury occurs. Insurance companies usually provide them with hospitals only for foreigners which are very expensive if a patient doesn't have insurance. Besides, there won't necessarily be an interpreter for some minority languages. There are communication problems too if foreigners go to register at an ordinary hospital because of minor ailments.
  On the exchange day, many foreign patients also told us about their own or friends' tortuous experiences of seeing a doctor in China and hoped that people pay attention to this situation and provide convenience for their medical treatment. In this regard, Chen Bing thinks that they have to meet higher requirements on doctors' and nurses' skills, equipments and services when treating foreign patients. "Medicine has no boundaries. We offer better medical technologies and services; meanwhile we should provide overseas patients with easy medical environment which is an important task in improving the hospital.
If you have any questions, please contact us via online consultation, email or phone call. If you find our website useful, please follow our FaceBook and YouTube, health information will be updated regularly.
Online Inquiry
CLICK HERE!
Let's Have A Healthy Life!
Video
To show you
what is cancer by
videos
Chatting on Facebook

Become a fan of us!
+Follow
We are waiting for you.