Seeking treatment abroad, why go far away from home?
On August 8, 2013, domestic and foreign media visited Modern Cancer Hospital Guangzhou. Media from Thailand were its largest economic newspaper Bangkok Economic News, its second largest newspaper Daily New and TNN news station. Chinese media coming to the hospital include Guangdong TV, Guangzhou TV, Southern Metropolis Daily, Yangcheng Evening News, New Express, Information Times, sina.com and southcn.com. They had in-depth interviews with the cancer warriors and the chief oncologist Director Peng of Modern Cancer Hospital.
  Refused to have a surgery, favored minimally invasive techniques
  Luo Siming is an 83-year-old man from Thailand who was diagnosed with oral cancer in Thailand cancer hospital in May this year after feeling tooth pain. Doctors there advised Mr. Luo to have surgical removal, but Mr. Luo considered himself too old to suffer huge trauma the surgery would bring. At last he decided to refuse this proposal.
  Later he learned about minimally invasive techniques in Modern Cancer Hospital Guangzhou. Instead of surgeries, patients only have to suffer small cuts with the size of a keyhole in treatment for cancer. So he decided to come to this hospital. The accepted his doctor's advice and had interventional therapy and seed implant.
  Before the treatment, Mr. Luo couldn't eat because his mouth was too swollen and painful. Now as he has obtained good therapeutic effects, he can open his mouth and speak loudly. His mood is also fine. All this makes him very happy.
  Multi-disciplinary combination treatment can achieve good effects
  Apart from advanced minimally invasive techniques, the advanced mode of multi-disciplinary combination treatment also gave patients better effects. According to Director Peng, because cancer is a complicated disease, patients cannot get the best treatment through any single technique. Modern Cancer Hospital owns specialists that master different techniques such as Ar-He cryosurgery, particle knife, interventional therapy, natural therapy etc. Those specialists would discuss a treatment plan together according to patients' examination results. Then they will integrate minimally invasive therapies based on their different features and try to achieve the best effects.
  Same medical techniques, more reasonable prices in China
  A large amount of patients from different nations and regions such as Philippines, Indonesia, Thailand, and Vietnam come to Modern Cancer Hospital Guangzhou every year.
  It is learned that the medical technology level in countries and regions where those patients are from are lower than that of China's, especially when it comes to cancer which is a complicated disease, patients have little confidence in local medical care. But Modern Cancer Hospital Guangzhou has the most advanced anticancer technologies in the world. Technologies widely used in European and the US such as seed implant, natural therapy and transarterial chemoembolization are applied clinically in a mature and effective way in Modern Cancer Hospital Guangzhou. What's more, this hospital owns the distinct TCM therapy. Through a combination of TCM and western medicine, optimal effects can be achieved in cancer treatment. Moreover, the cost of treatment in China is more acceptable for average people comparing to European countries and the US. Hence most cancer patients prefer Modern Cancer Hospital Guangzhou for treatment.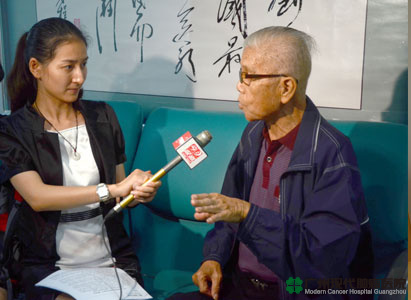 Interview with Thailand patient Luo Siming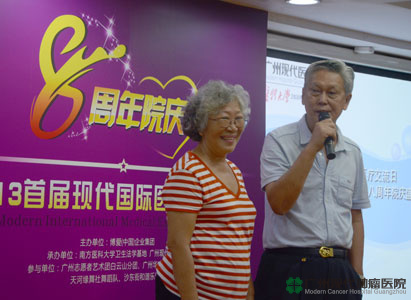 Interview with Cancer Warrior Wang Youhua and her husband
If you have any questions, please contact us via online consultation, email or phone call. If you find our website useful, please follow our FaceBook and YouTube, health information will be updated regularly.
Online Inquiry
CLICK HERE!
Let's Have A Healthy Life!
Video
To show you
what is cancer by
videos
Chatting on Facebook

Become a fan of us!
+Follow
We are waiting for you.