Give more Human Warmth to the Tumor Patients President Wang Huaizhong Visited 92-year-old Malaysian Patient Sean Tan
  On November 12th, 2013, President Wang Huaizhong, Vice President Chen Bing and Director of Nursing Department He Liangqiong of Modern Cancer Hospital Guangzhou visited a 92-year-old Malaysian patient Sean Tan with some gifts. Sean Tan was diagnosed with rectal cancer in Malaysia and the cancer cells have began to transfer to lung tissues. One of Tan's friends once suffered from tumor and got a good curative effect in Chinese hospital, so Tan decided to come to China for treatment. After making a detailed comparison and consultation on line, his family members finally chose Modern Cancer Hospital Guangzhou.
  Sean Tan was checked in Modern Cancer Hospital. The result is, except for lung and prostate tumors, all the other indexes are normal without any chronic diseases. Director of oncology department Dai Wenyan had a full-scale communication with his family members and introduced the curative effect and side effect of the treatment plans in detail. Finally they made a comprehensive treatment plan for Tan with therapies of minimally invasive and traditional Chinese medicine.
  Pan Xin, the resident physician of Sean Tan, said 80-year-old is usually regarded as the watershed of operative treatment. A lot of aged patients think that their body is so fragile as they are too old, so they delay it day by day. However, as the technology get more advanced and the medical conditions are improved, people's concept has changed. More and more aged patients are relieving their pain and back to health through operations to improve their survival quality.
  Doctor said, to decide whether aged people can be treated through minimally invasive interventional surgery, doctors will make a comprehensive assessment on their heart-lung function, kidney function, liver function and brain function. As long as their body is in good condition, they can have the minimally invasive interventional surgery although they are old.
  Sean Tan was born with a quiet personality, but also very optimistic and open-minded. Coming to China from Malaysia, he is always with a belief of " Cancer ≠ Death ". Now the special nurse and interpreter of Sean Tan are accompanied with him day and night. They help him overcome the fear and pessimistic feeling as a tumor patient and sentimentally get close to him with loving care from the deep heart.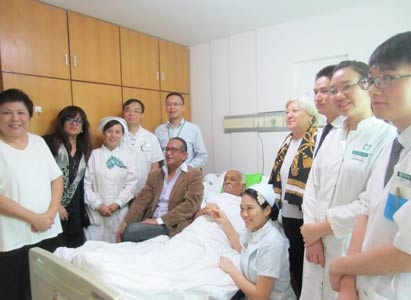 Leaders of Modern Cancer Hospital visited and comforted aged patient Sean Tan
If you have any questions, please contact us via online consultation, email or phone call. If you find our website useful, please follow our FaceBook and YouTube, health information will be updated regularly.
Online Inquiry
CLICK HERE!
Let's Have A Healthy Life!
Video
To show you
what is cancer by
videos
Chatting on Facebook

Become a fan of us!
+Follow
We are waiting for you.