"Chinese Dream• Health Dream" Ten-day Enjoyment for the 64th birthday of PRC Sugar painting performance --- one of the ten-day enjoyment activities held by Modern Cancer Hospital Guangzhou
  Every year, lunar September 9th is the Chung Yeung Festival of China, when the citizens are customed to climb hills to enjoy the autumn charms. On October 12, 2013, the day before the Chung Yeung Festival, numerous visitors gathered at the foot of the famous Baiyun Mountain of Guangzhou from all parts of the country, while in the hall of Modern Cancer Hospital Guangzhou a girl who is good at sugar painting was performing sugar painting skillfully. Now a phoenix with extended wings, then a flying dragon, and eagle, and bird, dragonfly, gold fish, peach, all were created vivid in a few minutes, astonishing all the spectators. This is one of the "Chinese Dream• Health Dream" ten-day enjoyment activities held by Modern Cancer Hospital Guangzhou.
  On the scene there was a small wheel, a pot of hot liquid sugar, which is mainly maltose, a flat marble, two spatula-like tools and numerous small bamboo sticks. These were the painter's whole tools. The performance drew all spectators' attention once started. Many oversea patients and their families felt amazing seeing the sugar paintings came out one by one. A patient from the Philippines could not hold his compliments to the painter and said, "I have never had known that sugar can be created into so many figures. It's very beautiful!" He told us his desire for a scorpion, "Because I am Scorpio", he said. Yang Shurong, another patient from Indonesia, was very happy seeing the sugar paintings. "I am an ethnic Chinese of Indonesia. I have seen some of such sugar paintings in Indonesia long time ago, but not as big as these, neither so many choices as here. These sugar paintings are really beautiful", she said. Yang Shurong was deeply influenced by traditional Chinese culture. Like most ethnic Chinese, she likes Chinese dragon very much. While spinning the wheel, she was lucky enough to be able to have a Chinese dragon sugar painting. That made her very excited.
  Sugar painting is to create figures with hot liquid sugar. It is both candy and painting, eatable and enjoyable. It needs only a small ladle and a spatula as tools. Ladle plays the role of pen, while liquid sugar is the ink. The key of figuring is the painter's handicraft skills, which brings out all kinds of vivid figures. The beautiful and vivid sugar paintings not only are delicious and interesting, but also carry the best wishes.
  The purpose of Modern Cancer Hospital Guangzhou's holding this "Chinese Dream• Health Dream" Ten-day Enjoyment is to spread traditional Chinese culture among its patients and around citizens to draw more people's attention and improve their awareness of health, meanwhile, to celebrate the 64th birthday of PRC.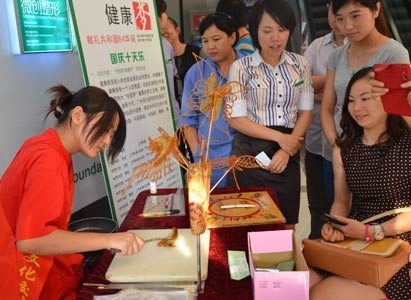 Sugar painting scene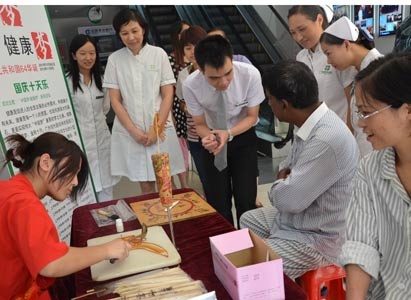 Patients were attracted by sugar painting
If you have any questions, please contact us via online consultation, email or phone call. If you find our website useful, please follow our FaceBook and YouTube, health information will be updated regularly.
Online Inquiry
CLICK HERE!
Let's Have A Healthy Life!
Video
To show you
what is cancer by
videos
Chatting on Facebook

Become a fan of us!
+Follow
We are waiting for you.