Little Jingwen, Let Us Make Your Dreams Come True——Start Ceremony of Love Relay Guangzhou
Recently, a little
leukemia girl from Hunan Province China receives much attention from the Chinese society. Her name is Wang Jingwen. Her father once had a leg fracture. Her mother is suffering from
breast cancer. Then what about her? She began to learn cooking at the age of 4 and shouldered housework at 7. Now at the age of 9, leukemia falls to her body. Again and again, disasters came to this family.
  Now,
Modern Cancer Hospital Guangzhou has joined in the LOVE RELAY. This family was brought to Modern and received help from this hospital and other social associations in Guangzhou.
Modern Cancer Hospital Guangzhou owns the international advanced minimally invasive technology to treat cancers, especially effective in treating breast cancer. This time, the hospital will do breast cancer surgery for Jingwen's mother for free by using the advanced natural therapy. In addition, the hospital will hold a solo concert for Little Jingwen on Bai Yun Mountain together with Guangzhou Volunteer Association and other charity organizations.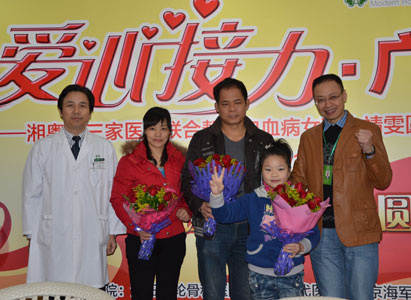 Jingwen's family with President Wang and Director Peng
At 9:30am of December 16th 2013, the start ceremony of Love Relay Guangzhou for Little Jingwen was held at the café bar of Modern Cancer Hospital Guangzhou.
Firstly, the host introduced the background of Jingwen's family. All the people on scene were impressed and touched by this strong and optimistic family.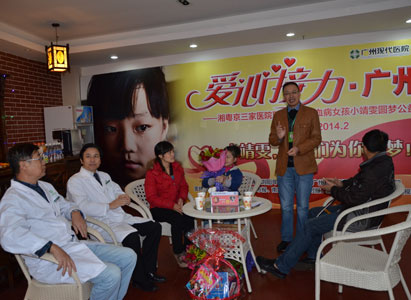 President Wang's speech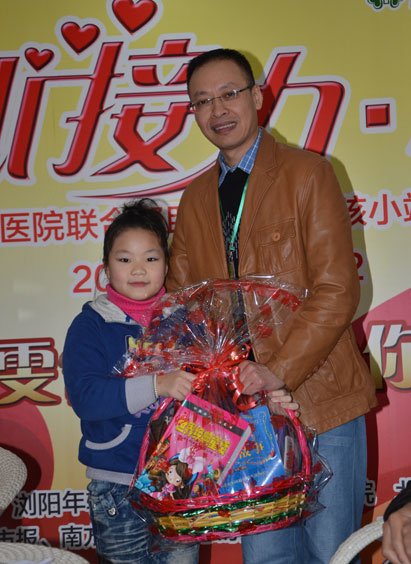 President Wang is giving gift to Little Jingwen
After that, President Wang Huaizhong made a speech. He firstly explained the Jingwen Dream Project of Modern to Jingwen's family and all the audiences on the scene, then sent a warm gift to this family.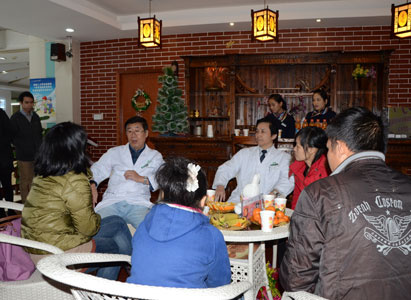 Director Wang is explaining the treatment plan
Later, Director of Oncology Department of MCHG Peng Xiaochi and Director of Breast Surgery Department of MCHG Wang Xin introduced in detail the current condition of Jingwen's mother Wang Yan and the treatment plan they had made for her.
  Little Jingwen's parents were so moved by what MCHG had arranged for them. When they were asked about feelings of staying here, the father said: " I feel like at home!" Jingwen's mother added excitedly that: " No, it's better than at home. What you have done for us is really a big surprise to us, which we have never thought of." They tell the journalist that this trip to Guangzhou really brought them so much surprises.
  When asked about their wishes, Jingwen's father told the audience: " First, I hope that my wife will recover soon, because she really has beared so much for our family. For my daughter's disease, we will also never give up! At the same time, I also hope I can afford to get a professional music teacher for her in the future, because singing is her dream." Jingwen's mother said: " We have so many supporters from the society that we will never give up and will be stronger." While Little Jingwen was still with positive smile on her face and said: " When I can earn money, I will also help those in need. Now I just hope to sing songs for those children who are ill like me to make them feel at ease and happy."
  On the interview, Little Jingwen also sang a Hunan folk song Liuyang River for everybody. Her beautiful voice brought joy and laughter to the audience and also showed hope to them.
  Although this family is so unfortunate, they are strong enough and face the misfortune bravely. Although all of them need to fight against diseases, they are optimistic enough and unite as one. Let's join hands with each other and make blessings for this family. May them realize their dreams soon and have a happy and bright future.
If you have any questions, please contact us via online consultation, email or phone call. If you find our website useful, please follow our FaceBook and YouTube, health information will be updated regularly.
Online Inquiry
CLICK HERE!
Let's Have A Healthy Life!
Video
To show you
what is cancer by
videos
Chatting on Facebook

Become a fan of us!
+Follow
We are waiting for you.