Radioactive Particle Implantation-- Good news to Cancer Patients
  On Nov 23rd and Nov 24th, 2013, joint organized by China Anti-Cancer Association of Minimally Invasive Treatment of Tumor Therapy Association of Particles and Guangdong Anti-Cancer Association Professional Committee of Tumor Imaging and Interventional Treatment, undertaken by Modern Cancer Hospital Guangzhou, the 13th Chinese Academic Conference of Radioactive Particle Implantation Brachytherapy on Oncology was successfully held in Panyu, Guangzhou. There were more than 1,000 doctors, specialists and scholars attended the meeting, including Professor Bai Haishan and Director Dai Wenyan from Modern Cancer Hospital Guangzhou, Professor Yancu hertzanu from Israel, Professor Wu Peihong from Zhongshan Cancer Hospital, Professor Wang Junjie from Chairman of Committee of China Anti-Cancer Association, Professor Zhang Fujun from Cancer Hospital of Sun Yat-sen University ,Professor Shiro Saito from Japan and other international authoritative oncologists.
  Zhang Fujun, the president of the conference said that in the past decade, Chinese scholars have brought in the particle implantation technology to China and continued to research and explore this technology based on the studying and practicing for prostate cancer treatment. We have achieved very good clinical effects on treatment for head and neck neoplasm, non-small cell lung cancer, liver cancer, Liver cancer metastasis, pancreatic cancer, bone tumor and other malignant tumors. With the standardization of radioactive particle implantation, the academic conference facilitates this technology to develop and generalize within civil medical organizations as well as to promote and enhance the academic exchange in the medical profession.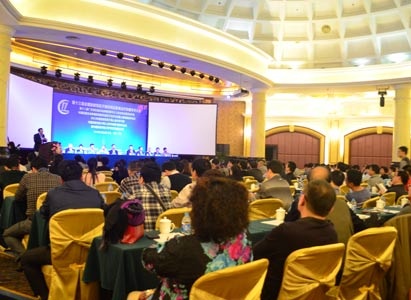 At the conference
  Minimally invasive treatment of Particle Implantation is widely used with definite treatment effect
  As the undertaker of this academic conference, Modern Cancer Hospital Guangzhou has very good development in the application of particle implantation technology in the recent years. According to oncologist Bai Haishan, Modern Cancer Hospital Guangzhou is one of the earliest hospitals that apply radioactive particle implantation to malignant tumors. It has applied this technology for more than 5,000 cases and accumulated rich experience in this field which has built up foundation for the further explore of cancer treatment.
  There was once a lung cancer patient who refused to take the surgery or chemotherapy has 3cm size of tumor without metastasis. He then received 125I particle implantation treatment in Modern Cancer Hospital Guangzhou. These radioactive seeds can give off continuous, short-range γray to kill tumor cells and it can achieve good internal radiation effects on tumor. In the regular follow-up, we found that this lung cancer patient did not experience recurrence. Luo Siming, an oral cancer patient who is from Bangkok, Thailand could only take liquid diet before the treatment as he could not open his mouth freely. After taking the interventional therapy and particle implantation therapy in Modern Cancer Hospital Guangzhou, he was able to take the normal diet and even talk freely.
  Per specialist Bai Haishan, particle implantation technology is widely used and can achieve good effect for lung cancer, liver cancer, breast cancer, head and neck neoplasm, breast cancer and other diseases. The biggest advantage of particle implantation is the small trauma and little pain, and it is easy to be operated. This treatment needs to be guided by CT or Ultrasound B, the doctor use special tools to implant iodine seeds into tumor tissue which will then give off continuous and short-range γ-ray to kill tumor cells and achieve treatment effect .It causes very small trauma to the normal tissue around.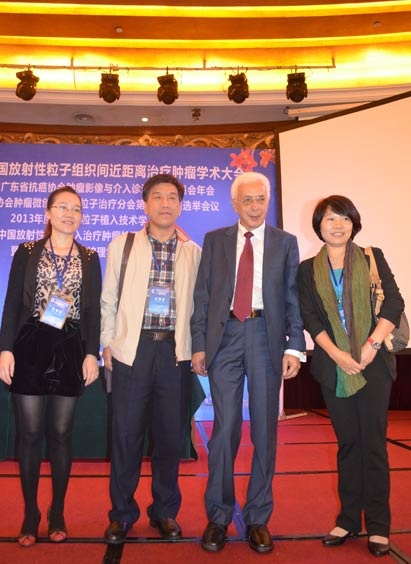 Oncology experts Dai Wenyan (left first), Bai Haishan (left second) and Professor Yancu Hertzanu (from Israel)
  New Hope for Cancer Patients- Combined Therapies
  In recent years, Modern Cancer Hospital Guangzhou has not only reached a great success in the particle implantation treatment but also gathered the top specialists on tumor imaging intervention in the Asian area and built up a tumor treatment team which is famous for minimally invasive technology in Southeastern Asia. Modern Hospital Guangzhou has developed a combined treatment system of surgery, radiotherapy, chemotherapy, minimally invasive treatment on tumor and Traditional Chinese Medicine, which can treat tumor effectively, in the meantime to protect patient's body function to the largest extent and improve the life quality and prolong the life span. This combined therapy brings greater hope to the cancer patients.
  As regard to the development of particle implantation technology of Modern Cancer Hospital Guangzhou, specialist Bai Haishan is very optimistic. He said that although the particle implantation technology is not yet widely promoted in oversea countries, as a minimally invasive technology, the future of particle implantation treatment is promising.
  It is reported that this conference was held by the Tumor Therapy Association of Particles which belongs to China Anti-Cancer Association Professional Committee of Tumor Minimally Invasive Treatment. This national academic conference on radioactive particles implantation is held once a year. With a decade's development in China and a large amount experts' continuous efforts, radioactive particle implantation has achieved a considerable progress in technology, academy field and clinical effects.
If you have any questions, please contact us via online consultation, email or phone call. If you find our website useful, please follow our FaceBook and YouTube, health information will be updated regularly.
Online Inquiry
CLICK HERE!
Let's Have A Healthy Life!
Video
To show you
what is cancer by
videos
Chatting on Facebook

Become a fan of us!
+Follow
We are waiting for you.