Happy as a doctor, gaining worthy life
  One winter afternoon at 3 o'clock, with soft and warm light, we went to visit Doctor Peng Xiaochi, the director of Oncology Department of Modern Cancer Hospital Guangzhou. He was reading patients' medical reports carefully. There were many medical books on his desk and office table, among which, there was "Clinical Oncology" by American Cancer Society.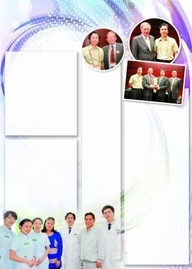 As a doctor with wisdom and mercy
  As a doctor for 20 years, Peng Xiaochi said being a good doctor should be mentally mature and morally trustworthy, not only needs to be careful and professional, but also needs to have a good heart. "It is not enough for a doctor just to be professional with medical knowledge and techniques; he also needs to have medical ethics, humanism mind and decision-making skills. We may encounter the situation that the patient is under dangerous condition, and if the doctor is overcautious, it may cause problems. In addition, a doctor cannot be overconfident under favorable circumstances as small carelessness or self-approbation may lead to the wrong judgment. Every doctor needs to face these challenges and they can grow up gradually by learning from problems." said Peng Xiaochi.
  Even if he has treated numberless patients, Doctor Peng still keeps caution in mind during his work. He deeply understands that the appropriate and optimized treatment program is so crucial to a patient. And once the treatment plan is made, the doctor should take the corresponding risk and responsibility. In order to reach good treatment effects, Doctor Peng always tries to perfect every medical treatment program. Especially when works till mid-night, Peng deeply feels that the real sympathy for patient is not comfort or tears but painstaking effort. Although there is no perfect treatment program as medicine is not almighty, an appropriate treatment plan can help cancer patients gain above 60% chance to survive. Patients can live with cancer even if it is at the advanced stage.
  As a special subject, oncology has developed for a century and in recent years has become more and more standardized. However, for an individual patient, "treating the same disease with different methods" can effectively resolve the problem of over-treatment. For example, there are two patients with the same disease of stomach cancer, the same one treatment program might not be sufficient to one patient while to another patient it might be over treating as patients' gender, age, immunity, other diseases they have and reaction to the medicine are different. These individual differences should be considered by oncology doctors and the personal treatment plan can be made accordingly.
  Pursuing for medical treatments with human-oriented ways
  Influenced by his environment when grew up, Doctor Peng chose Medicine as his major when he enters the college and in 2006 he started to work in Modern Cancer Hospital. Peng says he likes to be a doctor, and he enjoys his work to treat patients and help them become healthy again which helps him to realize the value of life.
  As the Chinese old saying goes "disease originates from the heart" and some research of modern western medicine also proves that 60% of human being's disease is caused by the mental reasons. Mental factor is also a very important cause of cancer which cannot be ignored. In Modern Cancer Hospital, the medical workers also work as psychologists especially in Oncology Department. It is a new demand for doctors of Modern Cancer Hospital to master the basic knowledge of psychological treatment to meet the society's request for modern medicine. The realization of new medical mode of "psychosomatic medicine" can achieve the purposes to treat patients' body as well as the psychological illness.
  According to the clinical research, cancer patients with depression get twice higher death rate than patients without. "Negative attitude weakens the patients' psychological immunity which in a way to increase the chance of cancer metastasis or recurrence, "said Peng Xiaochi, "Currently, psychological factor is always been neglected in the field of cancer treatment. But actually cancer patients need healthy and positive attitude towards disease".
  "In fact, it is not easy to ask cancer patients to be optimistic or keep positive. In that case, we always hold some activities like climbing, one day tour, shopping or watching movie to help them relax and take a happy and vibrant life so as to improve their immunity apart from medicine. The harmony of body and mind can help patients to recover and it is more human-oriented."
  Profile
  Peng Xiaochi, director of Oncology Department of Modern Cancer Hospital Guangzhou, has been engaged in oncology research and clinic for more than 20 years. As the member of China Medical Association and the pioneer of China oncology minimally invasive treatments and combined therapies, Peng is specialized in various cancer treatments like chemotherapy, endocrinotherapy, molecular targeted therapy and combined therapies. He has published more than 20 professional papers in different levels of academic journals and exchanged them in academic conference.
  Medical ethic: a person without constant virtue is not deserved to be a doctor.
  Awesome speeches
  American Cancer Society once predicted that the final way to kill cancer does not depend on the chemotherapy or radiotherapy but human body's immune harmony. In fact, every person carries cancer cell which may develop and bring harm to the body if our immune system is not strong enough. Therefore, we try to adopt the treatment that brings little harm to the immune system based on the patient's condition.
  Since the condition of the malignant tumor is different among individuals, the thinking model of the doctor is the key to the treatment. He should perform the exquisite medical skill and think thoroughly about the whole condition. Combined therapies accordingly should be more suitable than a simple treatment. While treating patients, the doctor also needs to work as a healthcare expert to teach patients to take proper life style and avoid behaviors that may bring harm to their body and help them develop a healthy living habit.
  Life is so fragile while crisis and chance is just one line's distance away. Doctors who step on the line will be regretful for the whole life if they hesitate or do not observe carefully enough to miss the best treatment opportunity for patients. Therefore, to be a good doctor to cure disease should be decisive, have courage to treat severe cases and patience with chronic diseases.
   --- Peng Xiaochi, Director of Oncology Department of Modern Cancer Hospital Guangzhou
  To cure cancer patients with excellent medical skills
  Modern Cancer Hospitals Guangzhou has admitted many cancer patients from Southeast Asia, among which, some cases are severe and complicated, which may affect the doctors to make the appropriate decisions. So Modern Cancer Hospital Guangzhou adopts the difficulty case consultation system which means if the case is too hard to be solved within the department, it should be studied by the whole doctors' team within the hospital. And if the hospital still cannot have a good treatment plan, then we will ask for support from other hospitals. Through this consultation system, cancer patients are able to get the most suitable treatment program.
  There were once two patients both with colon cancer and they found that the medicines they were taking were different from each other. Peng explained that due to the individuality of the malignant tumors, doctor needs to be cautious about their treatment program and should not be leaded by any individual case so as to take surgery and medicine objectively.
  "In order to make the most suitable and optimized treatment program, doctors need to know all the possible treatment methods and ways. For example, it depends on each patient's disease, physical condition and responding to medicine to choose the appropriate dosage so as to cure the disease without causing too much harm to the body."
  Doctor Peng Xiaochi went to Canada to study in 1999 and worked hard on medical skill in the past years and has helped many cancer patients to recover.
  In recent years, the cancer incidence has increased by 3%-5% yearly. "Some cancer has no symptoms at early stage, but with prompt detection and positive treatment, patients can receive good prognosis even without chemotherapy post operation." Peng Xiaochi said that nowadays more and more people came to hospital for physical checkup especially the foreigners, which shows that people's healthcare consciousness is improved a lot. The physical checkup for cancer prevention needs to be targeted; generally speaking, checkup of CT scan, ultrasound B and tumor marker should be fine.
  It takes courage to treat severe cases
  There was a model from Indonesia who was given up by her local hospital as her breast cancer was at late stage. She then came to Modern Cancer Hospital to have a try. As the patient's condition was clear and unstable, Peng was decisive to do the surgery and breast reconstruction for her after careful examination. It turned out that this patient is still healthy up to now. As long as she knew Doctor Peng was in Indonesia, wherever she was, she flied to meet him. It is understood that this case is not just one or two. Peng emphasized that to be a good doctor needs to be decisive and have courage with severe cases and patience with chronic diseases
  The vicious doctors got attacked cases happened frequently in 2013, which brings the medical dispute to be a sensitive and hot topic. According to the research data, the public hospitals with above second grade in Guangdong province have higher medical disputes year by year, which disturb the normal medical system and affect the doctors to make appropriate decision or take the risk for patients due to the fear of punishment and worry for life danger. However, to reverence life should be the most important virtue of a doctor. It will be regret to both doctors and patients if a doctor chooses to hold back because he fears to risk for patients. In that case, patients do not receive the best relevant medical resources while doctors do not acquire sufficient treatment experience. "For me, to be a doctor is not a deal but art, a responsibility but not a job. It is a shame to be a doctor if just for wealth purpose," said Peng Xiaochi.
  "It is absolutely not allowed to make subjective mistakes during treatment and to cause irreparable consequence as patients trust doctors and take doctors as their life saver. Under the clinical pathway management, every medical worker follows the treatment mode which helps to realize the standardization of the treatment process and strengthen the risk control of clinical care". When teaching his students, Peng always reminds them," to fully think about the potential problems otherwise there will be a mistake waiting for you."
  Quoted from Information Times https://informationtimes.dayoo.com/html/2013-12/18/content_2486450.htm
If you have any questions, please contact us via online consultation, email or phone call. If you find our website useful, please follow our FaceBook and YouTube, health information will be updated regularly.
Online Inquiry
CLICK HERE!
Let's Have A Healthy Life!
Video
To show you
what is cancer by
videos
Chatting on Facebook

Become a fan of us!
+Follow
We are waiting for you.