New Life-New Hope-New Beginning -Launching of New Life Group for Cancer Conquerors, Inc
  CANCER: a term that has not yet been clearly defined by science yet already created a big fuss of fear in the heart of the people. It has been viewed as a horrible death sentence that all of us prayed to God hoping that we won't be the chosen one to face such challenge.
  In modern days, number of cancer cases and mortality rate due to cancer has been constantly rising. People know too little about how they got such ailments, how to prevent it, or what to do when they are diagnosed with such. Mr. And Mrs. Velasco seeing such troublesome trend that constantly creates a great sense of stress, fear, and even depression, was looking for a way to help the public resolve such anxiety. Through their loving heart and dedication to help these people, they founded the NEW LIFE GROUP FOR CANCER CONQUERORS, INC.
  The NLGCC, Inc. is dedicated to improve the lives of cancer patients, support patients and their family or relatives handle the ordeal by giving options that would best suit their physical, emotional, spiritual needs and also financial capabilities. Through their constant effort, they foresee to construct warm home where all cancer patients and survivors can gather together, wherein they can be worry-free and hopeful about their future. This place shall help all cancer patients & survivors to have the best treatment & care, giving them a chance to share out their inner selves, and finally guide them to have a positive outlook in life.
  The NLGCC, Inc. has organized its launching event last Jan. 18, 2014 (Sat) at Aberdeen Court-Great Eastern Hotel, Quezon City. This event has earned its great success in which supporters from different areas has actively come and participated. President of MAX Foundation, representatives from Completely Wellness Center, doctors of different fields, medical practitioners, and even the Philippine Branch Office of Modern Cancer Hospital Guangzhou, China has sent its officers to join the launching event.
  The launching event started with a very touching story and encouraging welcome remarks from its beloved founder and vice president, Dr. Fernadel Velasco followed by a sincere prayer from the spiritual adviser Mr. Teresito Siochi. The president of Max Foundation, Engr. Roderick N. Padua also shared his story of success in organizing the Max Foundation, an institution aimed to help and assist Chronic Myeloid Leukemia patients. And this comes from the inspiration from his youngest son who is also a CML patient that Max Foundation has extended help onto. Dr. Jim Fernandez, assistant to the Dean for Student Affairs CEU School of Dentistry, shared his expertise in the field of Oral Cancer, advising the audience to be careful of even small irritation or discomfort in the oral cavity for this may be the start of signs of cancer. He also discussed about causes of oral cancer such as smoking, excessive alcohol drinking, and even too much exposure of the lips to sunlight. Mr. Jaime Fabregas, a multi-awarded actor and musical scorer in the Philippines with his Spanish descent, came to support the event as well and discussed about the importance of enzymes in our food. He left us a food for thought that we human eat because food is vital to our existence, and not merely because we are hungry or because the food is delicious; thus one should eat what is most beneficially to our body: 80% raw food. And one of the participants, Ms. Zenaida Concepcion shared the story of her sister Nena Nenita Milo, a Stage IV lung cancer patient, and her treatment process, improvements, and experiences. This gave the audience a delightful rejoice that even Stage IV cancer patients still have hope of recovery.
  And to add more to its success, NLGCC was able to partner up with Modern Cancer Hospital Guangzhou, Philippine Branch as their medical consultant. The general manager Mr. Bennett Ho, who was also invited to be the consultant of NLGCC, warmly accepted it and exclaimed his willingness to join this organization, "I am very glad to have this opportunity to join New Life Group and be part of this meaningful event. We personally encounter many patients who are depressed, worried, helpless, and do not know whom to approach. I am very glad that Dra. Elvira is inspired to create this organization to help and care for cancer patients. As a representative of Modern Cancer Hospital Guangzhou's Philippine office, I shall give our full support in New Life's future events that shall provide assistance to cancer patients and even their families not only in medical aspect, but also in emotional, spiritual, and other aspects. We shall fully pursue our hospital's concept of Love beyond borders, medical care beyond boundaries!"
  The event ended with a very encouraging remark from our beloved founder and president, Dra. Elvira Velasco. With all these supportive people, New Life Group will truly be successful in their aim to reach out and help other cancer patients fight their nightmares! This shall be a sign of New Life, New Hope, New beginning!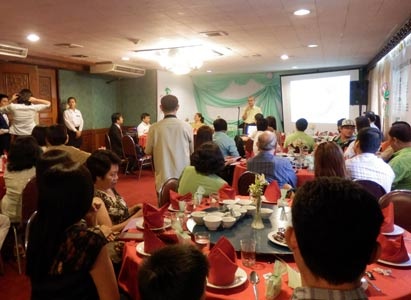 Founder & Vice President Dr. Fernadel Velasco sharing the couple's inspiration of founding the NLGCC,Inc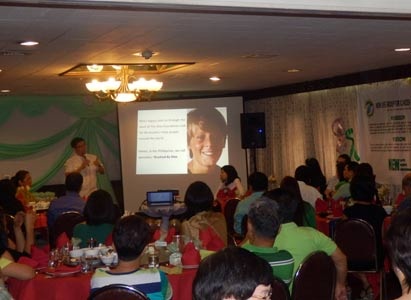 Engr. Roderick N. Padua sharing his tips in leading Max Foundation to its peak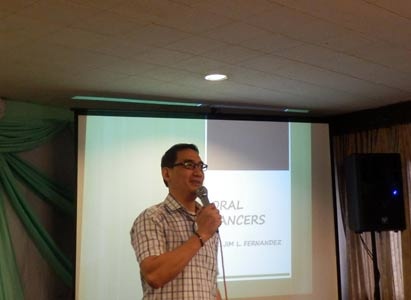 Dr. Jim Fernandez sharing his expertise about oral cancer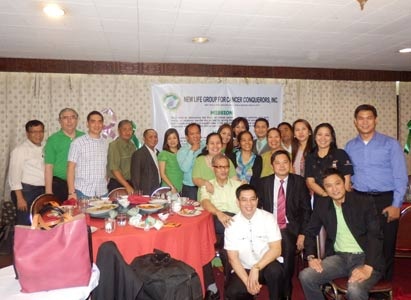 Big family picture of the Life Group for Cancer Conquerors, Inc
If you have any questions, please contact us via online consultation, email or phone call. If you find our website useful, please follow our FaceBook and YouTube, health information will be updated regularly.
Online Inquiry
CLICK HERE!
Let's Have A Healthy Life!
Video
To show you
what is cancer by
videos
Chatting on Facebook

Become a fan of us!
+Follow
We are waiting for you.