Grand Opening of Our Malaysia Branch
April 18th, 2014. A new Milestone for Modern Cancer Hospital Guangzhou!
Today, our Malaysia branch has an official opening ceremony in Kuala Lumpur. From now on, our overseas staffs in Kuala Lumpur Office will always be ready to serve all people in need in Malaysia.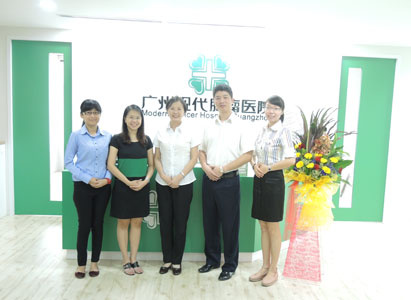 Staffs in Kuala Lumpur Office
You can get free on-site consultation with our international experts there, and they will help you or your loved ones make more informed treatment decisions. Just get in touch with our staffs and have a preliminary understanding of our integrative multidisciplinary
cancer treatments and our Patient-centered service system.
Whatever inquiries you need about
cancer treatment, please don't hesitate to contact us in Kuala Lumpur.
Add: Level 21-01, Menara Citibank, 165 Jalan Ampang, 50450 Kuala Lumpur, Malaysia.
Tel: +6 010 2066616
E-mail:
[email protected]
If you have any questions, please contact us via online consultation, email or phone call. If you find our website useful, please follow our FaceBook and YouTube, health information will be updated regularly.
Online Inquiry
CLICK HERE!
Let's Have A Healthy Life!
Video
To show you
what is cancer by
videos
Chatting on Facebook

Become a fan of us!
+Follow
We are waiting for you.