Small Class, Great Joy--Overseas Patients Actively Participate in Learning Chinese
Chinese language is the unique treasure of Chinese culture, with a long history of thousands of years. Do you want to know more about Chinese culture? Do you want to communicate with others in Chinese? Do you want to learn charming Mandarin freely?
On the afternoon of May 1st, the second phase of Chinese Learning Class for Overseas Patients was held in Modern Cancer Hospital Guangzhou, China. There were many Indonesian patients and their families actively participating in the class to learn charming Mandarin. Through the thoughtful activity offered by our hospital, they can relieve the sense of loneliness by leaning the native language--Mandarin. Besides, such activity can help them find different fun even during the boring treatment period. To some extent, such enjoyment is also conducive to their treatment.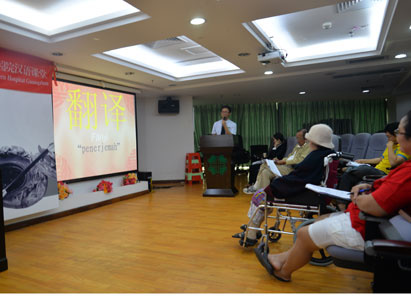 the teacher is giving the lecture
Under the lecturer's passionate teaching, the Indonesian patients and their families took an active part in learning Mandarin. All of them learned the pronunciation seriously and passionately, although their pronunciation was not so accurate. Although suffering from diseases or being old, they still learned fast under the lecturer's instruction full of passions. After learning the new words, one patient combined some new words by herself, speaking out "wo ai ni", which means "I love you". Then other patients and their families speak out "wo ye ai ni", which means "I love you, too", with one voice. Different sounds and different tones conveyed the strength of love in the class. During the whole class, smile was on everyone's face with continuous laughter. In such a small class but full of joy, everyone could feel the pure happiness. Besides, in this joyful class, their interest had been stimulated in learning with physical and mental pleasure, which did great help for their treatment.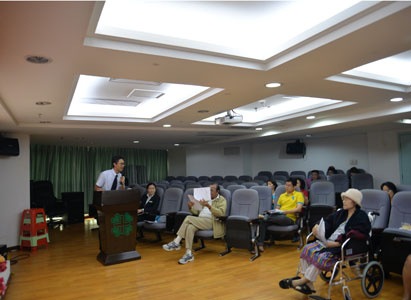 the patient is asking questions
Since the first phase of Chinese Learning Class for Overseas Patients was held successfully, this time is the second lecture held by Modern Cancer Hospital Guangzhou, China. Henceforth, we will also have other Chinese learning classes aimed at people who speak other languages. Through such activity organized by the Interpreter Department of MCHG, patients and their families can have diverse enjoyment during hospitalization. At the same time, their learning enthusiasm makes their life more colorful.
Currently, 80% inpatients of Modern Cancer Hospital Guangzhou are from Malaysia, Vietnam, Indonesia, Philippines, Thailand, Bangladesh, Cambodia and other Asian countries. They gather together to make our hospital an "international community". Modern Cancer Hospital Guangzhou strictly follow the requirement of JCI certification, offering patients the high-quality, personalized and humanized services. Taking patients to the center of our service system and make them feel more warm is our final mission.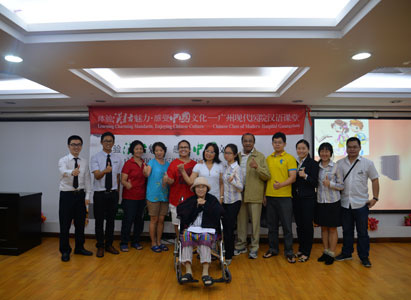 group photo of members in this Chinese Learning Class
The next Mandarin class will be mainly for overseas patients who speak Vietnamese, which will be held in next week. Please stay tuned!
If you have any questions, please contact us via online consultation, email or phone call. If you find our website useful, please follow our FaceBook and YouTube, health information will be updated regularly.
Online Inquiry
CLICK HERE!
Let's Have A Healthy Life!
Video
To show you
what is cancer by
videos
Chatting on Facebook

Become a fan of us!
+Follow
We are waiting for you.