Enjoying Zongzi in Dragon Boat Festival in Modern Cancer Hospital Guangzhou
On May 29th, with the Dragon Boat Festival approaching, a special Zongzi wrapping race was held in Modern Cancer Hospital Guangzhou, which was an important bridge of culture exchange and friendship. More than 40 patients and their family members from Indonesia, Vietnam, Philippines, Bangladesh and Thailand learned to make Zongzi—the traditional food in Dragon Boat Festival with the guidance of Guangzhou residents.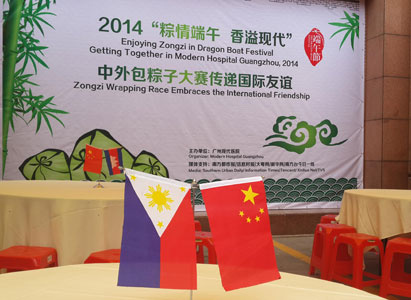 About 10 am, patients and their family members got together at the scene. It was the first time for most of them to spend Dragon Boat Festival in China and they were very interested in this traditional Chinese festival.
As the host gave the order, the zongzi wrapping race kicked off. According to different nationalities, contestants were divided into eight groups under the guidance of volunteers from community residents. "Every step has a knack, including choosing wrapping materials-reed leaves, filling the rice and shaping up, " one volunteer said. With the step-by-step guild of community residents, the foreign "students" imitated what their "teachers" did.
"At first you must make two reed leaves overlap, and then fold them from the middle, which shapes the center of reed leaves into a conical hopper. After that, you should fill the glutinous rice and red dates into the hopper. When the rice is nearly even with the upper part of the hopper, you should fold the reed leaves of the upper part of hopper to wrap the rice, and finally fasten it to form the middle of zongzi tightly with cotton thread," the community residents said.
"It is too difficult to wrap up zongzi, especially the last step to fasten the cotton thread," one family member of a foreign patient fastened the zongzi three times but failed. Therefore, he reluctantly shook his head. Zongzi wrapping looks simple but in effect it is not simple without skills. Nevertheless, all of them had fun.
The patient Tang Bizhu from Indonesia said, "The activity is very interesting. In Indonesia, we would make many zongzis attached by a rope. In the past, we wrapped up zongzi at home, but now we can celebrate the traditional festival with so many friends in China. Therefore, I feel very happy."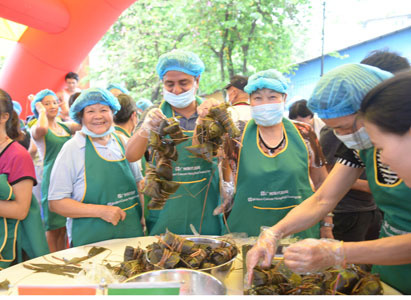 Miss Ellie, from Philippines, is very skillful in making zongzi. But she said that was the first time she wrapped up zongzi. Besides, she mentioned that in the past, she bought zongzi. Therefore, she felt very happy to make zongzi by herself this time. She said, "These zongzis seem delicious. And in Philippines, we have other stuffings of zongzi, such as chicken. This activity is so wonderful and I am so happy that I totally forget I am a cancer patient."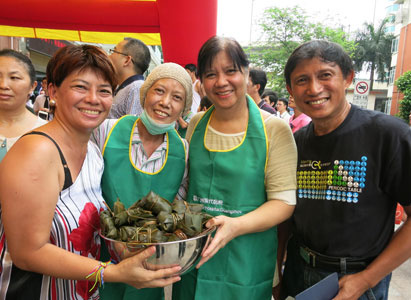 After the race, according to the standard of "quantity, speed, quality and aesthetics", the first prize, the second prize and the third prize were selected. One of the award-winning patients said, "the service of Modern Cancer Hospital Guangzhou is very attentive. This event is so great, which is oriented to patients. I like such event so much and I feel very happy for participating in it." And then, the patients from Indonesia and Vietnam and the interpreters of Modern Cancer Hospital Guangzhou sang Indonesian and Vietnam songs together, which symbolized the friendship between Chinese and foreigners. Besides, the songs pushed the event to a climax. When the famous song in Vietnam rang, there were sincere smiles on the faces of the patients from Vietnam and their families. At that time, all of them deeply felt the warmth to receive treatment in China.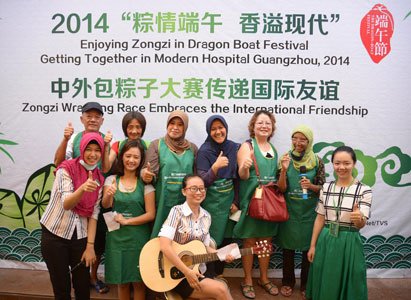 In the afternoon, the medical staff gave patients the zongzis that they made by themselves.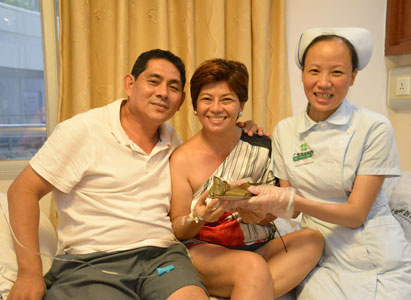 This event not only offered medical staff and patients in Modern Cancer Hospital Guangzhou the opportunity to enjoy the charming Dragon Boat Festival but eliminated the sense of loneliness of overseas inpatients. For years, Modern Cancer Hospital Guangzhou has been committed to improving the quality of medical services and creating a comfortable, warm and friendly medical environment for patients. In addition, in the principle of "patient-centered service", many colorful activities are held in Modern Cancer Hospital Guangzhou which are benefit to patients' treatment and recovery.

If you have any questions, please contact us via online consultation, email or phone call. If you find our website useful, please follow our FaceBook and YouTube, health information will be updated regularly.
Online Inquiry
CLICK HERE!
Let's Have A Healthy Life!
Video
To show you
what is cancer by
videos
Chatting on Facebook

Become a fan of us!
+Follow
We are waiting for you.