Modern Cancer Hospital Guangzhou Has Been Accredited by JCI and Joined the Group of International Hospitals of the Highest Quality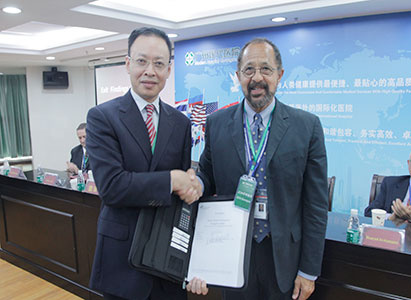 Mr. Robert, leader of the evaluation experts team, handed evaluation reports over to hospital president Wang Huaizhong
Recently, an email from JCI's Headquarter in Chicago, America says that Modern Cancer Hospital Guangzhou has been accredited by JCI of the 5th version which stands for the highest level of accreditation for medical services and hospital management. This means Modern Cancer Hospital Guangzhou has become one of the most world-advanced medical institutes whose medical safety, quality and services have met the highest international standards.
One year's preparation of JCI accreditation pushes the hospital to meet international standards
JCI accreditation is considered as the gold standard in global health care and also as the most authoritative accreditation for medical quality. At present, all hospitals in the world are actively preparing and making consistent effort in achieving JCI approval.
From 13th to 17th, October 2014, three evaluation experts: Robert Christmas, Muayad AL-Hussaini and Jeanne Lim, were sent by JCI headquarter to evaluate Modern Cancer Hospital Guangzhou. JCI accreditation includes a total of 316 standards and 1262 measuring items. The evaluation of Modern Cancer Hospital Guangzhou was based on the most rigorous 5th version of JCI standards. By applying a variety of methods such as documents review, in-depth interviews, system tracks and patient track, the JCI evaluation experts had highly detailed inspections as well as comprehensive assessments in all aspects of the hospital, including organization structures, management system, medical service, medication system, infection control, quality indexes, employee qualification, facility safety, research projects, and medical education and so on. When the five-day official inspection came to an end, Mr. Robert, the team leader, handed the reports over to the hospital president Wang Huaizhong and said, "This is an excellent accreditation report and we all agree that Modern Cancer Hospital should be recommended to JCI headquarter in Chicago and be received as a JCI-accredited hospital."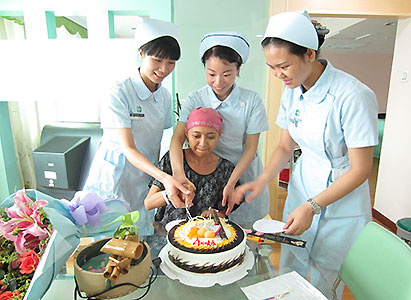 Modern Cancer Hospital Guangzhou is dedicated to providing the most convenient, considerate medical service for human health.
Although the 5th version JCI hospital standards has been introduced for only one year, Modern Cancer Hospital Guangzhou has won the Gold Seal of JCI with a very good score and has set a new record of approving JCI accreditation within the shortest time period in China. The success was attributed to the hospital's nine years of hard effort. Since the foundation, Modern Cancer Hospital Guangzhou has made constantly effort in introducing world-leading medical management modes, which has greatly improved medical quality and management. Both medical quality and patient satisfaction are improving year by year.
JCI accreditation favors the leap of hospital service quality
Since the preparation of JCI accreditation, Modern Cancer Hospital Guangzhou has achieved great improvements in all aspects. From medical service towards perfection to management process refinement, there are new changes everywhere in the hospital. JCI accreditation has not only pushed the hospital to meet the international standards, but also standardized workflow and changed the concept of employees. It is also the golden key to achieve a rapid quality improvement for this hospital.
During the preparation work, JCI standards were used to standardize medical service process through a serious of strict, detailed and specific regulations, so as to minimize the possibility of medical errors. Taking the marking of surgical spots for example, JCI stipulates that before the surgery, medical staffs should mark the surgical spots with the patients, while after entering the operating room, doctors, nurses and anesthetists should undergo" Time Out" to recheck the surgical spots together. These measures can fully avoid the error of surgical spots. The medical staffs have also gradually realized the benefits of JCI standards, which have not only ensured the patient safety, but also help reduce occupational risks. Even for the Security Department, JCI also makes a clear requirement that each medical device should have a traceable identification; fire hydrants should be strictly placed at right place; each escape route plan should indicate specific instruction... In addition, call buttons have been installed in every toilet; arm rests have also been installed within patient's reach, and warning signs have been marked at door sills slightly higher than the ground... In a word, every detail has been strengthened for caring the patients.
"JCI accreditation has introduced both the highest international medical standards and the "patient-oriented" service concept." said the president--Wang Huaizhong. After implementing the JCI standards, all medical staffs in the hospital have strived to do their best to help improve medical quality as well as patient safety. Any potential risk that may affect the safety of the patients and staffs will be detected and eradicated at the first time. With the "patient-oriented" service concept deeply rooted in people's minds, any requirement or demand from patients will be carefully listened by translators, doctors, nurses or hospital leaders and valued. The construction of hospital standardization and humanistic service realization has achieved a great improvement. The medical quality has also been promoted to a new level.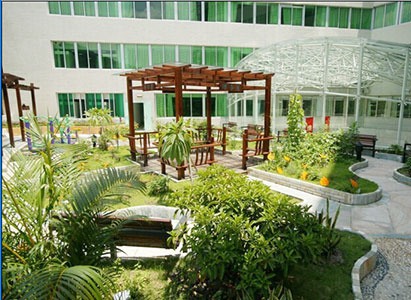 Pleasant environment, patient-oriented service and colorful hospital life are uncomparable superiorities of MCHG.
Guided by JCI, continuous enhancement of medical quality will be made
"Initial accreditation doesn't mean the end of our work. Only by reaccreditation can we maintain the JCI accreditation because JCI requires accredited organization to become reaccredited periodically." said Wang Huaizhong. Even in America, half the JCI-accredited hospitals will be deprived of the JCI accreditation title due to the decline of medical quality at different degrees.
"JCI accreditation will not put an end of our continuous improvement in medical quality, but it will give us a new starting point, so that we can stand on the shoulder of giants and seek greater progress." Mr. Wang Huaizhong added. While time is changing, management keeps upgrading, and the demands increase continuously, medical quality can only get better through continuous improvement. Therefore, taking JCI accreditation as an essential way to improve medical quality, carefully implementing all working process advocated by JCI and establishing a long-term effective mechanism of medical quality management to ensure patient safety is the finial goal of Modern Cancer Hospital Guangzhou.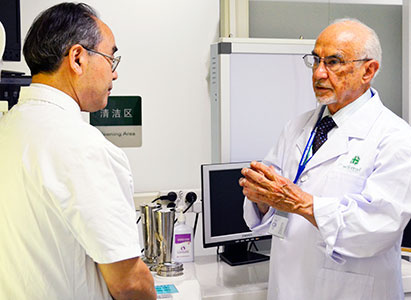 JCI evaluation experts were inspecting in the hospital
If you have any questions, please contact us via online consultation, email or phone call. If you find our website useful, please follow our FaceBook and YouTube, health information will be updated regularly.
Online Inquiry
CLICK HERE!
Let's Have A Healthy Life!
Video
To show you
what is cancer by
videos
Chatting on Facebook

Become a fan of us!
+Follow
We are waiting for you.