Focus on international advanced anti-cancer technology and promote common medical development of China and the Philippines
On October 7, 2013, a visit group composed of Chairman of Philippine Medical Association LEO O. OLARTE, MD, Assistant ANDRES REYES, MD, Interior Assistant DENNIS DE GUZMAN, MD, Executive MICHAEL RAYMOND ARAGON, MD, and Chairman of Bulacan Medical Association JOCELYN GOMEZ visited Modern Cancer Hospital Guangzhou to have exchange and discussion on international advanced cancer treatment technology in a purpose to strengthen the exchange and cooperation between the Philippines and the hospital. President of the hospital Mr. Wang Huaizhong, vice president Mr. Chen Bing and other leaders of the hospital extended a warm welcome and expressed their best wishes to the visit group.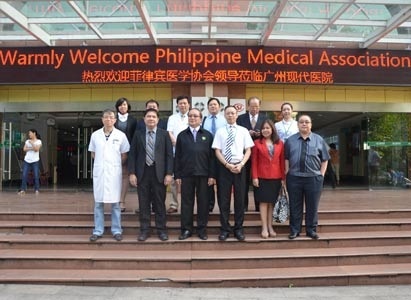 Philippine Medical Association delegation and Modern Cancer Hospital Guangzhou leaders
To promote friendship development through communication and exchange
To promote the friendship and cooperation between the two countries, the hospital held a greeting meeting for the delegation, wherein president Wang Huaizhong made a comprehensive introduction of the hospital's overall strength to the visitors. He said, as an international medical institution, Modern Cancer Hospital Guangzhou mainly accepts cancer patients from all over the world. It has set up offices successively in Indonesia, Vietnam, the Philippines, Bangladesh, Thailand, Cambodia, and so on. The hospital has had over 600 employees and gives over 500,000 out-patient consultations annually, among which more than 6000 are cancer patients from overseas.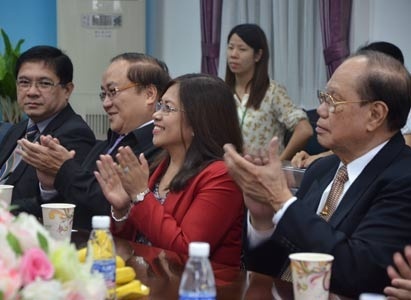 Philippine Medical Association delegation and leaders of Modern Cancer Hospital Guangzhou on the exchanging meeting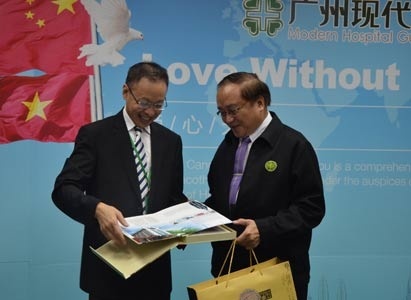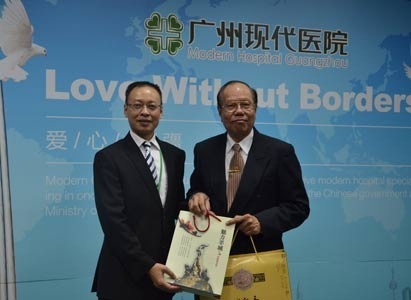 President Wang Huaizhong presented gifts to the delegation members
President Wang pointed out that, after years of research and exploration, the hospital has built up a multidisciplinary and minimally invasive cancer treatment mode, which not only effectively prolongs cancer patients' lives, but also greatly improves their life quality. Thus, it has won many praises of oversea cancer patients and become their preference. To enable the visitors to get a brief understanding of minimally invasive technologies, a video about interventional therapy, stem cell therapy and particle seed implantation was displayed in the meeting. At the end of the meeting, Chairman of Philippine Medical Association expressed his wish for a deeper and more lasting friendship as well as greater success of medical cooperation between China and the Philippines through this exchange.
 Live broadcast of operation, a zero distance contact with anti-cancer technology
To enable the visitors to get a more vivid and profound understanding towards minimally invasive technology, the hospital arranged a live broadcast of two operations------ international therapy for hepatic hemangioma and particle seed implantation for advanced liver cancer, wherein the surgeon's skilled and accurate operation techniques were shown vividly. Meanwhile, Prof. Wang Ronghua and Prof. Peng Xiaochi respectively gave elaboration to the operations and other cases combined with the live broadcast. During the broadcast, the visitors and experts of the hospital had exchange and discussion on these two advanced minimally invasive cancer treatment technologies. Prof. Wang Ronghua and Prof. Peng Xiaochi patiently answered the visitors' questions towards the operation one by one and continuously won their compliments.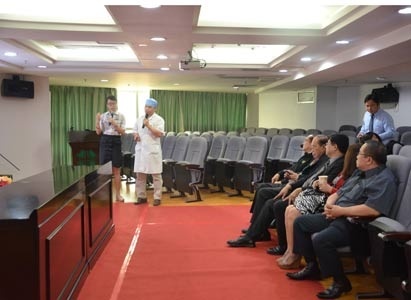 Philippine Medical Association delegation was watching the operation live broadcast
Visit patients from different countries
That day, the group also visited the in-patient department under vice president Chen Bing's accompany and gained a better understanding about the ward environment, facilities and other services of Modern Cancer Hospital Guangzhou. At the same time, they visited patients from the Philippines, Spain and other countries, learning a lot about what they have got from the treatment and services of this hospital.
At the end of the visit, the visitors expressed their gratefulness and approval to the advanced anti-cancer technologies, humanistic services and friendly support to oversea patients. They spoke highly of the hospital's achievement on cancer diagnosis and treatment. Chairman of Philippine Medical Association said, not only the cancer treatment technology of the hospital has ranked at the top of the world, but its attentive and considerate medical services also move him a lot.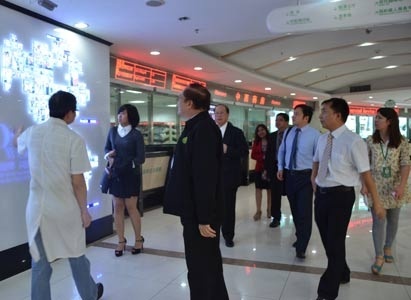 Philippine Medical Association delegation visited Modern Cancer Hospital Guangzhou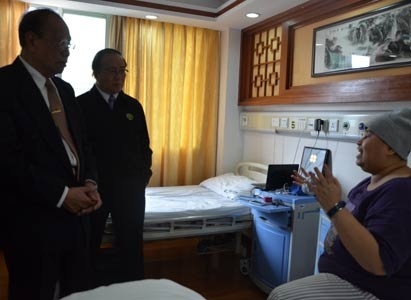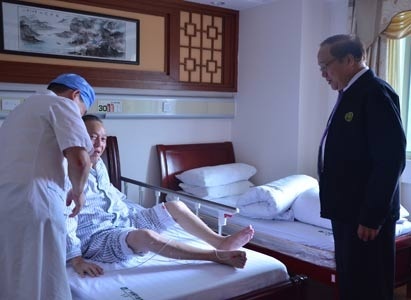 Philippine Medical Association delegation was visiting the hospitalized patients
If you have any questions, please contact us via online consultation, email or phone call. If you find our website useful, please follow our FaceBook and YouTube, health information will be updated regularly.
Online Inquiry
CLICK HERE!
Let's Have A Healthy Life!
Video
To show you
what is cancer by
videos
Chatting on Facebook

Become a fan of us!
+Follow
We are waiting for you.