Modern Cancer Hospital Guangzhou Hosted Signing Ceremony for JCI Accreditation Responsibility
Since August, Modern Cancer Hospital Guangzhou entered the specific implementation stage of JCI Accreditation. In order to stress awareness and fully mobilize the initiative of all hospital staffs, the hospital hosted a signing ceremony for JCI Accreditation responsibility on August 7-8.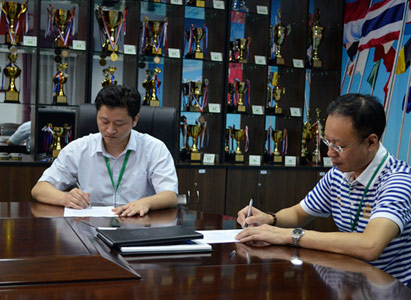 Mr. Wang Huaizhong and JCI officer singed the responsibility contract
The responsibility of JCI accreditation is: to accept missions delegated by JCI audit team; to take part in formulation, modification and implementation of all program files, including varied regulations, procedures and rules; to be participated in the proposition, implementation and supervision of a variety of quality improving projects; to establish procedure documentations for all functional departments according to JCI accreditation standards and insist on implementation and modification strictly; to organize staffs of all functional departments to study related contents.
The signing ceremony hosted by Mr. Chen Bing, vice president of Modern Cancer Hospital Guangzhou, involved two groups - executive team and medical team. At the beginning of the ceremony, Mr. Chen introduced the scope of liability as well as rewards & punishment specifications of the person in charge of JCI accreditation. After that, Mr. Wang Huaizhong, president of the hospital, and all department chiefs signed the responsibility documents.
JCI Accreditation Standards is the highest standard of medical service recognized worldwide. It covers 368 standards and 1033 items in total, including institutional construction of all hospital functional departments and positions, medical process, quality & safety. The signing ceremony hosted by Modern Cancer Hospital Guangzhou is an important part of the preparations for JCI accreditation. It will greatly mobilize the sense of responsibility and initiative of all staffs, and ensure a solid implementation as well as a successful acceptance of all JCI accreditation standards.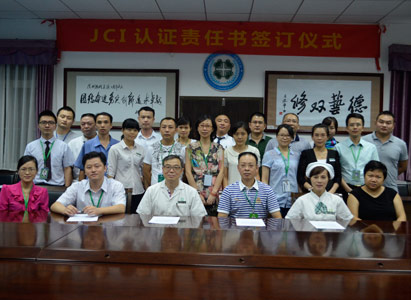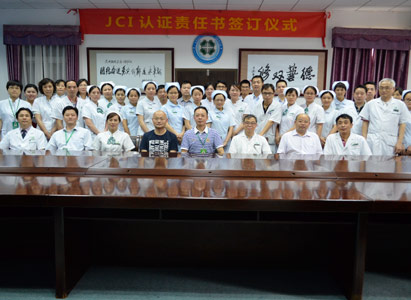 Group photo
If you have any questions, please contact us via online consultation, email or phone call. If you find our website useful, please follow our FaceBook and YouTube, health information will be updated regularly.
Online Inquiry
CLICK HERE!
Let's Have A Healthy Life!
Video
To show you
what is cancer by
videos
Chatting on Facebook

Become a fan of us!
+Follow
We are waiting for you.