Nine Years' Effort Makes Medical without Borders--The Ninth Anniversary of Modern Cancer Hospital Guangzhou
Private healthcare industry in China has gone through 30 years, however, Modern Cancer Hospital Guangzhou has been found for only 9 years. In such a short period of time, the hospital, relying on its high quality medical technologies as well as considerate service, focused on minimally invasive treatment and multidisciplinary tumor treatment and opened a broad medical market at home and abroad. Now, it has already become the biggest international comprehensive hospital in South China. In 2013, it was awarded by authoritative media as "The Most Influential International Hospital in Asia".
Help Overseas Cancer Patients Find the Sunshine in Life Again
On August 2005, Modern Cancer Hospital Guangzhou was found at the foot of Biayun Mountain, Guangzhou, China. Since then, the hospital insisted on a management idea of "Patient comes first", actively seeking development in community medical service. When the hospital executive found that medical service in Southeast Asian countries was relatively backward, and many ethnic Chinese, especially cancer patients were seeking for treatments in China, they realized that it was a good chance for them. After investigation and carefully consideration, they decided to open a new market here to seek development.
With the mission of providing the most convenient and considerate medical service for its patients, Modern Cancer Hospital Guangzhou set up more than 10 overseas offices in countries such as Indonesia, Vietnam, Thailand, the Philippines, Bangladesh and Malaysia. Its innovative medical mode, advanced anticancer technologies as well as high quality service has successfully attracted a large numbers of overseas patients. With advanced minimally invasive therapies, patients no long need to suffer the pain caused by traditional cancer treatments any more, and there is no need to remove tumor by surgery. Such kind of treatment can help prolong the survival time of the cancer patients effectively and help them find the sunshine in life again.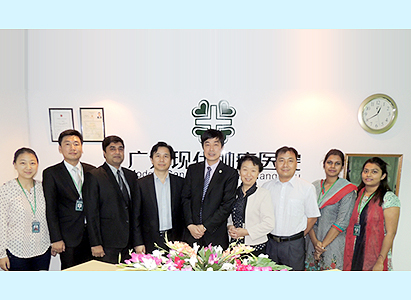 From 2007 to 2013, MCHG has set up more than 10 overseas offices
Integrity – The Footstone of Medical Development
Developing at a rapid pace, Modern Cancer Hospital Guangzhou also insists on improving the quality of its medical service through a variety of measures, so as to build the hospital brand. It centers on patients to build a more convenient medical procedure for patients. It has also set up many value-added services, such as healthcare lecture, various public activities, etc, to improve the quality of its medical service.
In recent years, because the Chinese government encourages private and foreign investments in healthcare industry, the competition among domestic private healthcare industry becomes even more fiercely. Over the past 9 years, Modern Cancer Hospital Guangzhou upheld the idea of innovation and integrity, formulating and publishing a serried of regulations which helped improve the quality of medical service and provided the patients with more security and convenience. While red envelope was prevailing in medical industry, medical staffs in Modern Cancer Hospital Guangzhou upheld integrity as their behavioral norm and refused to accept any tips. According to statistics, the total amount exceeded 30,000 RMB in 2013.
Medical integrity is closely linked with the experience and interests of the patients. In order to provide the patients with a better medical service, Modern Cancer Hospital Guangzhou introduced JCI acceleration standards and since then it launched a series of detailed service policies. Taking the patients who come to the hospital with an empty stomach for example, nurses will considerately prepare some snacks for them before the acupuncture treatment, for doing the treatment with an empty stomach may cause dizziness easily. Besides, there is always basic necessaries such as blanket, sanitary towel and needles prepared in the B-ultrasound room.
As for medical safety, the hospital has developed an incentive system to encourage all medical staffs to report adverse events. Its purpose is to improve the staffs' awareness and help them avoid repeated mistakes.
Modern Cancer Hospital Guangzhou was awarded by local authoritative media as "Medical Integrity Unit". With its economic benefit raised rapidly, the hospital did not forget to fulfill its social responsibility. Supported by Bo Ai Charity Fund, the hospital hosted more than 1685 times of free clinics as well as health lectures for local citizens and students at surrounding since its foundation. For patient who is baldy ill and do not have enough money for treatment, the hospital will try the best to help them by organizing a series of charity activities for collecting public donation or reducing part of their medical costs. In any particle case, the hospital may also give the patient a free treatment. Every year, the hospital will organize free physical examination and clinics regularly for local community residents.
With a first-class MDT group composed of international leading oncologists as well as 16 world-leading anticancer technologies, Modern Cancer Hospital Guangzhou has successfully helped numerous middle and advanced cancer patients from more than 20 countries improve their quality of life and prolong their survival time. More than ten media from Southeast Asian countries such as Indonesia, Thailand and Cambodia reported the great job of Modern Cancer hospital in the field by using minimally invasive therapy to treat middle and advanced cancer. What's more, politicians, scholars and medical communities also frequently visited the hospital or invited the hospital to visit their countries for medical information exchange and cooperation. According to statistics, every year there would be more than 100 overseas delegations visiting the hospital. Those activities has greatly promoted the discipline development of the hospital and they will help the hospital realized its goal of "Medical without Borders" as soon as possible.
Modern Cancer Hospital Guangzhou knows that the only way to get a patients' approval is to provide them with more professional medical service, so it has never stopped improving the quality of medical service. Its hard work paid off. Many patients traveled thousands of miles from their countries to seek hope here. Mrs. Wang Youhua, a breast cancer patient from Indonesia, even sent a special note of thanks to the hospital, on which she wrote "When seeking for treatment, keep Modern Cancer Hospital Guangzhou in mind". On July 31st, 2014, Modern Cancer Hospital Guangzhou hosted a Han-style golden wedding ceremony for her and her husband. The couple was greatly touched by this special gift.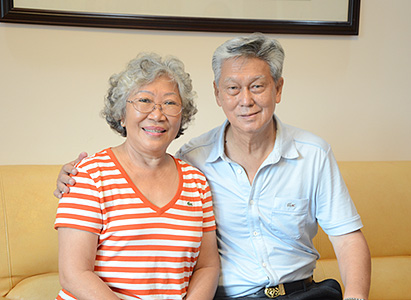 A group photo of breast cancer patient Wang Youhua and her husband Chen Yongyuan
Not long before it, the family of Thipthida Xayasena, a 9-year-old patient from Laos, donated ten thousands RMB to express their thanks to the hospital. Now this donation was all injected to Bo Ai Charity Fund to help other patients in the future.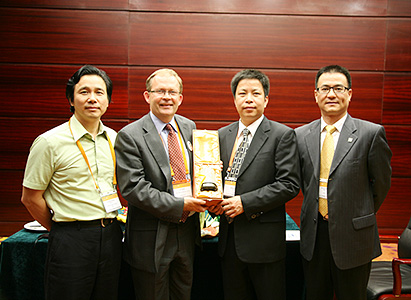 A group photo of Mr. Lin Zhicheng and CEO of UICC on the 21th World Cancer Congress in 2010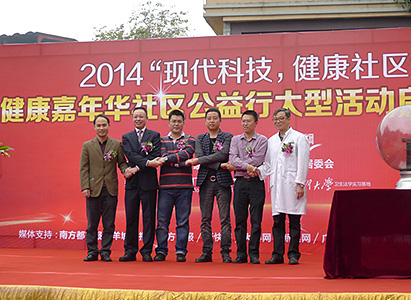 Health lectures walks into local communitis
If you have any questions, please contact us via online consultation, email or phone call. If you find our website useful, please follow our FaceBook and YouTube, health information will be updated regularly.
Online Inquiry
CLICK HERE!
Let's Have A Healthy Life!
Video
To show you
what is cancer by
videos
Chatting on Facebook

Become a fan of us!
+Follow
We are waiting for you.