Advanced Treatment Technologies Create Miracle in Cancer Patients' Life
Having first-class medical talents and facilities doesn't mean it is a successful hospital. According to Sir William Osler, Father of Modern Medicine, the only industry of universal consistency in the world is healthcare industry. It was also for this reason that Modern Cancer Hospital Guangzhou was established nine years ago. To Modern Cancer Hospital Guangzhou, hospital is not an enterprise for seeking profits, but a place to save lives. The purpose of engaging in medical industry is to seek maximized value of life. Medical service should be patient-oriented, showing great care to patients' condition and their environment. What's more, advanced treatment technologies should be provided to serve patients, to improve their physiological and mental conditions, so as to achieve the best therapeutic effect.
In 2005 just after its foundation, the hospital realized that there was a great need of advanced medical technologies in Southeast Asian medical market where medical technologies were relatively backward, so it opened a new market here, with advanced medical technologies and quality medical service attracted a large number of patients. Till now, over 90% of inpatients are overseas patients, among which more than 95% patients are from Southeast Asian countries. It has already become a brand hospital renowned for its multi-disciplinary integrated treatments.
Minimally Invasive Therapy: Solve Problems that Traditional Surgery Cannot Resolve
Aiming at alleviating the pain of cancer patients, Modern Cancer Hospital Guangzhou has made constant effort to improve its medical technologies in the past years by strengthening its discipline construction. Because there were more and more cancer patients in the world, the hospital introduced a series of advanced cancer treatment technologies, such as interventional therapy, cryotherapy, particle knife, etc, at a very early time to treat middle and advanced stage cancer patients. By combining surgery, medical therapy and traditional Chinese medicine, it provided patients with more chances for survival. The good therapeutic effect it provided gradually won it numeral patients from domestic and abroad, and the number is still increasing till today. In 2012, Modern Cancer Hospital Guangzhou was awarded by domestic authoritative media as "The Best Hospital for Minimally Invasive Therapy".
Surgery, radiotherapy and chemotherapy were once the three most important means to treat malignant tumors. However, for middle and advanced stage cancer patients who cannot perform surgery or patients who cannot do anesthesia or chemoradiotherapy due to individual's physical condition, interventional therapy become their prime choice. In addition to interventional therapy, there are also other 16 therapies, including cryotherapy, radiofrequency, natural therapy, stem cell therapy, the combination of Traditional Chinese Medicine and Western Medicine, etc. So far, it has successfully helped thousands of middle and advanced stage cancer patients from more than 20 countries prolong their life, and their quality of life was also greatly improved.
As long as there is a need from patients, the hospital will spare no effort to improve the quality of its medical service. In the past nine years, Modern Cancer Hospital Guangzhou has successfully helped many cancer patients by introducing advanced technologies, first-rate facilities and first-class talents. According to statistics, 80% of patients are in a late stage when they are diagnosed with lung cancer. Although Ar-He knife, also named cryotherapy, has been introduced early to China in late 1990s, it was relatively suitable for treating peripheral lung cancer, while treating central lung cancer was very difficult at that time. Unfortunately, 80% of lung cancer patients are diagnosed with central lung cancer, and it is quite difficult for them to find a suitable treatment. Therefore, Modern Cancer Hospital Guangzhou devoted a lot of time and manpower to work on this problem. Finally, they successfully solved this problem by performing treatments such as particle knife and cryotheray under the guidance of imaging equipments. The leader of oncology department and his team also did a great job. By constantly improving their own medical knowledge and skills, they brought the patients the maximized health benefits of advanced medical technologies.
Traditional Chinese Medicine - Optimize Therapeutic Effect
Traditional Chinese medicine has less toxic and side effects than western medicine and is widely accepted. The globalization of Chinese medicine is becoming a trend.
Traditional Chinese medicine has a profound history in treating tumors. Modern Cancer Hospital Guangzhou takes fully advantage of traditional Chinese medicine, using it to help patients improve their immunity, so as to alleviate the patients' symptoms such as the WBC decline, vomiting and diarrhea causing by radiotherapy or chemo, improving their self-defensive ability to a maximized degree. Besides, the use of traditional Chinese medicine can also help protect the patients from other disease and prevent cancer cells from spreading to other organs. It can effectively improve the patients' therapeutic effect and prolong their survival time.
In 2006, the wife of an Indonesian marine general was diagnosed with cancer in a local hospital and she was told that there was no suitable treatment for her. Then from a Chinese friend she knew Modern Cancer Hospital Guangzhou and so she went there for treatment. She was surprising to find that after three courses of treatment with the combination of traditional Chinese medicine and Western medicine, part of the tumors in her body magically disappeared. Since then this madam took to traditional Chinese medicine; every time she came back Guangzhou for follow-up check she would take some Chinese herbs back home. This madam's personal experience has helped boost the technical exchange and cooperation between Indonesian local medical institute and Modern Cancer Hospital Guangzhou. Her anticancer story made more Indonesians like traditional Chinese medicine.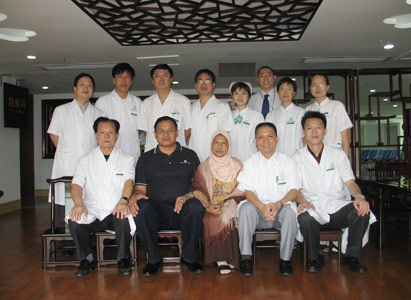 The Indonesian marine general's wife and her MDT group
Multidisciplinary Joint Consultation – Give Patients the Best Treatment Plan
The highly refined modern medicine generates a new diagnosis and treatment mode - Multi-Disciplinary Team (or MDT). In Modern Cancer Hospital Guangzhou, the MDT group will cooperate with experts from related departments and discuss patient's individual disease together, so as to work out the best treatment plan for the patient. Through multidisciplinary joint consultation, the hospital has successfully provided thousands of cancer patients with the most optimized treatment plan. Such practice not only reduces the patients' medical cost, but also helps them gain a better quality of life and prolong their survival time.
The 39-year-old Cindy Zainal was an Indonesian mother of six lovely children. At the beginning of 2014, she found a painless mass in her right breast, and soon it was diagnosed as breast cancer. In order to avoid chemo and mastectomy, Cindy went to China and after a comprehensive diagnosis she was told having postoperative infiltrating ductal carcinoma of the right breast. The size of the tumor was 3*4cm, no metastases. It was an early stage breast cancer.
Since Cindy wanted to remove the tumor while also keeping her breast, the MDT group of Modern Cancer Hospital Guangzhou made the best treatment plan for her. Mr. Peng Xiaochi, director of oncologist department, cooperated with Mr. Wang Xin, breast surgery expert as well as the director of department of plastic surgery, and performed mastectomy and breast reconstruction for the patient. Now, she lives a very happy life and becomes even more beautiful and confident.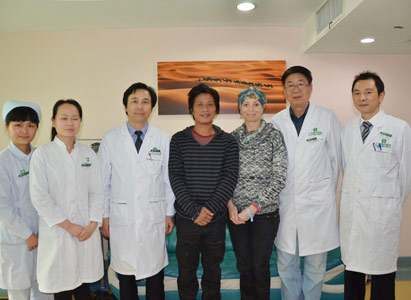 Breast cancer patient Cindy Zainal, her husband and her MDT group
Case 1: Minimally Invasive Therapy Kept a 68-Year-Old Man's Lung Cancer under Effective Control
Melchor Sitcharing, a 68-year-old US-Philippine lung cancer patient, was one of the beneficiaries of minimally invasive therapy. At the beginning of 2014, Mr. Melchor was successively diagnosed with stage IV lung cancer in the Philippines and the USA. All his doctors suggested him to do chemo, or he would only have 4-6 moths to live. However, Mr. Melchor did not want to suffer the pain of chemo, so his disease became even worse. He had difficult in breathing, there was a pain in the chest, and the cough was almost non-stop. He could not eat anything, neither can he sleep. He thought that he would be dying slowly like that.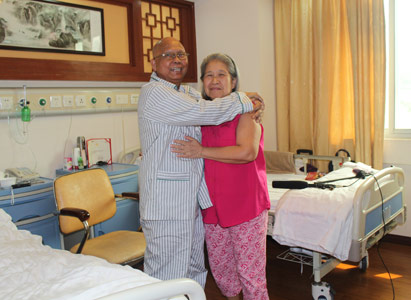 Mr. Melchor and his wife
Fortunately, Mr. Melchor found a new hope in Modern Cancer Hospital Guangzhou. After six interventional therapies, one cryotherapy and two particle knife therapies, all his discomfort symptoms disappeared and his condition was under effective control. He became as positive as before. Day after day he went to singing, dancing and chatting with medical staffs in the hospital, from which he felt a very considerate care. At the end of July, he attended the "Open-Mic Night" singing competition hosted by the hospital. In the competition, he not only sang a song, but also danced with his wife. His vigor inspired all people on site.
Case 2: Minimally Invasive Therapy Give a 38-year-old Infertile Lady the Chance to Be a Mother
In department of gynecology of Modern Cancer Hospital Guangzhou, "care for women health" is the most important job for all staffs. Therefore, the hospital carries out a minimally invasive therapy-oriented strategy, using hysteroscope, laparoscope, oviduct lens and cook conducting wire to treat female infertility. Using DSA interventional to guide the laparoscopic treatment is a typical feature of the department. In 2011, the hospital was awarded as "The Best Gynecological Minimal Invasive Center of South China".
One of the most successful cases of the gynecology department is that it has helped a 39-year-old infertile lady give birth to a lovely girl. The patient from Henan Province, China was infertile for nearly 10 years after she got married. She became pregnant soon after receiving a treatment in Modern Cancer Hospital Guangzhou. Unfortunately, the fetus stopped developing after three months, so she went to the hospital a second time for another minimally invasive treatment. At last, a healthy baby was born.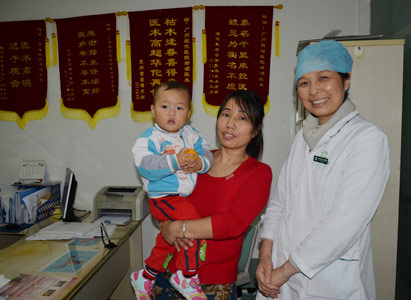 Director Zheng song and her patient
If you have any questions, please contact us via online consultation, email or phone call. If you find our website useful, please follow our FaceBook and YouTube, health information will be updated regularly.
Online Inquiry
CLICK HERE!
Let's Have A Healthy Life!
Video
To show you
what is cancer by
videos
Chatting on Facebook

Become a fan of us!
+Follow
We are waiting for you.