Monthly Anticancer Warrior Award Ceremony ---- Facing Cancer Directly & Passing Positive Energy
On the afternoon of July 23rd, the Monthly Anticancer Warrior Award Ceremony was hosted in the conference room on the 9th floor of Modern Cancer Hospital Guangzhou. Vice president Chen Bing and more than 30 overseas cancer patients as well as their relatives attended this ceremony.
At the award ceremony, the hospital staffs firstly played the interview video of Mr. Suyono, non-hodgkin lymphoma patient from Indonesia, and Mr. Mulyadi Goutama, Indonesian pancreatic head carcinoma patient with metastasis to both lungs, and then asked them to share their anticancer story on the stage in turn. In the past three months, they combated cancer positively and showed very cooperative attitude towards cancer treatment. To honor their positive attitude and extraordinary perseverance in fighting cancer, Modern Cancer Hospital Guangzhou specially awarded them as the "Anticancer Warriors of July, 2014", and vice president Chen Bing, on the behalf of the hospital, awarded them the certification of honor, the trophy as well as a present. Many patients on site spoke highly of their anticancer spirit. They said that the personal experience of the anticancer warriors gave them the courage and strength to facing cancer directly.
According to records, both Mr. Suyono and Mr. Mulyadi Goutama were admitted in April this year. In the past three months, they received comprehensive treatment such as cryotherapy and interventional therapy based on their individual condition. Both of them are in a stable condition at present.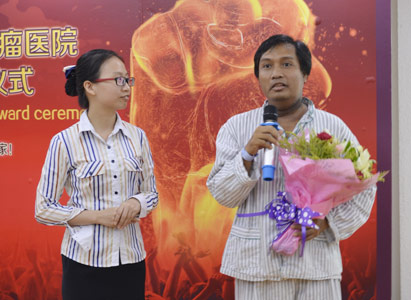 Mr.Suyono is sharing his anticancer story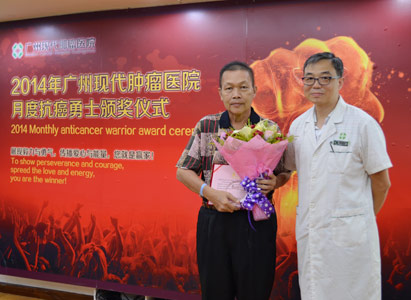 Vice president Chen Bing and Anticancer Warrior Mulyadi Goutama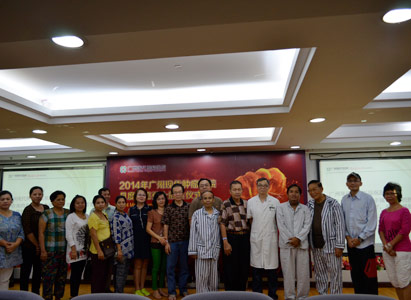 A group photo of Vice president Chen Bing, all cancer patients and their relatives on site
If you have any questions, please contact us via online consultation, email or phone call. If you find our website useful, please follow our FaceBook and YouTube, health information will be updated regularly.
Online Inquiry
CLICK HERE!
Let's Have A Healthy Life!
Video
To show you
what is cancer by
videos
Chatting on Facebook

Become a fan of us!
+Follow
We are waiting for you.