Prepare for JCI-- Modern Hospital Guangzhou Held the 3rd Quarter Meeting Among Clinical Blood Transfusion, Imaging Accuracy and Test Management Committees
On August 14th, Modern Hospital Guangzhou held the 3rd quarter meeting among clinical blood transfusion, imaging accuracy and test management committees. Hospital president Wang Huaizhong, vice president Chen Bing and leaders of related departments attended the meeting. Wherein, director of Ultrasonic Department Pu Ruilian and director of Laboratory Department Wan Youhua respectively gave reports on priority test items ---- Shortening Patient's Waiting for Test and Timeliness and Completion Rates of Hemoglobin Critical Value Reporting, which are under the criterion of JCI. After their reports, JCI supervisor Zhang Tongyou gave his guiding opinion. Director of the Medical Department Yang Gang organized to study the new regulations of the three management committees. The meeting had a discussion on the regulation of blood transfusion and passed the clinical transfusion indications standard.
"It's just a very small point. Why bother complicating it? " Seeing the dense forms and data reported in the meeting, some questioned, "why can't we just avoid it by controlling?"
Medical Services Director- Yang Gang replied, "The whole process of monitoring for each medical act shall follow science program required by comprehensive quality management." The PDCA (Plan, Do, Check, Amend) is to identify the causes of problem, make improvements and form scientific systems. Vice President Chen Bing said that JCI not only required that medical practices shall be standardized and follow process-oriented execution, but also urged the medical staff form a sense of consciousness during the execution of JCI standards processes, shift between management and service model and gain the transformation of different ways of thinking. He also said "All these efforts can contribute to mutual win-win effect for the continuous improvement of medical quality and its management level and the enhancement of management capacity among the medical staff."
As the meeting came to an end, President Mr.Wang made certain arrangement on the work in the third quarter of Hospital Management Safety Committee, required the three subordinated Clinical Transfusion, Image Quality and Inspection Management Committee to establish quality control standards, continuously enhance communication through regular meetings system and encourage employees actively to participate in the JCI preparation work for future examination in October.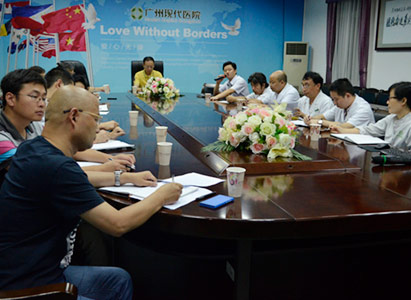 The Third Quarter Meeting of Clinical Transfusion, Image Quality, Inspection Management Committee of Modern Hospital Guangzhou
If you have any questions, please contact us via online consultation, email or phone call. If you find our website useful, please follow our FaceBook and YouTube, health information will be updated regularly.
Online Inquiry
CLICK HERE!
Let's Have A Healthy Life!
Video
To show you
what is cancer by
videos
Chatting on Facebook

Become a fan of us!
+Follow
We are waiting for you.