To Prepare for JCI-- Modern Hospital Guangzhou Held the Third-quarter Infection Control Committee Meeting
On Aug 19th, in order to strengthen the hospital infection control, better implement this task and summarize the progress of JCI introduction audit standards on the Infection Control, Modern Hospital Guangzhou Committee held a meeting to discuss this topic, in which the president Wang Huaizhong, vice president Chen Bing, JCI supervisor Zhang Tongyou and all the committee of Infection Control presented.
The meeting started with the introduction of "Regulations of Hospital Infection Control Committee" by director He Liangqiong, who is from nursing department. It defines the responsibilities and rights of each committee member involved. During the meeting, the following items were addressed – Evaluate and summarize the two priority test items of Infection Control which are "Correct timing of hand wash" and "Correct hand wash steps"; discussed the aspects that need to be improved for the key test items of July; JCI supervior Mr.Zhang Tongyou expressed affirmation to the test results and offered his suggestions on improvements; confirmed the working scheme of Infection Control Committee in 2014; president Chen made a summary for the July Hand Wash activity and announced the winners.
President Chen pointed out that as a key in current hospital management, hospital infection management involves in all aspects and strings up all the medical activities consistently. It is not only related to the quality of medical care, but also having strong effect on treatments and patient health. Therefore medical people under the lead of department chief shall start from daily handhygiene and attach importance to hospital infection management.
By the end of meeting, President Wang stressed further instructions on hospital infection management. He hoped committee members could take the lead in carrying out regulations and processes, and increase related consciousness; the committees should be an active supervisor in finding and solving problems, and keep improving infection management. Departments should actively have training courses, and implement regulations to cut down the incidence of hospital infection to ensure patient safety.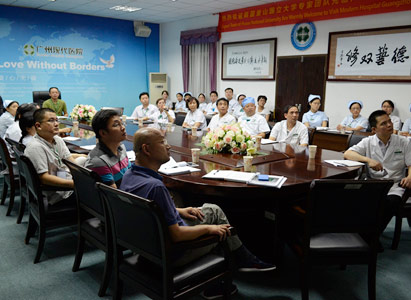 Modern Hospital Guangzhou Held the Third-quarter Infection Control Committee Meeting
If you have any questions, please contact us via online consultation, email or phone call. If you find our website useful, please follow our FaceBook and YouTube, health information will be updated regularly.
Online Inquiry
CLICK HERE!
Let's Have A Healthy Life!
Video
To show you
what is cancer by
videos
Chatting on Facebook

Become a fan of us!
+Follow
We are waiting for you.