Eating sweet dumplings at Lantern Festival, enjoying a warm atmosphere of reunion ------Modern Cancer Hospital Guangzhou sent patients sweet dumplings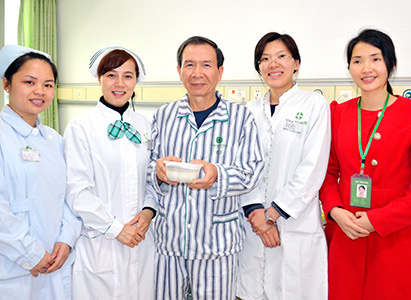 Direct He, medical staffs and the patient
  On March 5th, coincided with Chinese Lantern Festival, to enable the patients to feel the warmth and gaiety of the festival, Modern Cancer Hospital Guangzhou Prof. Peng Xiaochi, Prof. Liu Lvguang and head of the nursing department He Liangqiong visited the patients and brought them and their family dependents sweet dumplings as well as best wishes.
  "It's Lantern Festival today. We bring you some sweet dumplings and wish you a happy festival and good health", they handed out the sweet dumplings to the patients once entered the wards. "Thank you! Happy Lantern Festival and thank you for your attentiveness ", said the patients taking the dumplings. Later, doctor kindly remind that sweet food is not good for patients who have diabetes or kidney disease, so they can eat only a little of the dumplings as they are sweet. Many patients with their family members invited doctors and nurses to take pictures with them to memorize the harmonious moment. Sweet dumplings filled the room up with festival gaiety, drive away the coldness of the winter of a foreign country and enable the patients to feel dense warmth in the big family of Modern Cancer Hospital Guangzhou.
 It is said that, at the traditional Chinese festivals like Lantern Festival, Mid-autumn Day and Spring Festival, Modern Cancer Hospital Guangzhou would hand out gifts to the international patients in the hospital, give them best wishes and celebrate the festivals with them, to release them from pressure and strengthen their confidence in defeating their diseases. In China, eating sweet dumplings at Lantern Festival is symbolizing a future life of harmony, sweet and happiness. Together, we wish patients the soonest recovery and reunion with their family.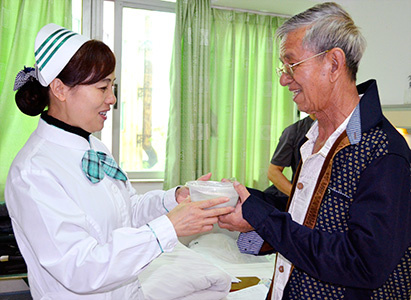 The patient was accepting the dumplings
If you have any questions, please contact us via online consultation, email or phone call. If you find our website useful, please follow our FaceBook and YouTube, health information will be updated regularly.
Online Inquiry
CLICK HERE!
Let's Have A Healthy Life!
Video
To show you
what is cancer by
videos
Chatting on Facebook

Become a fan of us!
+Follow
We are waiting for you.