The First "Academic Forum of ASEAN Tumor Minimally Invasive Therapy " in Bali Island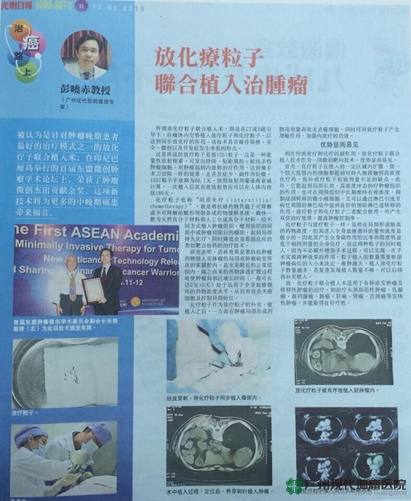 "GuangMing Daily" reported the first "ASEAN Academic Committee of Minimally Invasive Therapy of Tumor". On April 12, 2015, the first "Academic Forum of ASEAN Tumor Minimally Invasive Therapy" successfully dropped a curtain at Ayodya Resort Bali.
The forum was organized by ASEAN Academic Committee of Oncology Minimally Invasive Therapy of Tumor and co-organized by Modern Cancer Hospital Guangzhou China. The renowned cancer experts from Modern Cancer Hospital Guangzhou China were invited to the forum and featured to highlight radioactive particle and chemical particle combined implantation remedial model. Twenty-three middle/advanced stage cancer patients shared their successful anticancer experiences at the forum, which encouraged more to positively fight against cancers.
Professor Peng Xiaochi,a leading expert of minimally invasive therapy of cancer atfrom Asia, was also invited to attend this forum. During the forum, Professor Peng Xiaochi shared two new technologies of Modern Cancer Hospital Guangzhou, namely Radioactive Particle and Chemical Particle Combined Implantation and Multidisciplinary Joint-cell Immunotherapy. The forum was divided into two parts: Doctor Session and Patient Session. The first part of patient session was award ceremony to star patients who fought against cancer successfully. The star patients were awarded with bouquet in their hands, smiled radiantly.
NG WIE SEN was one of those star patients, who was diagnosed with left lung adenocarcinoma (IIIB stage)in April,2011.The size of tumor in his lung was 4.8X4.9cm. Due to the oppression of tumor, he got cough, fatigue, sputum with blood and a prick on his chest. Later in November, 2011, he came to Modern Cancer Hospital Guangzhou for good treatment. He received comprehensive minimally invasive interventional chemotherapy,cryotherapy, and iodine seed implantation. After these treatments, he became better. The tumor lost its activity and was under controlled. He hadn't experienced cancer recurrence for these several years.
During the patient's sharing part, he came to Professor Peng with flowers in both hands. He presented a bouquet to Professor Peng to expressing his gratitude to him. Professor Peng said he felt happy when he saw to see the patients getting better and better. At the same time, he showed his determination to help more patients to fight against cancers with the medical team at Modern Cancer Hospital Guangzhou.
If you have any questions, please contact us via online consultation, email or phone call. If you find our website useful, please follow our FaceBook and YouTube, health information will be updated regularly.
Online Inquiry
CLICK HERE!
Let's Have A Healthy Life!
Video
To show you
what is cancer by
videos
Chatting on Facebook

Become a fan of us!
+Follow
We are waiting for you.