Focus on New Anti-cancer Technology, Spread Positive Anti-cancer Energy--Malaysian Media Delegation Visited Modern Cancer Hospital Guangzhou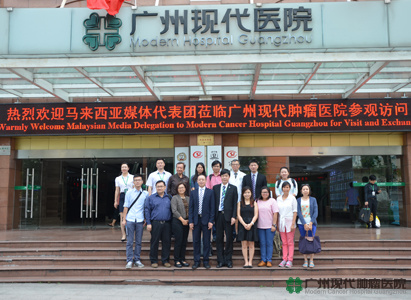 The hospital leaders and the Malaysian media group
On May 19-20, 2015, an 11-member Malaysian media group composed of SIN CHEW DAILY, CHINA PRESS, GUANG MING DAILY, NANYANG SIANG PAU, LONG LIFE and the
Jesselton Breast Cancer Aid Association visited Modern Cancer Hospital Gaungzhou for its new anti-cancer technologies and medical services.
In the morning of May 19, Modern Cancer Hospital Guangzhou general manager Lin Shaohua, president Wang Huaizhong, vice-president Chen Bing and other leaders warmly welcomed the Malaysian media group. Manager Lin gave his warm welcome to the visitors and expressed his hope that the visit could bring to them an all-round understanding towards the hospital.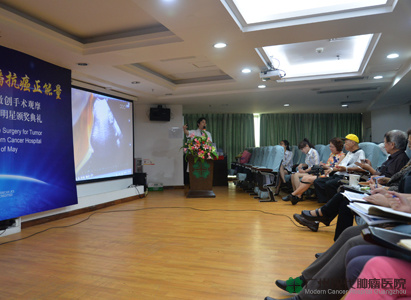 The Malaysian media group is watching the live broadcast of minimally invasive therapy operation
To give the visitors a more visualized introduction of the advanced anti-cancer technologies, the hospital arranged a live broadcast of interventional therapy, radioactive particle implantation and cryotherapy operation for them, to which Dr. Zha and director Peng Xiaochi synchronously gave detailed explanation and answered their questions one by one. Moreover, director Peng Xiaochi also introduced two of our new anti-cancer technologies, radioactive particle and chemical particle combined implantation and multidisciplinary joint-cell natural therapy, which drew great attention from the media group.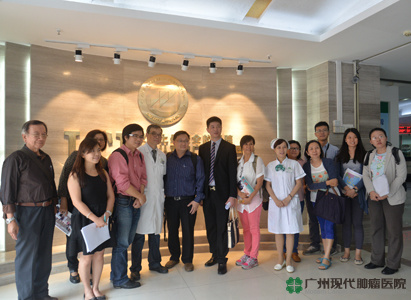 The Malaysian media group and the hospital leaders in front of the JCI board
Ms. Zhu from Jesselton Breast Cancer Aid Association said after watching the broadcast:"the treatment of Modern Cancer Hospital Guangzhou is totally different from that of Malaysia. In Malaysia, surgery, chemotherapy and radiotherapy are the main treatments, which cause lots of side effects. Many patients cannot bear them and can do nothing but wait for the death. However, the new technologies in Modern Cancer Hospital Guangzhou cause very small wounds and the side effect is mild. In my opinion, these therapies are blessings to the middle and late stage breast cancer patients.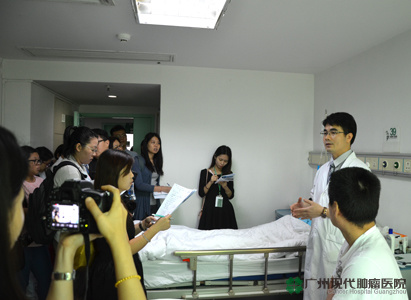 The Malaysia reporters were interviewing the Malaysian patient TEOW SOK CHENG

Later, led by vice-president Chen Bing, the group visited the International Service Center, Interventional Consultation Center, VIP wards and the diet house. They even met an oral cancer patient from Malaysia, TEOW SOK CHENG, and listened to her story of taking treatment in Modern Cancer Hospital Guangzhou. Told that her condition had become stable after treatment, the visitors all felt happy for her and wished her the soonest recovery.
In the afternoon of May 19th, the media group attended the monthly "rewarding ceremony of anti-cancer warriors" organized by the hospital. SEE YAP LOONG was one of the warriors. He was an esophageal cancer patient from Malaysia. Before he came to Modern Cancer Hospital Guangzhou, he could hardly eat anything and was very weak, but now his tumor had shrunk a lot and his appetite had become normal after the treatment. One of the visitors sighed:"In Malaysia, esophageal cancer is very difficult to treat. He is fortunate having come here for treatment, otherwise, I cannot imagine the result." The group was moved and affected by their courage, love and optimism and determined to spread the positive energy among Malaysian cancer patients.
In the morning of May 20th, the group had a special interview to president Wang Huaizhong, wherein they successively inquired on the hospital's advantages, development direction and other aspects. At the end, they had a face to face communication with the MDT team of the hospital and had a deep and all-round understanding towards the hospital.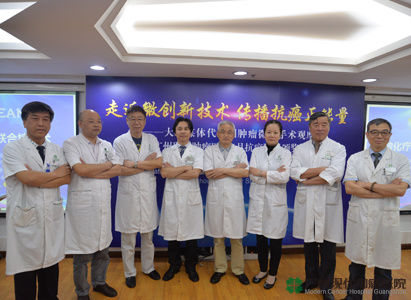 MDT team of Modern Cancer Hospital Guangzhou

Taking this opportunity, the Malaysian media group has had a deeper knowledge of the anti-cancer technologies, medical environment and other aspects of Modern Cancer Hospital Guangzhou, to which they gave high evaluation and affirmation. "For my old conception, cancer treatment is bloody, but what I saw here so closely to the advanced technologies is that your treatment cause very small wounds and mild bleeding. Here, treating cancer is not that big a deal, rather, it's so easy and relaxing. This is very important for cancer patients and their families. Hopefully, more and more Malaysian cancer patients can get to know these new anti-cancer technologies through our reports", said Mr. Zeng from SIN CHEW DAILY.
If you have any questions, please contact us via online consultation, email or phone call. If you find our website useful, please follow our FaceBook and YouTube, health information will be updated regularly.
Online Inquiry
CLICK HERE!
Let's Have A Healthy Life!
Video
To show you
what is cancer by
videos
Chatting on Facebook

Become a fan of us!
+Follow
We are waiting for you.