"Patients Recognized Us Because We Stand for Them"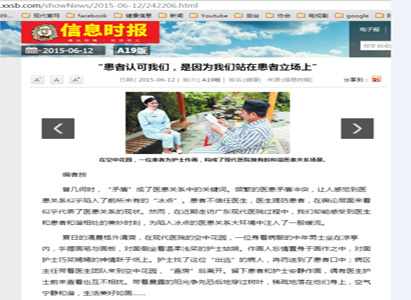 The Xinxi Newspaper reported Modern Cancer Hospital Guangzhou which dealt with a good relationship between doctors and nurses. The content was translated as followed:
"Patients Recognized Us Because We Stand for Them"
"Contradiction"is one of the heated topics between doctors and patients. The frequent conflicts make the relationship between doctors and patients tensed. Patients do not trust doctors while doctors are on guard against patients. However, when walking into Modern Cancer Hospital Guangzhou, we can feel love and care in the warm and harmonious atmosphere there.
In the fresh summer morning, you can see a middle-age man sitting under a pavilion in the hanging garden of Modern Cancer Hospital Guangzhou. The man took drawing pen and drawing-broad and face-to-face sat with a gentle nurse with smile face. The man lost himself in drawing the happy nurse. Another nurse found this "escaped" cancer patient and gave him medicine; the director of impatient area came to the hanging garden with the doctor team and checked his condition. All the people left the patient and the nurse alone. Sometimes the doctors or nurses passed by but they did not brother them. The warm morning sunshine went through the leaves and settle on them. Life was sedate, harmonious and warm in Modern Cancer Hospital Guangzhou.
You can see this harmonious and warm sight everywhere in Modern Cancer Hospital Guangzhou. A research showed the patients' satisfaction reached to 95.1%, which was an amazing rate in medical field. One of the reporter asked how did you gain such incredibly recognition when the relationship between doctors and patients was tensed at present. President of Modern Cancer Hospital Guangzhou, Wang Huaizhong, said, "Patients recognize us because we stand for them."
Due to Good Efficacy of Treatment Modern Cancer Hospital Guangzhou Received 10 Thank-you Letters in One Month
In May 2015, there was a touching scene, which showed in Modern Cancer Hospital Guangzhou. A 50-year-old man gave a thank-you letter to the nurse and held her hands tightly, "Due to your advanced technology and your love & care, my mother finally sleep tight. And I feel relieved, too. Thank you so much!"
This letter was written by Auntie He, who was over 70 years old. She had nerve headache and cerebral arteriosclerosis and she took heart stents implantation, which made the heart rate low and insufficient blood flow in the brain so she suffered from severe headache, insomnia and weakness. After taking treatment by chief physician, Jiang Xilin, families of Auntie He surprisingly found that Auntie He turned to better mental condition and she did not feel painful and slept well. What's more, she became happy and spoke fluently and walked quickly. All the families felt relieved. Her son sighed, "She seems to return back to 20 years ago." Auntie He realized that Modern Cancer Hospital Guangzhou brought her good treatment and happiness so she wrote a two-page thank-you letter. She said, "You saved my life so I must write a letter to express my gratitude to you!"
The mission of hospital lies on saving people's lives. When patients go to hospital with "problems", the key of building trust between patients and hospital lies on whether doctors can solve their "problems". No matter patients are men or women, the old or the young, from home or abroad, they write thank-you letters to Modern Cancer Hospital Guangzhou because they solve their "problems". Nowadays, patients and doctors are so tensed that some strange events happen. For example, medical practitioners wear helmet to work; doctors get down their knee to patients. In fact, to solve the tensed relationship between doctors and nurses, doctors need to improve their medical skills and hospitals need to increase their level of diagnosis and treatment, which take competent medical practitioners, technology and machines as center so as to meet patients'satisfaction.
Doctors Take off the Cool Mask and Have a Fair Conversation with Patients
Luo Chunyun, 21 years old, was pregnant before getting married. Walking into the consulting room of Director Lin Sanming, she was nervous and delirious. She still remembered that last time she went for inspections in other hospitals, the doctor was cruel and ironic so she worried that she had to face up the embarrassing scene in this hospital again. However, after knowing her result and patiently asking her condition, Director Lin consoled her in a soft voice and suggested her discussing with families. Finally, Luo Chunyun relieved stress and listened to families'suggestion to receive the surgery. When she woke up after surgery, Director Lin amiably asked for her feeling and conditions. At this time, she cannot help crying. Since she had been pregnant accidentally, she was worried and afraid of talking to friends but in Modern Cancer Hospital Guangzhou, she felt warm and grounded.
The director of medical department in Modern Cancer Hospital Guangzhou, Yang Gang, said that when patients went to hospital, medical practitioners needed to take respect to them and provided them with effective treatment. Nowadays, China medical service stays in a severe condition that demand has far outstripped supply of doctors. With the intense contradiction of demand and supply, doctors easily feel sense of superiority so they may choose patients or neglect to take respect to patients. "In here, we make a practicable administrative method.", said Director Yang. In Modern Cancer Hospital Guangzhou, there is a principle of civilized service, which demands that medical practitioners put "civilized stethoscope" and pay attention to patients'need. What's more, some society people are hired as supervisors of medical ethic and medical culture, who take investigation openly and secretly so as to normalize the doctors'behavior.
In 2014, Modern Cancer Hospital Guangzhou implemented JCI system. "patient-centered" as the key concept of JCI was inculcated to all staffs. Now all the medical practitioners are fresh with new style. Doctors and nurse listen to and pay attention to the demand of every patient and the patients claim that medical practitioners' service are more thoughtful.
Thoughtful and Humanistic Care & Doctors and Patients Are a Family
At the end of 2014, in the annual meeting of doctors association in Guangdong province, Wang Huaizhong, the president of Modern Cancer Hospital Guangzhou, wrote a featured paper Practice and Exploration of Elaborated Service to International Hospitalized Patients, which was awarded the fourth place, excellence prize, in paper selection. This paper symbolizes that Modern Cancer Hospital Guangzhou stands in an outstanding place in practice and exploration of elaborated service.
Humanistic care in Modern Cancer Hospital Guangzhou appears in the daily duty of medical practitioners. It also forms a humanistic care system to take care of patients in every aspect. There are more than 60 innovative and humanistic value-added services in Modern Cancer Hospital Guangzhou, including clothing, food, housing, transportation, health, language, entertainment, traveling, festival ceremony, ethnic culture, religious belief, etc. Modern Cancer Hospital Guangzhou not only spares no effort to satisfy patients'need but also extends humanistic care to patients'families and provids free body check and recreation, etc. so that they can take care of patients to maintain a good physical and mental condition. Department of customer service in Modern Cancer Hospital Guangzhou said, "Patients go to hospital for treatment and they are taken as the members of vulnerable group so we need to take care of them and let them feel the sincere care. Patients build trust with doctors and their relationship is harmonious."
All staffs not only are responsible to their duties but also take the patients as friends and families. Dr. Hu in 7th floor knew a little Indonesian patient did not have a suitable cloth so she brought a dress for her after work; an English interpreter, Chen Haijun, in order to find a sword to a patient for performance wandered many streets; A Thailand cancer patient had a difficulty on money so the staffs brought him nourishment and organized an activity to raise fund for him.
Staffs got payment for their effort. Mr. Ma, 82 years old, wrote three thank-you letters to nurses to praise their thoughtful service; a Thailand patient, ANAMIDA, cooked local food for doctors and nurses to show her thank-you; two Laos patients cooperated to make a cross-stich and gave it to hospital. Doctors and nurses harmoniously get along with patients; they are a family.
One writer takes hospital as a battlefield without smoke of gunpowder. That is true. Doctors and patients are comrades in arms to fight against disease. In the battles, comrades may meet with difficulties and have some misunderstandings but when they deal with them in a proper way, they still can get a good result. The recognition of patients not only is the affirmation and encouragement to Modern Cancer Hospital Guangzhou but also takes a good example under the tensed relationship between doctors and patients and leads a good way to deal with doctors-and-patients relationship. Do not forget the original aim and you will achieve it one day.
Editorials:
"Doctors and patients are comrades in arms; diseases are their common enemies."However, there were some unfortunate accidents that patients hurt and killed doctors so the relationship between doctors and patients were tensed. Patients think that it needs to wait for a long to see a doctor and doctors do not treat the patients carefully and with expensive medical costs while doctors consider that the work is hard with low pay and they also need to face up with some complaints. The dissatisfaction of patients and the predicament of doctors are worthy of sympathy but there is no winner in the contradiction between doctors and patients. To relieve the tensed relationship, both doctors and patients need to change and make effort.
Doctors are mainly cultured with theoretical knowledge and practice but without humanistic care. In busy work, many doctors are interested in the "disease" but not "patients". An excellent doctor or nurse need to convey the professional knowledge with easy-to-understand words to patients and also need to treat patients with love & care as a family so as to gain trust of patients; patients need to understand doctors' hard-working and take respect to doctors. What's more, patients need to understand the limits in medical field and do not take medical treatment as a business. Mutual communication and mutual respect help avoid contradiction between doctors and nurses.
If you have any questions, please contact us via online consultation, email or phone call. If you find our website useful, please follow our FaceBook and YouTube, health information will be updated regularly.
Online Inquiry
CLICK HERE!
Let's Have A Healthy Life!
Video
To show you
what is cancer by
videos
Chatting on Facebook

Become a fan of us!
+Follow
We are waiting for you.