MCHG Joined Forces with International Capital to Picture a New Layout for Asian Medical Industry
On July 3, the news of that Singapore Perennial Real Estate Holdings Limited signed a strategic partnership agreement with Guangdong Boai Medical Group, was reported on the website of Ministry of Commerce of the People's Republic of China, Lianhe Zaobao of Singapore, Eastday.com and other media. It was reported that the two groups established a joint venture to invest the international leading cancer hospital—Modern Cancer Hospital Guangzhou and to create a new layout for Asian medical industry.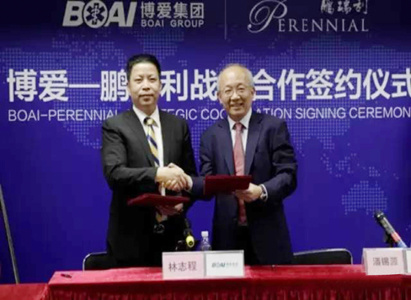 Photo of Singapore Perennial Group CEO Pan Xiyuan and Guangdong Boai Medical Group President Lin Zhicheng
Modern Cancer Hospital Guangzhou, the biggest foreign-related medical institution in Boai Medical Group, has a large brand influence and good reputation in Asia. In 2014, it was accredited by American JCI that is the highest level of medical standard, which marked the hospital's services and management had reached to the international leading level.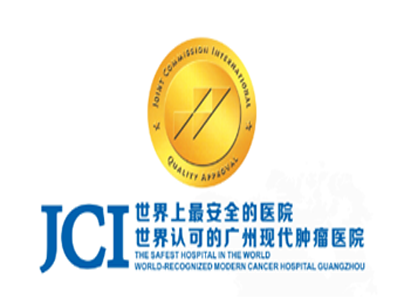 Modern Cancer Hospital Guangzhou was accredited by JCI
The achievement of Modern Cancer Hospital Guangzhou in overseas medical expansion has been constantly refreshed in the past ten years. And the old pattern of Asian medical center was being changed subtly. There are two leads of Modern Cancer Hospital Guangzhou including advanced minimally invasive medical technology, and the leading people-oriented service. More and more international patients regard the hospital as the first choice for treatment abroad. Meanwhile, the hospital has become a focus in capital market.
Many delegations of ministry of health, hospitals, medical schools, mainstream media, medical associations etc from Southeast Asia, Meddle East and other areas, had visited Modern Cancer Hospital Guangzhou many times. Meanwhile, they also invited the hospital delegation to visit for cooperation in various fields. Thus, Modern Cancer Hospital Guangzhou received an honor of "the most influential international hospital in Asia".
In recent years, Modern Cancer Hospital Guangzhou had treated more than 5,000 international patients who were in the middle or late stage per year on average. Most of the patients had lost chances of operation and could not tolerate systemic chemotherapy and radiotherapy. They expected that the minimally invasive therapy could bring them hopes. The hospital had successfully prolonged countless patients' life span and improved their life quality. Modern Cancer Hospital Guangzhou has more than 60 people-oriented value added services covering clothing, food, housing, transportation, health, language, entertainment, travelling, festivals, national customs, religion and so on. The hospital meets patients' and their relatives' needs with all its strength.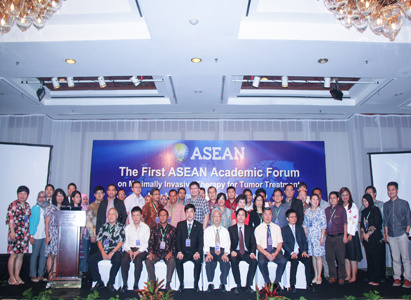 The first ASEAN Academic Forum for Tumor in 2015 was held in Bali, Indonesia. Two new achievements of cancer therapies were shown.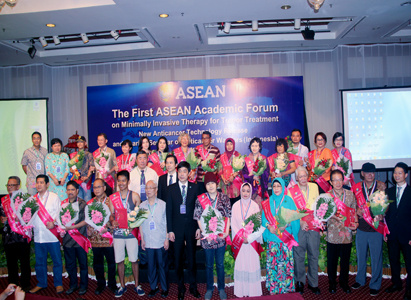 The sharing meeting of anticancer warriors in ASEAN Academic Forum on Minimally Invasive Therapy for Tumor Treatment
The CEO of Singapore Perennial Group Pan Xiyuan said, "With a mature operation management system, a professional team of medical specialists and a rich-experienced management team in Modern Cancer Hospital Guangzhou, we confidently believe that we can become the leader of Asian medical services industry." After signing the agreement, Modern Cancer Hospital Guangzhou would be trained professionally again with standards of service specification, including the service concept of "patients-first", management of protecting patients' privacy, uploading the translation of patients' medical records, process of selecting and making appointment with doctor and so on. Lin Zhicheng, the CEO of Guangdong Boai Medical Group, expressed that it was another high recognition for the hospital to sign the contract with Singapore Perennial Group; and it was an important milestone in the five-year plan for hospital development.
With support and cooperation of Singapore Perennial Real Estate Holdings Limited, Modern Cancer Hospital Guangzhou will adhere to the mission of "providing the most convenient and intimate medical service for human health", and provide the high quality of medical service for more international patients as it always has done.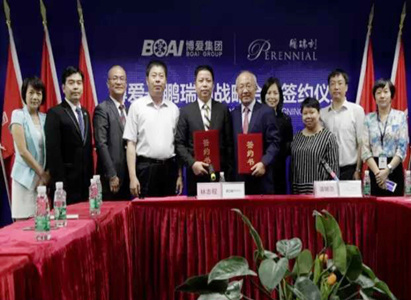 Singapore Perennial Real Estate Holdings Limited signed a strategic partnership agreement with Guangdong Boai Medical Group
If you have any questions, please contact us via online consultation, email or phone call. If you find our website useful, please follow our FaceBook and YouTube, health information will be updated regularly.
Online Inquiry
CLICK HERE!
Let's Have A Healthy Life!
Video
To show you
what is cancer by
videos
Chatting on Facebook

Become a fan of us!
+Follow
We are waiting for you.