Minimally Invasive Therapies Bring Blessing to Anti-cancer Treatment
On July 4th, 2015, our hospital ushered in the Philippine National Television Station PTV4, the CHInoy TV and the Philippine airline magazine, Mabuhay. The Philippine media delegation, total 6 people, visited Modern Cancer Hospital Guangzhou and knew more about the 18 cancer minimally invasive therapies and medical service condition, so as to bring new hope to more cancer patients.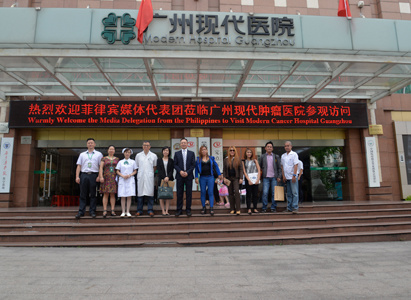 The hospital leaders and the Philippine media delegation

First of all, President Wang Huaizhong, on behalf of Modern Cancer Hospital Guangzhou, gave a warm welcome to the Philippine media delegation. He indicated that our hospital and Philippine media established a profound friendship. Four years ago, the Philippine media had brought hope of treatment for cancer patients via spreading the 16 minimally invasive therapies of Modern Cancer Hospital Guangzhou. After accumulating many years' experience, the hospital was qualified as the JCI accredited hospital which stood for the highest medical standard and had innovated two new technologies, multidisciplinary joint-cell natural therapy and radioactive particle and chemical particle combined implantation. President Wang Huaizhong expressed his hope that this visit could help more people get to know the new anti-cancer technologies and build up a bridge of communication between patients and the hospital.
Later, led by vice-president Chen Bin, the delegation visited the VIP wards, nutritious diet house and various departments of the hospital. The delegates continuously admired the beautiful and cozy living environments, and showed interest in the healthy food of the nutritious diet house. The delegation deeply admired the considerate service that the hopital offered to the patients.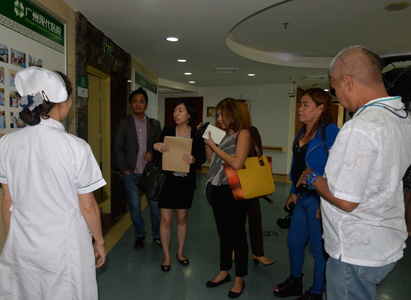 The Philippines media delegation was visiting the hospital
In order to help the delegation gain a deeper understanding of the minimally invasive therapies, a live broadcast of interventional therapy, radioactive particle implantation and cryotherapy was specially arranged for them, which was explained in detail by Dr. Zha Huangqi and Dr. Peng Xiaochi. Later, focusing on the advantages and characteristics of minimally invasive therapies, the delegation made an exclusive interview about the MDT and Dr. Peng Xiaochi.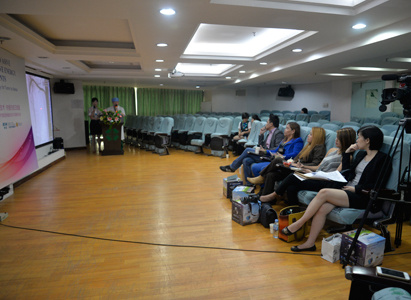 The Philippine media delegation was watching the live broadcast of minimally invasive therapy
At last, the delegation interviewed President Wang Huaizhong about the service concept of Modern Cancer Hospital Guangzhou. President Wang Huaizhong put forward two concepts when answering their questions. One was "Home Service", which meant that the hospital devoted itself to providing patients with warm service just like at home. Various activities would be held in the hospital to help patients eliminate the strangeness in a foreign country, such as celebration of important festivals, getting into the community. For patients, Modern Cancer Hospital Guangzhou was like a home far away from their hometown. The other one was "Medical Tourism". During patients' hospitalization, the hospital devoted itself to satisfying the potential needs of patients. The regular travel would be organized to provide better service for the patients.
President Wang Huaizhong emphasized that although cancer was a life-devouring monster, it could be prevented and treated. During the anti-cancer battle, doctors and medical scientific researchers had an obligation to devote themselves to technology research and development as well as clinical summary. What's more, the media also needed to spread the concept of cancer prevention and cancer treatment so as to help patients built up the confidence of fighting against cancer. Truly hoped that the hospital and Philippine media can work together to make positive contributions to Philippines' health.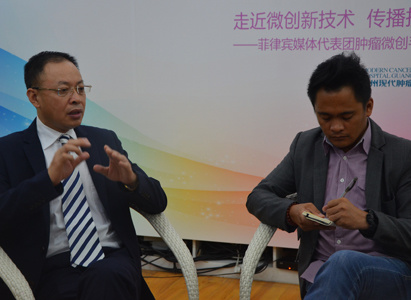 President Wang Huaizhong was receiving interview
In the morning of July 5th, an exclusive interview of four cancer patients from Malaysia or Philippine who had good efficacy, was specially arranged for the media delegation. During the interview, the media delegates asked patients questions mainly about their condition, therapeutic effect, treatment reflections, etc. Patients and their families expressed not only their satisfaction with the therapeutic effect, but also their admiration of the advanced technologies and excellent services. Except for giving encouragement, the four cancer patients also recommended other cancer patients to go to Modern Cancer Hospital Guangzhou, hoping that its advanced technologies can help them.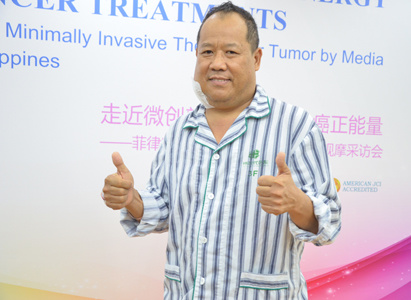 The Malaysia patient Chai Sook Leng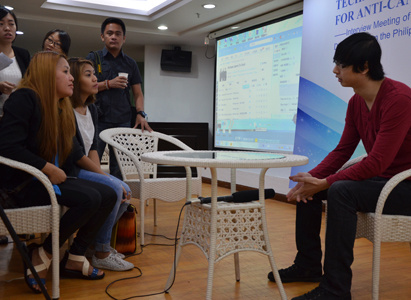 Family member of Zeng Bingsheng was receiving interview
Modern Cancer Hospital Guangzhou was reported to take "Medical Service without Boundaries" as its service aim. Since its establishment, the hospital had set up more than ten branch offices and received about 20000 Southeast Asian patients. What's more, Modern Cancer Hospital Guangzhou had established friendly relationship with national media of Malaysia, Indonesia and Philippine, etc. It was the second visit that helped the Philippine media delegation gain a deeper understanding of the minimally invasive therapies in Modern Cancer Hospital Guangzhou. With their spread, the advanced minimally technologies will bring good news to more cancer patients and help them restore confidence to fight against cancer.
If you have any questions, please contact us via online consultation, email or phone call. If you find our website useful, please follow our FaceBook and YouTube, health information will be updated regularly.
Online Inquiry
CLICK HERE!
Let's Have A Healthy Life!
Video
To show you
what is cancer by
videos
Chatting on Facebook

Become a fan of us!
+Follow
We are waiting for you.