A Salon for Kidney Diseases was held in Modern Cancer Hospital Guangzhou for Patients to Share Experiences
In the evening of August 18th, 2015, a salon for patients with kidney diseases-- "Love for Kidney, Light up Hope" was held in Modern Cancer Hospital Guangzhou. 15 patients with kidney diseases shared their experiences face to face, spread confidence and energy. Cai Xiaopeng, doctor from the Dialysis Center also showed up to answer patients' questions. During the salon, many patients with long-term kidney diseases shared their treating experiences, which were astonishing but encouraging. Patients there learned a lot from experiences of others, and continuously gave others applause.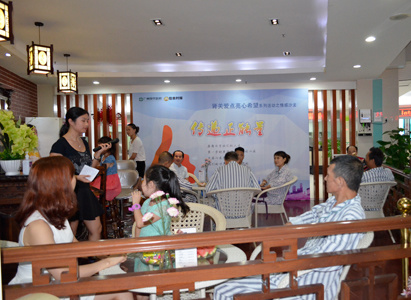 A Salon for Kidney Diseases was held in Modern Cancer Hospital Guangzhou for Patients to Share Experiences
"I removed the tube and wanted to wait for death in the first month of dialysis. However, I strived for survival when I saw my little girl. She needs a father. " Mr. Ren has been suffered from uremia for 5 years, but he still persevered though the process of dialysis were torturing and the cost was expensive. He gave his daughter a wonderful childhood with his own efforts; he built up a factory, a store, and worked as an assist police. "I am glad to be here, because the environment and medical teamwork here are excellent. I think there is nothing I cannot overcome." When Mr. Ren was sharing his experience, his daughter played around him. We saw confidence in his eyes.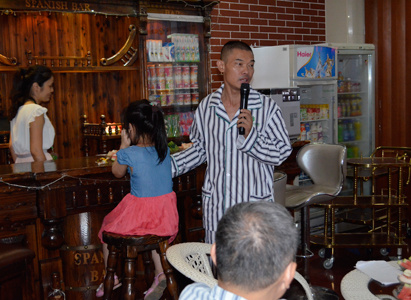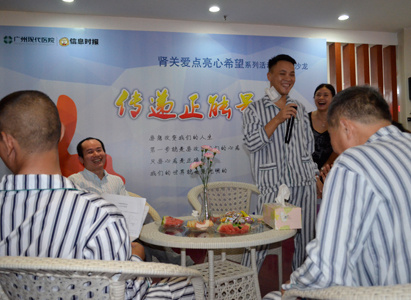 Patients were sharing treating experiences
"Having uremia is not a big deal!" A distinguished Chinese teacher said: "For the past three years, I took dialysis three times a week, but I never stop my educational work." Teacher Yan has taught students of senior grade three for dozens of years, among them many were admitted to Tsinghua University and Peking University. He indicated that patients with kidney disease could work and live normally if took dialysis regularly. But patients must have a strong will. He said to himself ever morning he woke up: "I still alive, I want to strive for survival." Patients there got energy and courage from his inspiring story, and his was interrupted for several times by other patients' warm applause.
"Probably because the technologies and environment here is better than other hospitals, I get a good dialysis effect and mental state." said Mr. Ye, a 25 year-old male with fair skin and handsome face. He looked nothing like a patient with uremia if without the hospital gown and the gauze on his neck. He was depressed and weak after learning that he got uremia few months ago. However, after he took three months of dialysis in Modern Cancer Hospital Guangzhou, he felt much better. "Patients here keep enlightening and encouraging me. I want to restore to health as quickly as possible. I will live well for the sake of my wife and our unborn baby." After hearing his story, other patients gave him a warm applause for encouragement. And they talked to him, hoping to give him encouragement with their own treating experiences. Except for patients' sharing, Dr. Cai communicated with patients deeply and gave them patient guidance, which gained unanimous praise.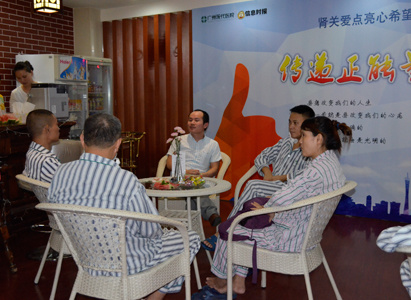 Cai Xiaopeng was giving patients guidance.

It is known that kidney disease is a type of chronic disease which wastes human body, spirit and money. So far there is no cure, except for kidney transplantation. Those families which have patients with kidney disease may get into financial trouble. No one can really understand what they go through except for those with the same disease. It is the salon for kidney diseases that helps patients get together to share their treating experiences. They learned from each other, helped each other and spread positive energy to other patients. Such kind of activity, not only help patients get spiritual resonance, but also improve the efficacy. We hope that patients with kidney diseases can return to normal life as quickly as possible.
If you have any questions, please contact us via online consultation, email or phone call. If you find our website useful, please follow our FaceBook and YouTube, health information will be updated regularly.
Online Inquiry
CLICK HERE!
Let's Have A Healthy Life!
Video
To show you
what is cancer by
videos
Chatting on Facebook

Become a fan of us!
+Follow
We are waiting for you.