Know Minimally Invasive Technology and Spread Anticancer Energy
---A Delegation from Traditional Chinese Medicine Association of Medan, Indonesia Visited Modern Cancer Hospital Guangzhou.
On the afternoon of September 21, president Li from Tradition Chinese Medicine Association of Medan, Indonesia led her team to visit Modern Cancer Hospital Guangzhou for study and exchange. Leaders from Modern Cancer Hospital Guangzhou including the general manager Lin Shaohua, president Wang Huaizhong, vice president Chen Bing, director Sang Li, etc warmly received them.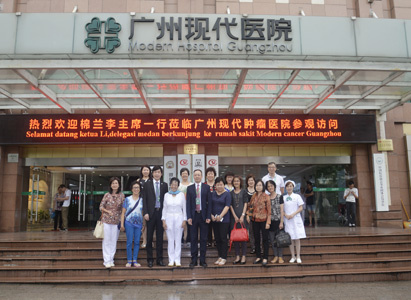 Leaders from MCHG and the delegation took photo in front of the gate.
The hospital held a welcoming ceremony for the delegation. General manager Lin Shaohua gave a welcoming speech to them. He said that since Medan office of Modern Cancer Hospital Guangzhou was established, Traditional Chinese Medicine Association of Medan offered help and support for the office. And Medan office had grown and developed rapidly. More and more Indonesians knew Modern Cancer Hospital Guangzhou and minimally invasive therapy bringing hope for those in need. In recent years, the hospital had made great achievements. For instance, the hospital was accredited by American JCI (Joint Commission on Accreditation of Healthcare Organization) in October, 2014; and the hospital published two new techniques (radioactive particle implantation technology jointed with chemotherapy and radiation and multiple targeted antitumor immune cells) in the ASEAN Academic Forum on Minimally Invasive Therapy for Tumor Treatment in 2013. Those achievements showed professional and higher medical service and strength of the hospital. General Manger Lin hoped that the team would put forward suggestions for the hospital to make more improvement, and would bring good news for Indonesian cancer patients. On behalf of the team, President Li showed their appreciation for the friendship and cooperation with Modern Cancer Hospital Guangzhou, and she said that through this exchange they knew more about minimally invasive technology and would spread this advanced technology for cancer patients in Indonesia to bring hopes for them. And she admired the service and high sense of social responsibility of the hospital because MCHG had helped many cancer patients by offering free treatment.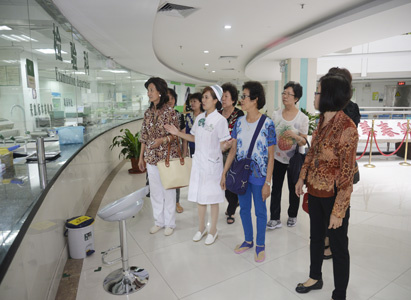 Director of nursing department He Liangqiong led the team to visit the hospital.
After the ceremony, the vice president Chen Bing from MCHG led the team to visit the hospital including service center of international patients, VIP ward, nutrient diet house, clinical laboratory, and so on. When the director of nursing department He Liangqiong introduced the display wall of hospital activities for patients, all the members showed their interest and admiration of patient-oriented service. After the visit, the delegation took joint photo in front of the JCI image wall.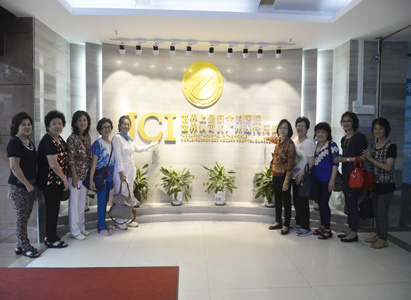 The delegation took photo in front of the JCI image wall.
It is reported that since 10 years of establishment, Modern Cancer Hospital Guangzhou has been taking "providing the most convenient and the best medical service" as mission, and has gained praise from UICC (Union for International Cancer Control) and investment from Singapore Pernnial Group. Taking the concept of "non-border medical treatment", Modern Cancer Hospital Guangzhou has set up more than ten offices in Southeast Asia, and has held more than 200 public healthy lectures abroad and helped thousands of cancer patients prolong their survival time and improve their life quality.
If you have any questions, please contact us via online consultation, email or phone call. If you find our website useful, please follow our FaceBook and YouTube, health information will be updated regularly.
Online Inquiry
CLICK HERE!
Let's Have A Healthy Life!
Video
To show you
what is cancer by
videos
Chatting on Facebook

Become a fan of us!
+Follow
We are waiting for you.