Anticancer Warriors Climbing Activity was Held by MCHG
Defeat the Cancer, Scale the Height
On October 17th, about 50 cancer patients in white T-shirt got ready to climb up the Baiyun Mountain. The atmosphere at Modern Cancer Hospital Guangzhou was lively.
All the participants are the cancer patients at Modern Cancer Hospital Guangzhou from Malaysia, Indonesia, Philippine, Vietnam, etc. With the optimistic attitude, they all successfully fought against with cancer. This climbing activity celebrated their improvement and spread the positive energy to encourage other cancer patients.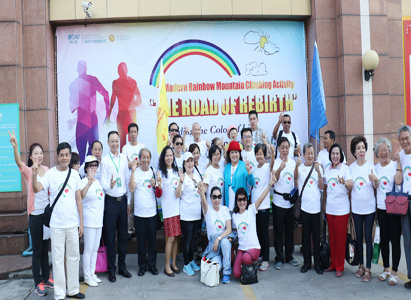 Joint Photo of Anticancer Warriors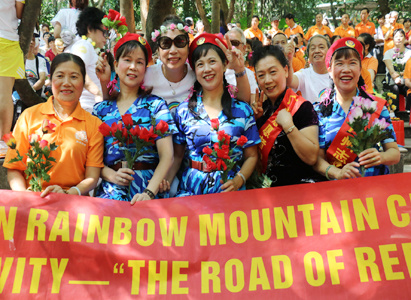 Baiyun Mountain Choir made a performance to anticancer warriors
At 9 o'clock, the activity began and the president Wang Huaizhong cheered them on. With the company of the hospital staffs, the anticancer warriors started to climb the mountain.
The mild sunshine, fresh air and green trees impressed the patients. The patients happily took the photos while walking. A Malaysian cancer said, "I only go for a walk at the hospital garden before. I am happy that I can climb up the Baiyun Mountain together. It is my success symbol of fighting cancer. "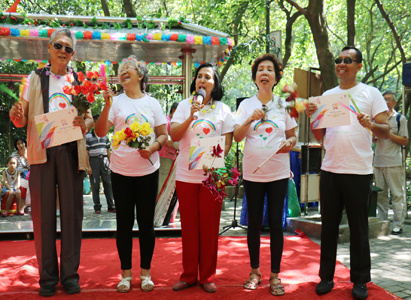 Indonesian patients sang a song
What's more, the Baiyun choir held a singing party for the anticancer warriors. Miss Li warmly expressed welcome to all the cancer patients and hoped them could have a wonderful life. The choir sang and danced. Indonesian and Vietnam patients also sang their local songs to the audiences. The atmosphere was stirred up.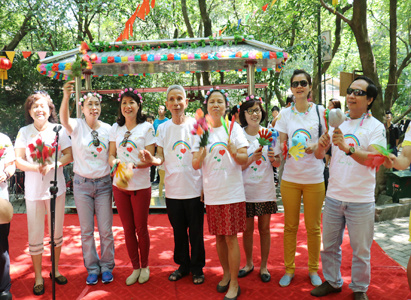 Vietnam patients sang a song
Every year, part of cancer patients will be appraised as the anticancer warriors. Instead of the climbing activity, Modern Cancer Hospital Guangzhou also held other activities of visiting Canton Tower and museum, etc. Pro. Peng implied that as the JCI accredited hospital, we not only provided the best therapeutic method but also paid attention to the patients' mental condition so as to build a happy and cozy environment for them to take cancer treatment.
If you have any questions, please contact us via online consultation, email or phone call. If you find our website useful, please follow our FaceBook and YouTube, health information will be updated regularly.
Online Inquiry
CLICK HERE!
Let's Have A Healthy Life!
Video
To show you
what is cancer by
videos
Chatting on Facebook

Become a fan of us!
+Follow
We are waiting for you.