Hi, Grace,Happy Birthday!
----A Day for Philippine Cancer Patient and MCHG Medical Staff
On September 27, it was mid-autumn festival -- a Chinese traditional festival. According to traditional custom, everyone should be with family and beloved on this day. Coincidentally, it was also Grace's birthday. Grace was a cancer patient who got treatment in Modern Cancer Hospital Guangzhou. In order to fulfill her husband's wish for leaving Grace wonderful memory, the staff including Grace's attending doctor, director, translator, support staff etc, fully made preparation for the birthday party and delayed their festival time.
From the aspect of Grace's attending doctor:
Grace was a colorectal cancer patient at the advanced stage with hepatic metastasis. She is in unstable condition, so it's necessary for her to be cared seriously. On September 27, Grace's attending doctor Zhang Weizhong was busy in observing Grace's condition changes with Director Kou Yanhui all day without leaving her ward. Meanwhile, Doctor Zhang specially prepared a bunch of roses and a birthday card for her. On the card, he wrote, "Wish you a special day: happiness, laughter and cheers, sunshine, hope are always with you……"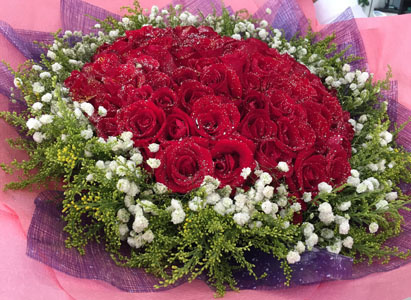 Red Rose from Doctor Zhang
From the aspect of translator:
David Chen who was the translator for Grace had not rested for several days because he also needed to keep watching Grace. For language barrier, David played an important role in being the communicative bridge between doctor and patient. On the one hand, he conveyed the message of condition change to Grace and her family, and translate the professional medical terms from doctor into the straightaway Filipino and build up Grace's confidence. On the other hand, David was seriously concerned about the daily life of Grace and her family from all aspects.
David kept Grace's important day in his mind. As scrupulous David was, he knew about Grace's favorite, so he got all the patients from the Philippines together to make the local birthday food, write birthday blessings, make birthday cards, etc so as to prepare a special and unforgettable day for Grace.
Besides, Wang Tianmei, an Indonesian translator, should have a holiday on this day, but she returned to her work on her own initiative to join Grace's birthday party. She dressed casually and concentrated on playing the guitar and singing in the garden. She hoped that she could give Grace the best wish by her singing. As far as she was concerned, people should follow their kind heart; and it was worthwhile to do some meaningful things for others.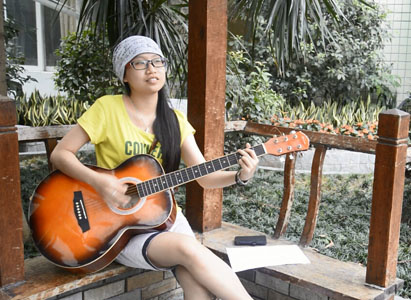 Indonesian translator Wang Tianmei was preparing her show to Grace.
From the aspect of planners or support crew:
Except for medical staff, translators etc, the planners or support crew made great efforts to Grace's birthday celebration. In order to give a happy birthday and good memory to Grace, the support crew was devoted to make various preparations, including application, purchase of roses, cake, fruits, and decoration of the ward, etc. Additionally, they did search for the creative fruit platter on the internet and the choice of fruit, etc.
In the morning of that day, support crew went to market to buy the ornaments such as balloon, colored ribbon, etc. At about 1 pm, they were busy making preparations at the nurse station and cafe bar – balloon inflation, fruit dishes…… Besides, nurses were happy to join and help them. On seeing the colorful hydrogen balloon, the nurses exclaimed, "How beautiful it is! It's so nice for our hospital to do this for patients. "
However, when the staff began to decorate Grace's ward, they were told that Grace was in unstable condition with sudden induced heart failure and erratic blood pressure. Doctors must keep watching her alongside, and others could not bother her. Therefore, the staff had no choice but to wait. Until 6 pm, they were curious whether the birthday party could be held or not. What's more, they were so worried about Grace.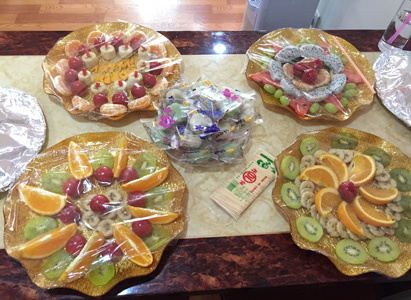 Fruit Dishes
Grace's husband said, "Whatever Grace's condition is, the birthday party must be held in accordance with the original plan." That made the staff become more determined to held a good party for Grace. So, they quietly moved all the prepared things to Grace's ward and finished the decoration without bothering Grace. Additionally, roses and cake that they booked before were sent punctually.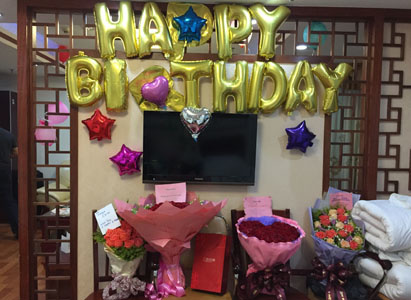 Decorated Ward
Finally, at about 7 pm, good news came to the staff from the doctor: Grace was in stable condition and the birthday party could begin. All the staff was so excited. They began to play birthday song…… Grace was so happy and moved to have this birthday party.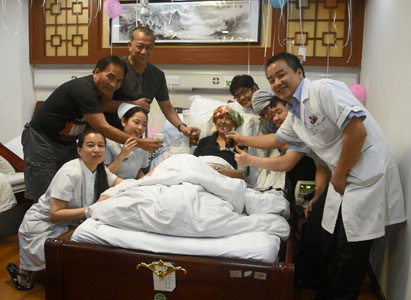 Grace and the staff
If you have any questions, please contact us via online consultation, email or phone call. If you find our website useful, please follow our FaceBook and YouTube, health information will be updated regularly.
Online Inquiry
CLICK HERE!
Let's Have A Healthy Life!
Video
To show you
what is cancer by
videos
Chatting on Facebook

Become a fan of us!
+Follow
We are waiting for you.