The Chinese Painting Exhibition Creates a New Bridge for Cultural Exchange between China and Saudi Arabia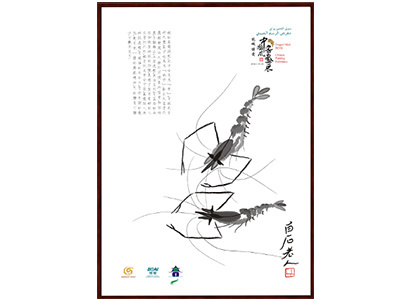 Work of Qi Baishi
Organized by Sino-Saudi Culture Exchange Center, co-organized by Saudi Arabia Dragon Mart, Modern Cancer Hospital Guangzhou (Riyadh Office) of China Boai Medical Group, and joined up with Sino-Saudi Exchange Association, Sino-Saudi Economy Joint Association, Middle East Peace and Development Foundation, a Chinese Painting Exhibition will be held during February 15th to 22nd in Dragon Mart, Riyadh, Saudi Arabia.
The aim of the Chinese Painting Exhibition in Dragon Mart is to spread traditional Chinese culture and show the charm of Chinese painting. Responding to the call of Chairman Xi, China Boai Medical Group attempts to have further cooperation with Saudi Arabia and form a community in the field of politics, economy and culture. Moreover, China Boai Medical Group wants to provide an opportunity for Saudi Arabians to closely appreciate Chinese painting, also a platform for cultural exchange between China and Saudi Arabia. Held by Modern Cancer Hospital Guangzhou (Riyadh Office) of China Boai Medical Group and Sino-Saudi Culture Exchange Center, more than 30 traditional Chinese paintings will be show on the exhibition, including the "Preface in Wang Xizhi's Lanting Poetry Anthology", "Along the River during the Qingming Festival", "Dwelling in the Fuchun Mountains", "Guangzhou Eight Scenic Spots in past Dynasties", etc. Moreover, paintings of China famous painter in Saudi Arabia and calligraphy work of Islamic culture presented by Sino-Saudi Culture Exchange Center will also be showed on the exhibition.
Art and calligraphy lovers in Saudi Arabia will be invited to the exhibition to make more friends and create more cooperation, and this exhibition will provide precious experiences and resources for professional cultural exchange activities in the future.
If you have any questions, please contact us via online consultation, email or phone call. If you find our website useful, please follow our FaceBook and YouTube, health information will be updated regularly.
Online Inquiry
CLICK HERE!
Let's Have A Healthy Life!
Video
To show you
what is cancer by
videos
Chatting on Facebook

Become a fan of us!
+Follow
We are waiting for you.