Visit Cancer Patients at Women's Day in MCHG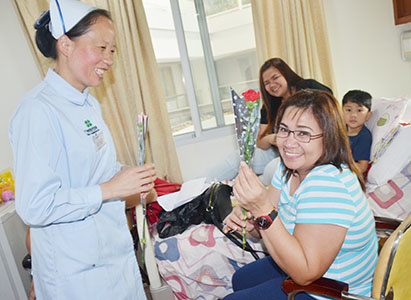 On March 8, at the wards in Modern Cancer Hospital Guangzhou, you can hear the reverberant laughter of many women. The medical staffs of Modern Cancer Hospital Guangzhou sent beautiful flowers and best wishes to every female cancer patient touching their hearts and even reducing others to tears.
The female cancer patients, who received the flowers and wishes, were very happy and touched and took photos with medical staffs to remember this special day.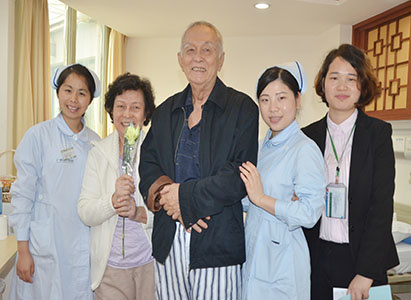 Female cancer patients and medical staffs
On this day, the breast cancer patient from Indonesia, LIE HUANG, received the flowers from Modern Cancer Hospital Guangzhou. What surprised her was that her husband waited at the door with the medical staff to come and the flowers himself to his wife, hoping that his wife can get well soon. When LIE HUANG received the flower, she was very happy and touched. She did not know what to say in order to show her gratitude especially to her loving husband.
LIE HUANG, from Jakarta, Indonesia, is diagnosed with breast cancer. She got hospitalized in Modern Cancer hospital Guangzhou in 2014. One year passed, their family has built a deep friendship with Modern Cancer Hospital Guangzhou. She has received many surprises here and every time she receives a surprise like today, she feels the loving care of the hospital. Modern Cancer Hospital Guangzhou makes them feel at home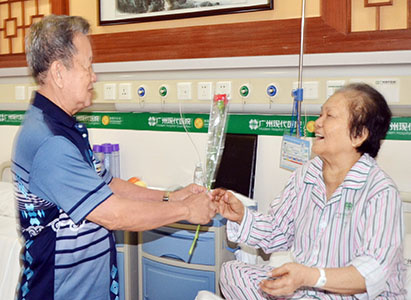 Husband sent flower to LIE HUANG
What's more is that birthday parties and other activities are also held in Modern Cancer Hospital Guangzhou to show the care and love to the patients. Modern Cancer Hospital Guangzhou also offers many kinds of value-added activities, including travelling, symposiums, gourmet food, striving to provide a comfortable environment to patients making patients feel safe, at ease and respected at Modern Cancer Hospital Guangzhou.
If you have any questions, please contact us via online consultation, email or phone call. If you find our website useful, please follow our FaceBook and YouTube, health information will be updated regularly.
Online Inquiry
CLICK HERE!
Let's Have A Healthy Life!
Video
To show you
what is cancer by
videos
Chatting on Facebook

Become a fan of us!
+Follow
We are waiting for you.