Hey, Let's Move Your Body Together!
Modern Cancer Hospital Guangzhou organized cancer patients to take gymnastics.
As spring comes and temperature rises, it seems that people's desire to do sports increases. On March 29, Modern Cancer Hospital Guangzhou organized cancer patients and their family, mainly from Malaysia, to take gymnastics at the multifunctional meeting room on the 9th floor. Patients and their family were absorbed in explanation for every movement, and practiced seriously.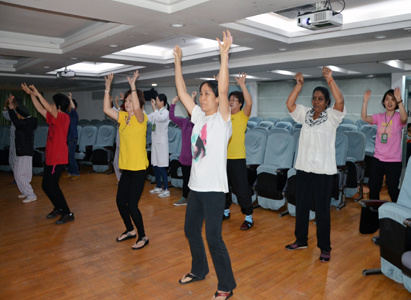 Patients and their family were taking exercise
It was the fifth time for Elena, a lung cancer patient from the Philippines, to come Modern Cancer Hospital Guangzhou for treatment. At present, she is in stable condition. She showed that she seldom took gymnastics in the Philippines but went for a walk generally. In this time Malaysian patients and their family who can speak Chinese took part in this activity, and she can communicate with them without language barrier, so she joined it. As the only one who was the Filipino, Elena did not feel strange but moved her hands together.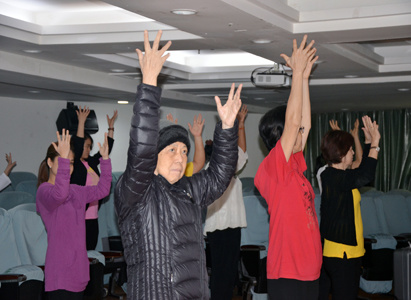 Lung cancer patient Elena
Another lung cancer patient from Malaysia-- Mr. Loke who can discharge after taking interventional therapy in this time is in good condition now. He introduced that he loved doing sports very much. Except for playing badminton, he often took gymnastics. Thus, it was a piece of cake for him to join in this activity. He smiled and felt relaxed during the exercise.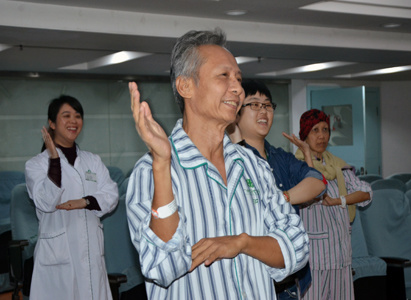 Lung cancer patient Mr. Loke
It was reported that 30-minitue gymnastics every day can help cancer patient relax and cooperate to take treatment, so that it can achieve good treatment effect. Aiming to release anxiety from cancer patients and their family and help them keep fit, Modern Cancer Hospital always holds activities like this, greatly welcomed by patients.
If you have any questions, please contact us via online consultation, email or phone call. If you find our website useful, please follow our FaceBook and YouTube, health information will be updated regularly.
Online Inquiry
CLICK HERE!
Let's Have A Healthy Life!
Video
To show you
what is cancer by
videos
Chatting on Facebook

Become a fan of us!
+Follow
We are waiting for you.