Indonesia media visiting group visited Modern Cancer Hosptial Guangzhou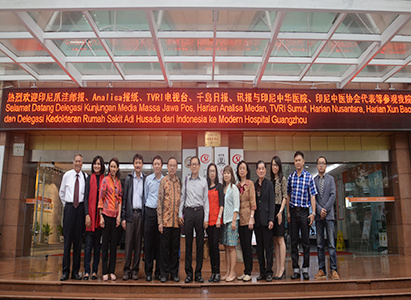 On April 14th, a media group comprised of 18 people from TVRI, Analisa Newspaper, Intelligencer, Jawa Pos, Harian Nusantara, Metro TV, visited Modern Cancer Hospital Guangzhou. The president from North Jiangsu Association of Traditional Chinese Medicinefrom, Mr and Mrs Yang, president from Traditional Chinese Medicine Association of East Java, Lin Shaojuan, lifelong honored president from Traditional Chinese Medicine Association of East Java, Mr and Mrs Hu also visited us.
General manager, Lin Shaohua, and president, Wang Huaizhong, and other leaders expressed a warm welcome the media group at the nineth floor meeting room to introduce the current development, vision, treatment mode, patient service and the breakthrough and international honor of hospital . With the company of leaders, visiting group watched the live show of minimally invasive cancer treatment and participated tin the monthly anticancer warrior activity.
While watching the live show of cryotherapy, one of the minimally invasive therapies, cryotherapy released Ar gas and the tumor was frezon to an ice ball, then the cancer cells were destroyed by being heated to 20-40°C. As a result, the tumor was completely destroyed. The whole visiting group was intreasted in the cryotherapy and the attending doctor answered their questions one by one. It is said that cryotherapy, as one of the minimally invasive therapy, can help the wound be healed quicker and there is a high accuracy rate of killing cancer cells, low recurrence rate so it is a best choice for cancer patients.
The montly anticancer warrior ceremony helps develop the medical service at Modern Cancer Hospital Guanghzou. In order to encourage the cancer patients who are upset and worried about cancer, the ceremony is held once a month and some cancer patients at good mental status share their story others so as to make their emotional status turn better and spread anticancer positive energy. The media group highly agrees that cancer patients not only need the physical treatment but also mental guidance. Modern Cancer Hospital Guangzhou stand a good example to other hospitals for thoughtful care and love.
Moreover, the introductory AVP and advertisement vieo showcasing the hospital environment, hardware equipment, MDT (multidisciplinary team) treatment mode, etc. The reprecentative of Subei Chinese Medicine Associate, Yang Qingxiang, said they gained a lot of thins during this trip, not only further knowing the current development, treating mode, treatment technology and integrated environment but also deeply feeling that Modern Cancer Hospital Guangzhou is a JCI accredited hospital with high-standard medical service. He thinks there is a very promising further of Modern Cancer Hospital Guangzhou and hope to build up a further friendship with Modern Cancer Hospital Guangzhou to promote the medical health development between China and Indonesia.
As an international cance specailzied treatment organization, Modern Cancer Hospital Guangzhou has been founded for then years. With the greatest efforts, it estblishs MDT mode and 18 advanced cancer technologies and builds up a well-known consultation center and more than 60 value-added service, saving more lives, prolong patient's life span and improving their life quality. In 2014, Modern Cancer Hospital Guangzhou was accredited by JCI approval with high score which stands for the highest medical service; in 2015, Singapore listed Penrial Group has funded and cooperated with us; in 2016, it discussed with Mayo Clinic for development and exchange experience. All these show that Modern Cancer Hospital Guangzhou has been breakthrough itself, aiming to "provide the best medical service" for cancer patients and create live miracles.
If you have any questions, please contact us via online consultation, email or phone call. If you find our website useful, please follow our FaceBook and YouTube, health information will be updated regularly.
Online Inquiry
CLICK HERE!
Let's Have A Healthy Life!
Video
To show you
what is cancer by
videos
Chatting on Facebook

Become a fan of us!
+Follow
We are waiting for you.