Modern security systems & New management concept for our patients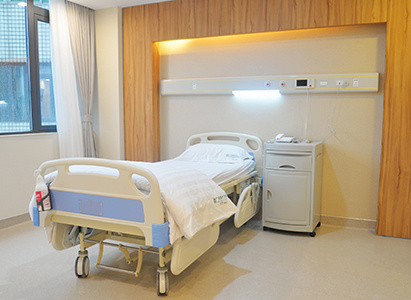 Modern Cancer Hospital Guangzhou is an international cancer hospital passing the highest standard set by the US Joint Commission International. In the latter months of 2015, Modern Cancer Hospital Guangzhou conducted a comprehensive upgrading, officially launched the Breast Cancer Center", and established home-oriented medical management, to provide patients with professional, safe and comfortable medical services.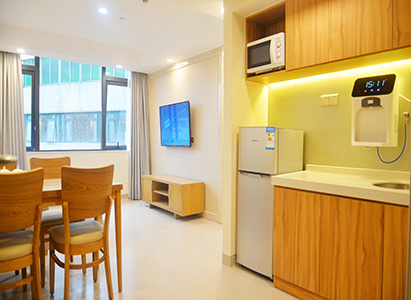 Digital Security System, safety measures for patients
Modern Cancer Hospital Guangzhou Nursing Department Head, He Liang Qiong stated that the main principle for the transformation of the ward is patient-centeredness because the patient's personal safety should always come first. In line with this, the hospital also introduced the digital hospital security management device, where ward doors have an electronic screen indicating the ward numbers, doctor-in-charge and nurse-in-charge, and it also displays warning signs. It makes use of the three color management concepts to ensure that the medical staff can respond immediately to patients in any emergency.
The digital security system covers all the wards at Breast Cancer Center. The most prominent feature is the calling system at the wards, which is connected to the inside and outside of the wards, and also the nurse station, making a three-point-system. Multiple calling machines are installed at every ward, which are connected to the viewing machines outside the ward and nurse station. When the patient calls for help, the medical practitioners will know immediately. For example, when a patient finishes taking the intravenous drip, the green light outside the ward will automatically be on. If a patient calls for other help, the red light will be on. If the nurse or doctor is dealing with it, the blue light will be on. All these signals will be delivered to the screen at the nurse stations so that the medical practitioners can respond immediately and solve the problem. This system is also called "three color calling management" so that medical staffs can respond immediately to patients in any emergency.
What's more, the treatment facilities are also designed according to patient's needs. For example, inside the bathing room, considered as the most dangerous place for patients, a calling facility was installed. In addition, a sliding door with no doorsill is designed for patients so that they can get in and out while on a wheelchair. Also, safety handrails and seats are available in the bath room for those are weak so that patients can enjoy their shower safely and comfortably. Moreover, there are a total of 4 respirators at every ward and the doorway.
Family-oriented medical management mode
Modern Cancer Hospital Guangzhou Nursing Department Head, He Liang Qiong stated that the ward at Breast Cancer Center adopted a home-oriented design. There are two beds in a ward and the companion can live with the patient in the ward. Besides the medical facility, the appliances needed for their daily routine are also installed such as refrigerator, microwave oven, and purifying water machine. Every ward has one bathroom and one pantry. Every ward is large and furnished nicely with personalized facilities. In every floor, there is a public kitchen. For those who wanted a more special room, the hospital also provides a business suite and VIP ward. In addition to the available facilities at the common ward, the VIP rooms includes a study room, kitchen and reception room. The concept of "Family-style nursing care" is to enable the family to be able to take care of the patient comfortably and ensure their living quality while patients and their companions stay at the hospital.
Establishment of "Breast Cancer Center", creating a new level of medical service
It was reported that the Modern Cancer Hospital Guangzhou Breast Cancer Center was officially launched in April 2016 aiming to build up a safe and comfortable environment for breast cancer patients. To reach a new level of medical service, we set up a MDT (multi-disciplinary team) to treat breast cancer and provide a comprehensive service at Breast Cancer Center, with the goal of providing convenient and better service at Modern Cancer Hospital Guangzhou.
If you have any questions, please contact us via online consultation, email or phone call. If you find our website useful, please follow our FaceBook and YouTube, health information will be updated regularly.
Online Inquiry
CLICK HERE!
Let's Have A Healthy Life!
Video
To show you
what is cancer by
videos
Chatting on Facebook

Become a fan of us!
+Follow
We are waiting for you.