Care about Oral Health of Middle-aged and Elderly People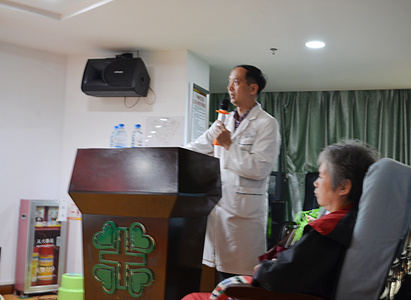 On April 24, Modern Cancer Hospital Guangzhou held a symposium about oral health in the meeting room on the 9th floor. As the main speaker, Director Zhou Bin from department of stomatology gave a lecture. And the middle-aged and elderly people who lived nearby the hospital joined in. Director Zhou started the lecture from the oral health issues, and introduced cause of increasing oral diseases among middle-aged and elderly people, harms of oral diseases, treatments, and daily health care etc.
  Oral health problems among elder people including dental caries, periodontitis, tooth loss, oral leukoplakia, ozostomia, etc, were listed by Director Zhou. And the elderly people responded that they really had these problems, which showed that oral health in the middle-aged and elderly people needed to be concerned and treatment should not be delayed.
  There were harms that caused by oral diseases, such as decrease of crewing ability, digestion problem, increase of stomach burden, stomach and intestinal diseases, heart disease, stroke, rheumatic disease, renal disease, etc.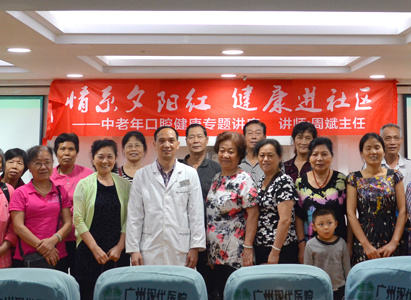 Besides, Director Zhou explained various treatments for oral diseases, for example, composite resin filling or inlay repair for dental caries; dental implant or fixed partial denture for tooth loss. Director Zhou reminded that elderly people should pay attention to oral daily health care to prevent diseases. It was advised to persist in brushing teeth, gargling, massaging gum etc.
  After the lecture, the audience expressed that they learned a lot. In the interaction part, Mrs. Lin was interested in Ankylos dental implant and showed appreciation on this technology at Modern Cancer Hospital Guangzhou. And, Mr. Wang said, "Previously I thought that it was not a big problem for a tooth hole. But now, I think it is a very big problem. I have to get treatment for my dental caries. "
  Modern Cancer Hospital Guangzhou always holds many public benefit activities, including public medical symposiums, free medical consultation, etc, which are beneficial to spread knowledge of disease prevention and healthcare.
If you have any questions, please contact us via online consultation, email or phone call. If you find our website useful, please follow our FaceBook and YouTube, health information will be updated regularly.
Online Inquiry
CLICK HERE!
Let's Have A Healthy Life!
Video
To show you
what is cancer by
videos
Chatting on Facebook

Become a fan of us!
+Follow
We are waiting for you.