Foreign patients were deeply moved by their positive energy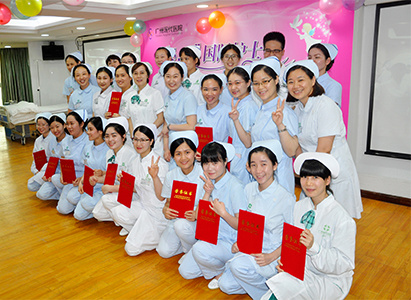 "Conrazon De Melao, Melao Melao Melao……", the sound of a song was conveying from the 9th meeting room. Many people from different countries were applauding and a four-year-old girl was jumping excitingly. What happened there?
On May 11th, a celebration of Nurse's day was held at Modern Cancer Hospital Guangzhou to send best wishes to every nurse. As the beautiful angel, nurses work hard silently and what they have done deeply moves patients. At the spot, leaders from the hospital sent their wishes to the nurses and patients and their family from different countries also came to join the cerebration.
In order to celebrate this special day, some nurses from Modern Cancer Hospital Guangzhou danced and a burst of applaud was prompted and patients excitedly took photos and video.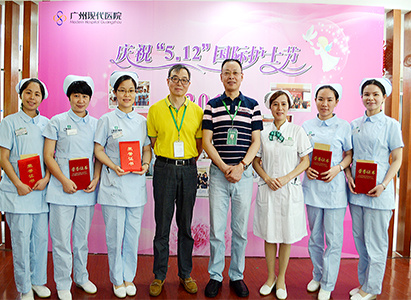 Cake and fruit were prepared for every nurse at Modern Cancer Hospital Guangzhou to celebrate this special day. President Wang, vice president Chen, chief of nursing department and other leaders also joined the celebration and sent best wishes. Chief of nursing department said, "Every nurse is the best support of our hospital. Doctor and nurse are a team to meet patient's need. Smile and greeting though a little thing, give patient encouragement and support. Thank you so much for your effect. Happy Nurse's Day!"
Nursing care at Modern Cancer Hospital Guangzhou strives for excellence. Nurses actively strive to make breakthrough and they actively joined the competition and gained prizes. At the spot, president Wang and vice-president Chen presented the prizes to those that got prizes at the provincial, cantonal and district competition and encouraged them to stick to their position and serve every patient with love, care, responsibility, to satisfy their need and build up a customized service.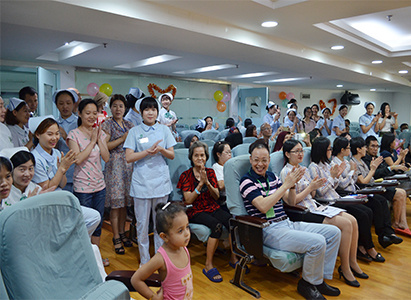 Modern Cancer Hospital Guangzhou is an international comprehensive hospital. In order to communicate with the patients from different countries, we have a high standard for every nurse that they need to have a good understanding of English. At May 12th, we also held an English competition. Nurses showed their best performance and impressed the audience. At last, we also selected the first, second and third place in the competition.
Chief of nursing department, He Liang Qiong, from Modern Cancer Hospital Guangzhou also said, "The celebration of Nurse's Day is to show our respect and admiration to every nurse. With joint effect, we believe we will do better and satisfy patient's need."
If you have any questions, please contact us via online consultation, email or phone call. If you find our website useful, please follow our FaceBook and YouTube, health information will be updated regularly.
Online Inquiry
CLICK HERE!
Let's Have A Healthy Life!
Video
To show you
what is cancer by
videos
Chatting on Facebook

Become a fan of us!
+Follow
We are waiting for you.