Modern Cancer Hospital Guangzhou invited policeman to Train Safety Precaution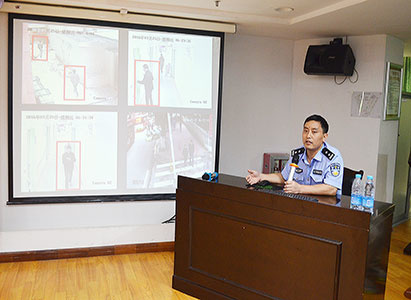 In recent years, various cases like theft, fraud and so on happen frequently. On safety precaution, what particulars we must know?
Hospital is a special public place. Patient's personal and property safe is the most important aspect of hospital security work. In order to improve the staff's awareness of safety precaution and to ensure patient's safety, Modern Cancer Hospital Guangzhou organized the hospital staff to learn the knowledge of safety precautions on May 12th. This training course was held by Mr. Jiang, the officer from Shadong local police station of Tianhe District.
Combined existing situation that various cases like theft, fraud which affected personal and property safety have frequently happened in various public places with the actual situation of Modern Cancer Hospital Guangzhou, Mr. Jiang teach the worker how to prevent theft, pickpocket, cheat, etc and how to make good management of foreigner personnel. He also gave some suggestions on the security work for patients in the hospital.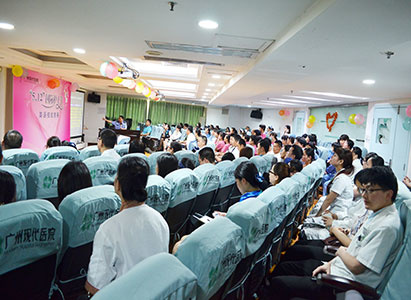 During the train, Mr. Jiang demonstrated the distribution of all entrances, elevators and fire exits of the hospital by showing pictures. He specially warned that the staff especially the safe guards should pay attention to the suspicious characters that come in and out of hospital, to carry out good counter-terrorism anti-riot security work. Additionally, in anti-theft aspect, Mr. Jiang pointed out five countermeasures: strengthen publicity and education of theft, take diligent patrol, promote technology prevention construction, strengthen investigation and research, strengthen the comprehensive management, and implement mass prevention and control.
Recently, various types of frauds come out one after the other. Mr. Jiang summarized the main frauds and reminded the hospital to do a good publicity and education of anti-theft for patients and staffs. Thirteen terms of "those who" like "those who ask you to remit money to 'safe account'…" are simple and readily intelligible to reveal the possible methods of frauds. People should be cautious of these cheating ways.
It's very important to make a good management of foreigner personnel in Modern Cancer Hospital Guangzhou for it's an international medical institution where many foreigner patients are undergoing treatment. Mr. Jiang presented the courseware about foreigner accommodation registration procedures and informed that public security bureau would check the foreigner registration situation at any time. To cope with the registration check, Mr. Jiang called the attention to assist policeman to do the registration work at the first time when patient was admitted in hospital.
Yu Quanhua, the security director of Modern Cancer Hospital Guangzhou said, "To us, the security work is such a heavy responsibility that needs every worker's effort. In order to ensure patient's safety, our hospital will organize regular safety precaution training for the medical staff, logistical workers and security guard to clarify their respective responsibilities, providing a powerful guarantee to construct a safe environment in the hospital."
If you have any questions, please contact us via online consultation, email or phone call. If you find our website useful, please follow our FaceBook and YouTube, health information will be updated regularly.
Online Inquiry
CLICK HERE!
Let's Have A Healthy Life!
Video
To show you
what is cancer by
videos
Chatting on Facebook

Become a fan of us!
+Follow
We are waiting for you.