Cambodian Media Groups and Doctor Representatives visited MCHG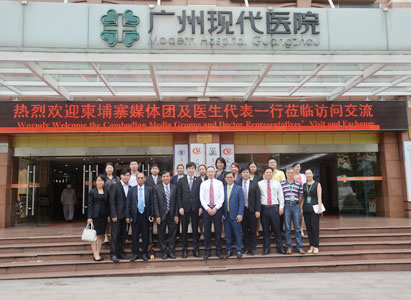 Photo of leaders of MCHG and the Cambodian Delegation
On June 14th, 2016, a Cambodian delegation composed of doctors and media representatives visited Modern Cancer Hospital Guangzhou, this transnational visit aims to help the delegation get a further understanding of our advanced minimally invasive therapy, strengthen the medical cooperation between China and Cambodia, and promote transnational medical development.
General manager Lin Shaohua, President Wang Huaizhong first gave a warm welcome to the delegation, general manager Lin then introduced the development, vision, treatment model, humanistic and achievements of MCHG. In 2014, Modern Cancer Hospital Guangzhou has been successfully accredited by Joint Commission International (JCI), which assesses and evaluates with strict standards in the world and stands for the highest level of medical service and hospital management; in 2015, MCHG has gained capital injection from Singapore Perennial Real Estate Holdings Limited; in 2016, MCHG has achieved cooperation with Mayo Clinic. Recently, in order to better safeguard patients' rights and interests, MCHG has attracted talents in different fields to build a impartial Ethics Commission. Meanwhile, on June 4th, MCHG successfully completed the first case of nanoknife for pancreatic cancer, which means the anticancer technology of MCHG has reach a higher level and will bring new hope for more cancer patients.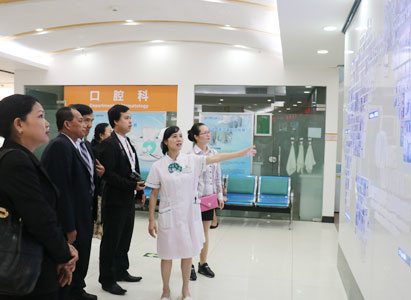 The delegation was visiting MCHG.
Later, Dr. Peng Xiaochi(the chief oncologist of MCHG) and Dr. Dai Wenyan (the Director of Breast Cancer Center) gave a lecture on the prevention and treatment of breast cancer as well as a detailed explanation of the 18 minimally invasive technologies. What's more, we also arranged a live minimally invasive therapy operation for the delegation. Doctors from Cambodia showed keen interest in it and asked a lot of questions. Dr. Zha Huangqi, an experienced oncologist of MCHG explained that interventional therapy is performed under the guidance of medical imaging equipments, then a special tube, catheter or other sophisticated apparatus is introduced to inhibit the growth and spread of cancer cells, so as to cut off the tumor's blood supply, while cryotherapy is generally known as an "extremely cold + extremely heat" cancer treatment, the Argon freezes the tumor lesions to 120℃~180℃ below zero, which leads them to coagulation necrosis; after that, the Helium rapidly heat up to 20℃~40℃ to unfreeze the hard ice and lead blasting. Both of interventional therapy and cryotherapy are of small trauma, few side effects and good efficacy.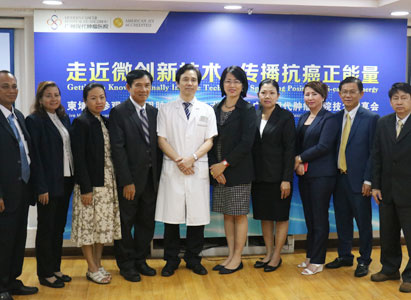 Photo of Dr. Peng Xiaochi and the delegation
In the afternoon, with the accompany of leaders of MCHG, the delegation visited the new wards, International Remote Consultation Center, and other departments of MCHG. Modern International Remote Consultation Center was founded in 2016, with the assistance of video consultation, patients abroad are allowed to get professional service provided by the multidisciplinary team (MDT)more easier. In order to get a further understanding of the service concept, the delegation interviewed a pancreatic cancer patient who comes from Malaysia. The delegation told us that they learned a lot during this visit. As a Joint Commission International (JCI) accredited hospital, MCHG treats patients professionally, cares patients carefully. The delegation also indicated that they wanted to have a further cooperation with MCHG to process the medical development of China and Cambodia.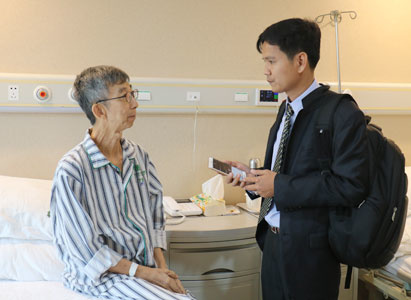 Malaysian pancreatic cancer patient was being interviewed.
If you have any questions, please contact us via online consultation, email or phone call. If you find our website useful, please follow our FaceBook and YouTube, health information will be updated regularly.
Online Inquiry
CLICK HERE!
Let's Have A Healthy Life!
Video
To show you
what is cancer by
videos
Chatting on Facebook

Become a fan of us!
+Follow
We are waiting for you.