Delegation from Filipino-Chinese Shin Lian Association Visited Modern Cancer Hospital Guangzhou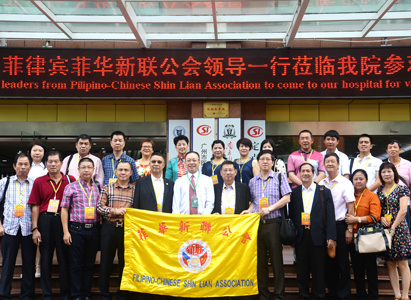 Joint photo
On June 30, 2016, a delegation from Filipino-Chinese Shin Lian Association from the Philippines visited Modern Cancer Hospital Guangzhou for exchange. Leaders from Modern Cancer Hospital Guangzhou warmly welcomed and received them.
The delegation arrived at the hospital in the morning to take health examination, which was arranged by the hospital. After that, Director He Liangqiong from the nursing department led the guests to visit the hospital, such as the modern international remote consultation center, VIP ward, etc. The delegation praised the environment for cleanness and comfort.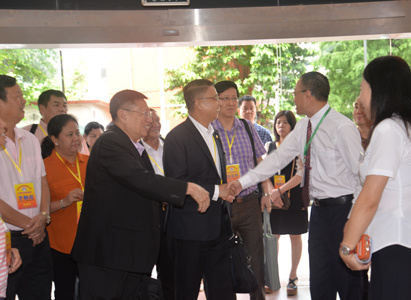 President Wang Huaizhong had handshake with the delegation
After that, an important meeting for greeting was held at the meeting room on the 9th floor. The president Wang Huaizhong presented a speech to express warm welcome and introduced the hospital and cancer technologies. Jointly invested by Singapore, Modern Cancer Hospital Guangzhou is characterized by minimally invasive technologies for cancer. The hospital hammers away at providing high-quality medical service for every patient.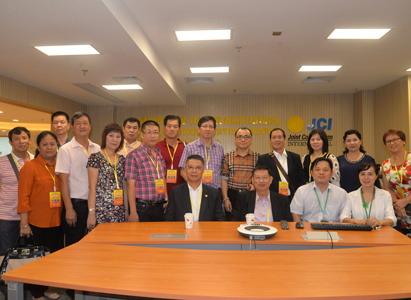 Joint photo in the Modern International Remote Consultation
And then, the head of Filipino-Chinese Shin Lian Association Delfin Letran said, "The medical technologies in Modern Cancer Hospital Guangzhou are high-end internationally. With modern anticancer technologies, and those medical staff who concern so much about the patients, I believe, cancer patients must get much improvement for the condition." Besides, he also made a poem for Modern Cancer Hospital Guangzhou----"In the morning I felt discomfort. And I arrived at Modern Cancer Hospital Guangzhou by car. Doctors here have good medical skill to make my discomfort disappear. " Everybody applauded wildly. After the speech, the hospital and the association gave gift to each other as a souvenir.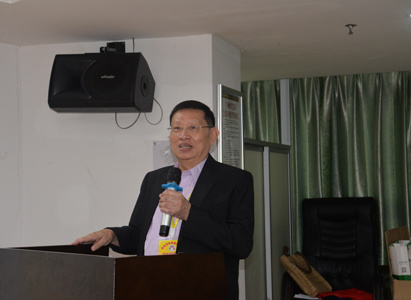 The head of Filipino-Chinese Shin Lian Association Delfin Letran
The hospital also arranged Prof. Liu Lvguang from oncology department to give a lesson about cancer prevention. Prof. Liu started from carcinogenic factors, and introduced cancer prevention measures and advanced minimally invasive technologies. All the guests listened carefully and learned a lot.
It's known that, Filipino-Chinese Shin Lian Association is committed to support the charity, social education, etc in the Philippines. It promotes the economic and cultural exchange between China and the Philippines, and boosts friendship and cooperation between the two countries.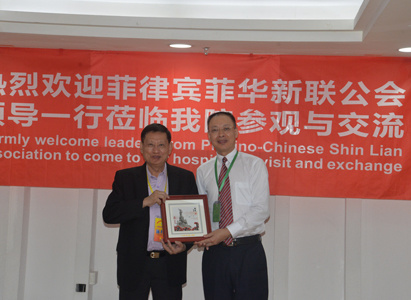 Gift exchange
This visit made Filipino-Chinese Shin Lian Association know about Modern Cancer Hospital Guangzhou and accelerated cooperation and exchange between each other, which would bring more anticancer energy and hope for the Filipino cancer patients.
If you have any questions, please contact us via online consultation, email or phone call. If you find our website useful, please follow our FaceBook and YouTube, health information will be updated regularly.
Online Inquiry
CLICK HERE!
Let's Have A Healthy Life!
Video
To show you
what is cancer by
videos
Chatting on Facebook

Become a fan of us!
+Follow
We are waiting for you.