Modern Cancer Hospital Guangzhou organized the 2016 Annual Infection Control Knowledge Training for Cleaning Staffs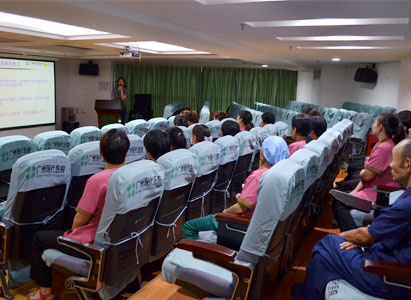 The scene of infection and control training for cleaning staffs
Modern Cancer Hospital Guangzhou strictly conducts infection control work based on JCI standard and trains cleaning staffs yearly. On June 21, Modern Cancer Hospital Guangzhou organized the 2016 annual infection control knowledge training for cleaning staffs. The train instructed by He Fengyu, director of infection control department, and participants included all the cleaning staffs.
This train focused on the daily work of cleaning staff and explained from the following five aspects: 1, the insufficiency of current cleaning work; 2, isolation knowledge of cleaning and disinfection; 3, hand hygiene knowledge; 4, occupational protection knowledge; 5, knowledge of medical waste.
At the beginning of the train, Director He Fengyu pointed out hospital environment was one significant factor forming the first impression of one hospital. When patient came to hospital, they would firstly see the whole environment of the hospital. "Hospital cleaning is an important work of security system and a major part of reflecting the whole level of a hospital. If hospital environment is dirty, disorder, there is no way to carry out infection control work. If decreasing infection rate is an entire pant, cleaning hygiene will be one of the roots", Director He Fengyu emphasized.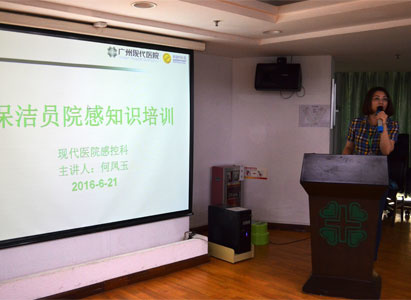 Director He Fengyu played a role as master Instructor
Director He required that cleaning staffs should know each responsible area and the usage of cleaning disinfection tools; tools should be marked and put in certain place; avoid mixed use of clean and disinfection tools.
Director He Fengyu listed some nonstandard phenomena in current cleaning work and relevant rectification requirements. She also made detailed illustration on four main programs including cleaning and disinfection of ground, concentration of a disinfectant, formulation method of disinfectant and clean hygiene.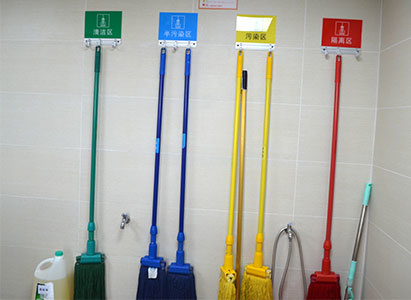 Cleaning tools placed by color classification
Besides, she also explained some common problems on dealing with sharp injury, medical waste management, etc.
At last, Director He Fengyu proposed the guidelines "protect patients, protect ourselves; change attitude, form good habits" and asked all the staffs to keep it on mind.
Infection control is a major part of hospital daily medical work. Modern Cancer Hospital has strictly conducted infection control work according to JCI standard. Infection control department trains cleaning staffs yearly to ensure every staff in hospital adapted to the high standard work, protecting patients' lives and improving medical care quality.
If you have any questions, please contact us via online consultation, email or phone call. If you find our website useful, please follow our FaceBook and YouTube, health information will be updated regularly.
Online Inquiry
CLICK HERE!
Let's Have A Healthy Life!
Video
To show you
what is cancer by
videos
Chatting on Facebook

Become a fan of us!
+Follow
We are waiting for you.