Director and Experts of National Cancer Center Singapore Visit Stamford Modern Cancer Hospital Guangzhou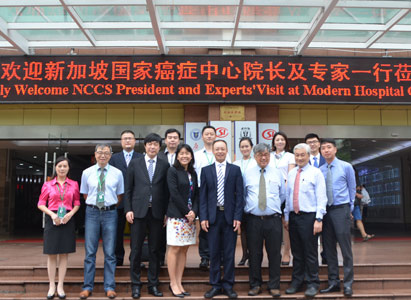 Group photo of leadership of St. MCHG and director of NCCS
July, 3rd, 2016, director of National Cancer Center Singapore, Dr. Soo Khee Chee, senior director of surgical oncology, Dr. Teo Ching Ching Melissa and Dr.Tan Ngian Chye and other accompanies arrive at St. Modern Cancer Hospital Guangzhou for inspection and experience exchange. They are warmly received by General manager Lin Shaohua, director Wang Huaizhong of St. MCHG and other division directors.
Accompanied by leadership of St. MCHG, director and experts of NCCS visit International Remote Consultation Center, VIP rooms and standard rooms of the new endemic area. Later on, communication forums is hold in multifunction meeting room of administrative building.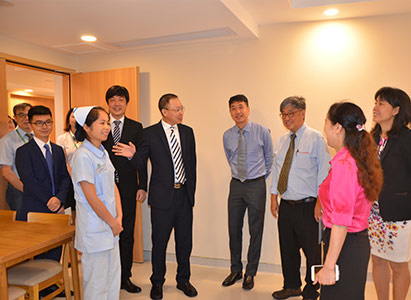 Visiting the VIP rooms
During the meeting, Wang Huaizhong, director of St. MCHG introduces the hospital development overview, including quality, medical products, talent team, research projects, number of patients and future development planning. Next, director of hospital Oncology Department Peng Xiaochi, department of Quality Control director Xiong Yumei, director of the International Remote Consultation Center Yang Gang and other responsible persons briefed minimally invasive treatment and their characteristics, quality and safety management system, operation of remote consultation center, etc. respectively. In-depth discussion and exchanges regarding currently facing challenges is also a part of the meeting.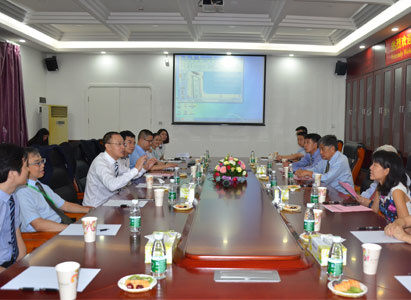 Communication forums
After an overall visiting St. MCHG, as well as listening work presentation, Dr. Soo Khee Chee puts forward proposals and also indicates as, "Being a proactive, clear development goal aimed hospital, supported by authority of the JCI certification requirements, strict quality control and safety system and abundant Perennial Real strength, St. Modern Cancer Hospital Guangzhou is bound to have a bright future."
Finally, St. Modern Cancer Hospital Guangzhou and National Cancer Center Singapore reach a future learning and exchanging cooperation, including inviting NCCS leading experts for patient consultation regularly, sending hospital administrators, and medical personnel to the NCCS for training, realizing medical technology resources complement. What's more, these initiatives will be detailed in the near future and applied into specific places.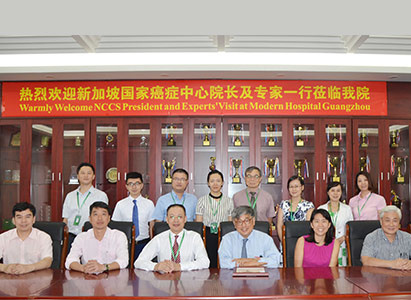 Group photo of leadership of St. MCHG, director and experts of NCCS
As an authoritative JCI certified hospital, St. Modern Cancer Hospital Guangzhou strictly devotes to self-improvement and self-transcendence in terms of safety and quality management, treatment technology, personnel training. Learning advanced management experience from National University of Singapore, facing communication with Mayo Clinic, and changes and cooperation with National Cancer Center Singapore, all of these activities always reflect the highest principle of St. MCHG --- "all patient-centered".
If you have any questions, please contact us via online consultation, email or phone call. If you find our website useful, please follow our FaceBook and YouTube, health information will be updated regularly.
Online Inquiry
CLICK HERE!
Let's Have A Healthy Life!
Video
To show you
what is cancer by
videos
Chatting on Facebook

Become a fan of us!
+Follow
We are waiting for you.