Malaysian Media Group visited St.Stamford MCHG
From August 9th to August 11th, there were 10 media representatives from Malaysia visiting St.Stamford Modern Cancer Hospital Guangzhou (St.Stamford MCHG), including the broadcasters and journalists from Malaysian government TV2 and TV7, MY Fm Radio, and the editors from Global Fortune online magazine and CARI website. It was known that they came for having a more comprehensive knowledge of new anticancer technologies, medical team, service and so forth in St.Stamford MCHG, so as to promote technical development for treating cancer and benefit more cancer patients in Malaysia.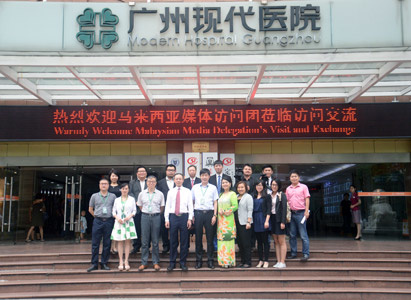 Hospital leaders took photo with the Malaysian media representatives
The meeting was held in multifunctional conference room on the second floor of administration building in hospital on August 9th. The Chairman Wang Huaizhong from St.Stamford MCHG delivered his welcome speech. During the meeting, the Chairman Wang Huaizhong highlighted the oversea development, operating section, products classification and technological advantage in St.Stamford MCHG to the media delegation.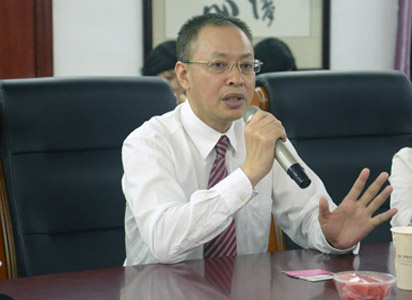 The Chairman Wang Huaizhong was delivering the welcome speech
The Chairman, Wang Huaizhong pointed out that the predecessor of St.Stamford MCHG was Modern Cancer Hospital Guangzhou. The hospital was in the early preparatory period before 2011. However, the hospital began to enter a rapid growth period as conditions like medical technology, facilities and service were getting ripe gradually. Especially since accredited by the American JCI (Joint Commission on Accreditation of Healthcare Organizations) in 2014, the hospital had accelerated development in the world, such as setting up the first China-Singapore joint venture JCI hospital with the Singapore Perennial Real Estate Holdings Limited, establishing partnership with the most prominent international institutes, such as the National University of Singapore, the National Cancer Center Singapore.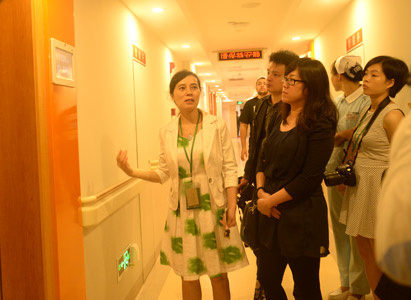 Malaysian media group was visiting the hospital environment
At last, Chairman Wang Huaizhong hoped that the media group should seize this visiting opportunity to deepen understanding of St.Stamford MCHG in all aspects, such as technological advantages and service characteristics ,and deliver more information and hope to the cancer patients those in need. And then, Director He Liangqiong showed the media representatives around the reception center of the international clinic,diagnosis and treatment department, VIP ward, nutritional diet room , and other service facilities. The media representatives admired greatly the considerate service and the warm and comfortable environment.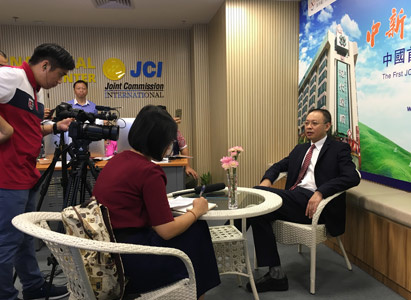 The Malaysian media group was interviewing Chairman Wang Huaizhong
From August 10th to August 11th, the Malaysian media group made exclusive interviews with Chairman Wang Huaizhong, Director Peng Xiaoci and Director Bai Haishan respectively, during which they had a more comprehensive realization of the developmental direction, medical service and cancer treatment technique in St.Stamford MCHG. In the end, the media group visited the inpatients to know their situation in St.Stamford MCHG.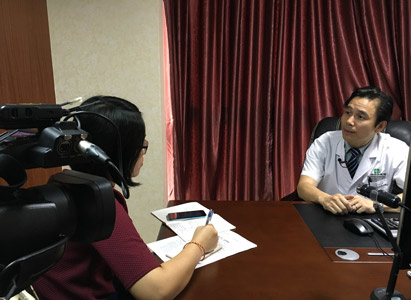 The Malaysian media group was interviewing Director Peng Xiaoci
With this visit, the Malaysian media group not only further familiarized with St.Stamford MCHG, but also had a more comprehensive understanding of the minimally invasive therapy. In addition, they were impressed by the expertise of Director Bai Haishan, a minimally invasive expert. They said,"TheDirector is so amazing. By his explanation, even the difficult specialized medical knowledge can be easily understood." Finally, they hoped that more and more Malaysians could know about the minimally invasive technique form their reports so that more Malaysian cancer patients could be benefited.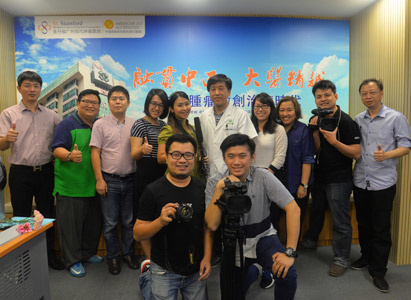 The Malaysian media group tookphoto with Director Bai Haishan
If you have any questions, please contact us via online consultation, email or phone call. If you find our website useful, please follow our FaceBook and YouTube, health information will be updated regularly.
Online Inquiry
CLICK HERE!
Let's Have A Healthy Life!
Video
To show you
what is cancer by
videos
Chatting on Facebook

Become a fan of us!
+Follow
We are waiting for you.