AWALBROSHos-pital of Indonesia, Doctors and Medias
  -Visited Modern Cancer Hospital Guangzhou of Boai Medical Group, China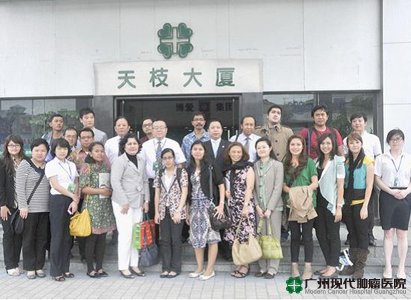 Chairman of Boai Medical Group, Lin Zhicheng(the fifth from left in the rear row), Dr. Fidia(next to the left of Chairman Lin)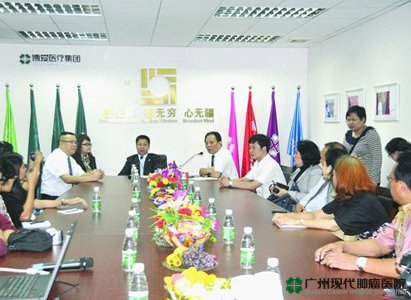 In the meeting room,Lin Zhicheng sits in the center and the one on his left is Wang Zezhou.The while the first one on his right is Manager Luo and the second one is Zhuang Zucai, and so on.
  It is reported that, AWALBROSHos-pital Indonesia, doctors and medias in a delegation of more than 20 people visited Modern Cancer Hospital Guangzhou and headquarter of Boai Medical Group China on Apr. 27 to 30. The Indonesian delegation was warmly welcomed by the leaders from Boai Medical Group China and Modern Cancer Hospital Guangzhou. Chairman Li Zhicheng, Deputy General Manager Wang Zezhou and Zhuang Zucai, Director of Hospital Wang Huaizhong, Director of Sales Department Lin Junxiong, etc. introduced the operation of group and Modern Cancer Hospital Guangzhou. Chairman Lin said, as one of the top 100 powerful medical groups, Boai Medical Group China is also the biggest medical group in China, it has over 30 medical institutions distributed all over China. With solid economic strength, advanced management philosophy and rich corporate culture deposit, Boai has dominated both in and out of China. Moreover, Boai Medical Investment Group is a large modernized group enterprise focuses on medical investment, hospital management and offering clinical medical services, it is one of the biggest medical investment groups in China which at the same time is listed on global top 100 medical giants. Boai possesses 113 large medical institutions like Shenzhen Far-East Women & Children Hospital, Shanghai Yodak Cardio-Thoracic Hospital, and Modern Cancer Hospital etc. and the first medical website in China, www.wesos.com. Overall staff and cadres of Boai Group is over 20, 000 people. Integrates with latest medical information, medical experience and humanization, gathers both international and domestic medical specialists, Boai also has brought in first class medical technology in the world to develop various special medical services. It holds academic seminars to communicate with World Health Organization(WHO), National Ministry of Public Health, famous hospitals and scientific research institutions, of which are dominant in and abroad. In addition, Boai is constantly working on the integration of its advantages and resources, actively expends in treatments for heart disease and severe cancer cases, medical technology studies and international medical cooperation with relevant hospitals, and up to date, those jobs have gained certain achievements. In past few years, Boai has successively set up branch offices in Indonesia, Vietnam, Malaysia, the Philippines, Dubai and other countries to develop overseas medical business, which has paved the way for Boai's global development.
  As a subsidiary of Boai Medical Group, Modern Cancer Hospital Guangzhou enjoys a high reputation internationally. Located in the intersection of Guangyuan Road and Lianquan Road in Tianhe District, Guangzhou and is adjacent to the beautiful Baiyun Mountain, Modern Cancer Hospital under the management of Health Bureau of Chinese government, is a modernized and comprehensive hospital specialized in cancer treatments.
  Based on the construction principles of high initial position, high standards and high taste, Modern Cancer Hospital Guangzhou invested greatly to strengthen the advantages and characteristics of environment, departments, facilities and services and tried its all to make itself a hospital of modernized management, humanized service, and digitalized information. Excellent cancer experts in China formed a team in Cancer Centre of hospital for consultation. Each cancer case would be discussed by those experts so as to make out a more comprehensive and effective treatment plan, in this case, it can break the individual thought limitation. The member of delegation includes the leaders of AWALBROSHos-pital Indonesia, Chen Huiyu, the Pheldis, Kompas TV, Trans TV, other medias from Indonesia, journalist of Chinese news and the leader of delegation Manager Luo Linyun and Interpreter Yi da.
If you have any questions, please contact us via online consultation, email or phone call. If you find our website useful, please follow our FaceBook and YouTube, health information will be updated regularly.
Online Inquiry
CLICK HERE!
Let's Have A Healthy Life!
Video
To show you
what is cancer by
videos
Chatting on Facebook

Become a fan of us!
+Follow
We are waiting for you.