Treatment stories of female cancer patients: minimally invasive therapies freed us from the sufferings caused by traditional therapies
According to the statistics of theWHO,the incidence rate of breast cancer in Malaysia in 2020was 39.7 cases per100,000 persons, and the mortality ratewas7.2 cases per100,000persons. For cervical cancer, the incidence ratewas 11.3 cases per100,000 persons, mortality ratewas 3.5 cases per100,000 persons. And forovarian cancer, incidence rate was 6.5 cases per100,000 persons, and mortality ratewas 4.8 cases per100,000 persons.
In Malaysia, hospitals usually adopt a series of traditional medical technologies for tumor treatment such as surgery, electrotherapy and chemotherapy, etc. Don't female cancer patients have other treatment options? No! Various kinds of minimally invasive treatment technologies such as interventional therapy, cryotherapy, particle plantation and nanoknife, etc can provide more options for female cancer patients in middle and advanced stage who are reluctant to or unable to take surgery, radiotherapy and chemotherapy. Can the minimally invasive comprehensive treatment really extend the survival period of cancer patients and improve their life quality? Let's hear the stories of below several female patients with middle or advanced cancer who have already received the minimally invasive comprehensive therapies before.
Adopting minimally invasive therapies,stage IV cancer is not terrbile anymore!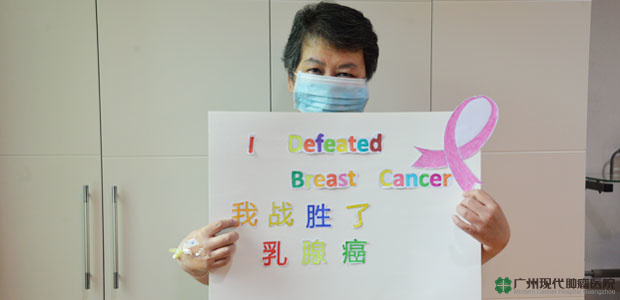 Tan Kim Huan
Miss Chen was a breast cancer stage IV patient from Malaysia, and she was diagnosed with breast cancer stage IV with metastases to lungs and left armpit lymph node. After that, she didn't adopt local doctor's suggestion to take surgery, radiotherapy or electrotherapy. "There were so many people died of these extremely miserable therapies", she said.
Randomly, Miss Chen got to know the St.Stamford Modern Cancer Hospital Guangzhou through the report on China Press where Professor Peng Xiaochi introduced minimally invasive treatment without mastectomy. All these made her more determined to go to Guangzhou for treatment.
After a comprehensive treatment of interventional therapy and cryotherapy, the size of her tumor shrunk to 1cm*1cm, comparing with 4cm*4cm before. While the attending doctor told them that the tumor shrunk a lot and the condition would get better after another two sessions of interventional therapy, her son said excitedly, Mom, how lucky we have chosen this hospital!">> For more information about cancer treatment, click to consult
Face with cancer, living a positive life——My 7th year of peaceful co-existence with breast cancer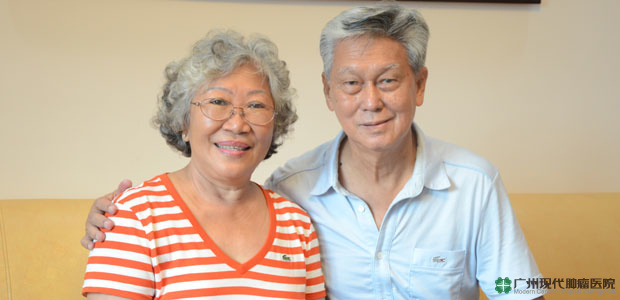 Indahwati Jutiami
"I'm Indahwati Iwan and I come from Surabaya, Indonesia. On November 4th, 2011, I was at the Canton Fair and I suffered diarrhea and took examination. Out of my expectation, I was detected a lump measuring 1.5cm in my right breast, which indicated right breast cancer and finally I was diagnosed as infiltrative right breast duct carcinoma stage 2."
"On hearing the bad news I was upset but after thorough consideration, I adopted the treatment plan combing breast resection and interventional therapy the Multidisciplinary Team (MDT) tailored for my condition."
"It turned out that doctors' suggestion was right. I finished my treatment in 3 months. Thanks to the effective treatment in St. Stamford Modern Cancer Hospital Guangzhou, before my discharge, the results on my discharge summary read "No abnormal hyper-metabolism lesions detected in tumor sites and other areas" which meant my cancer was effectively controlled. I was told to come back every three months and later once a year when my condition become stable. "
"After my discharge, my husband and I went to Inner Mongolia and Sinkiang, we travelled around all the places I want to visit. To my relief, no one ever discovered that I was once a cancer patient.">> For more information about cancer treatment, click to consult
Minimally invasive therapies help a nursing mother successfully fight against breast cancer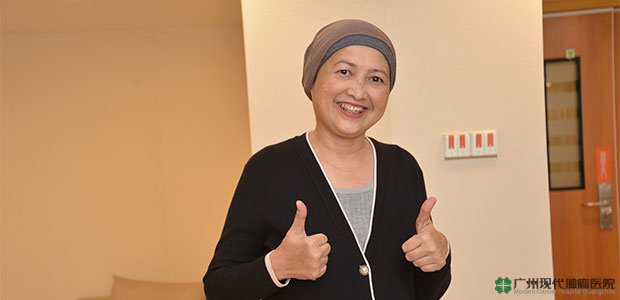 Saidah
SAIDAH comes from Indonesia. She is a breast cancer patient and also mother of a newborn baby. Shewas diagnosed as stage IIIB breast cancer.On hearing the bad news while breastfeeding, she was on the verge of despair. But for her families and her baby, sheregained confidence to fight with cancer, In Indonesia, she took resection but the pain wasn't relieved at all and even get worse...
When SAIDAH was torturing by the cancer and could not think about any issues, herhusband learned about St. Stamford Modern Cancer Hospital Guangzhou on Google and knew about minimally invasive therapies for cancer treatment.
SAIDAH was admitted to St. Stamford Modern Cancer Hospital Guangzhou and the tumor was measured 12cm which affected her life and sleep quality badly.Based on her condition, the Multidisciplinary Team measured a treatment plan combining interventional therapy with cryotherapy. After the second course, her tumor shrunk from previous 12cm to 7cm.
In retrospect, SAIDAH said, "right after the first admission, I was given cryotherapy and 10 days later I went back to Indonesia. In the following two weeks, the tumor was necrotic with pain greatly relieved and my condition backed to normal.">> For more information about cancer treatment, click to consult.
Because of minimally invasive therapies, I no longer fear breast cancer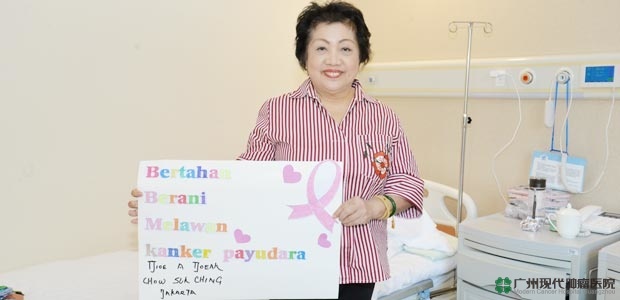 TJIOE A TJOEAK
I'm TJIOE A TJOEAK from Indonesia.In2015, I accidently detected a painless lump on my left breast, measuring about 2 cm, and it grew bigger very quickly in 2 weeks.I went to take an ultrasound at a local hospital and results revealed of breast cancer. Treatment regimens such as chemotherapy and radiation therapy were proposed which I refused neither surgery. With my family's support, we seek for alternative cancer treatments.
"Go to China for a treatment" is a common advice given by my friends and families. At first, we can't make our choice among several famous cancer hospitals in Chinauntil my husband knew about Jakarta office of St. Stamford MCHG through the magazine. We made thorough consultation and communication in the office and decided to seek for medical help in China.
When I first stepped in the hospital, i was in a bad mood and can't sleep well because of the body pain and also the fear, anxiety and incomprehension for minimally invasive therapies. After the medical staff gave me a professional and patient introduction for all treatment steps and a warm comfort, my anxiety and uncomfortable feelings gradually disappeared.
After received a comprehensive therapy plan combing left breast resection with interventional therapy, my metal and physical status got better and better and body pain disappeared gradually. The attending doctor told me that my condition was very stable and the tumor was successfully controlled. I could leave the hospital very soon.">> For more information about cancer treatment, click to consult
Fear the chemotherapy and choose minimally invasive therapy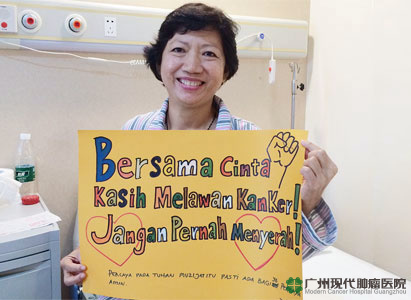 SURIANI TJUA
SURIANI TJUA from Indonesia was suddenly diagnosed with stage 2 cervical cancer. At the beginning, she was so scared that she could not say anything, felt break down and always trapped in sorrow uncontrollably. Encouraged by her relatives and friends, she gradually regained her confidence. She took 12 sessions of chemotherapy and 28 sessions of radiotherapy, her tumor was finally controlled despite that she was greatly tortured by the side effects brought by chemotherapy, such as diarrhea, vomiting, poor appetite, hair losing, etc. But not for long, she has enlarged lymph node and was suspected to have metastasis to the lymph node, liver and lung. SURIANI TJUA was so afraid of chemotherapy that she refused to take continuing treatment and started to look for better cervical cancer treatment.
InJakarta office,SURIANI TJUA learned thatModern Cancer Hospital Guangzhouis equipped with advanced minimally invasive therapies which are of few side effects and quick recovery, compared with traditional chemotherapy and radiotherapy. Being tortured by the side effects of traditional therapies like her, she finallysaw new hope of life.
So far, SURIANI TJUA has took comprehensive treatment of interventional therapy and cryotherapy here. The metastatic cancer cells were almost destroyed and her condition became stable.When it came to the differences between Modern Cancer Hospital Guangzhou and hospitals in Indonesia, SURIANI TJUA said:"Taking cancer treatment in Modern Cancer Hospital Guangzhou, I have more confidence because I was treated by a multidisciplinary team. I also have many options, except for traditional chemotherapy, there are minimally invasive therapies, which are of less suffering.">> For more information about cancer treatment, click to consult.
Comprehensive minimally invasive therapy, the favored choice for advanced cervical cancer patients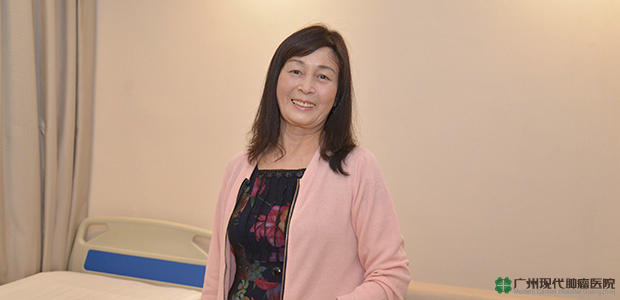 NGUYỄN THỊTUYỀN
Nguyen Thi Tuyen from Vietnam was diagnosed with stage II cervical cancer for increasingly enhanced irregular vaginal bleeding. Soon she underwent 25 sessions of radiation and 5 chemotherapy, even though she suffered severe side effects of hair loss, tiredness, poor appetite and weight loss, the tumor still had metastasis and two big tumors measuring 1.5cm.
With her neighbor introduced his experience of cancer treatment in St. Stamford Modern Cancer Hospital Guangzhou, Nguyen Thi Tuyen sought a treatment in China with her families accompanied.
It's the sixth session of her treatment in the hospital.Get rid of the panic and worries of the beginning,Nguyen Thi Tuyen always looked energetic and rises hope for life again. The effect of minimally invasive therapy enhanced her confidence to defeat cancer.
"I was always following doctor's instruction and come back for follow-up and succeeding treatment. During the last check-up, Dr. Lin Jing said my tumor has disappeared, which made me so happy. "Nguyen Thi Tuyen shared her anticancer experience with other cancer patients. She emphasized that the most factors in defeating cancer are the belief in overcoming it and cooperation with doctor's treatment plan.>> For more information about cancer treatment, click to consult
Surgery is not the only option for ovarian cancer treatment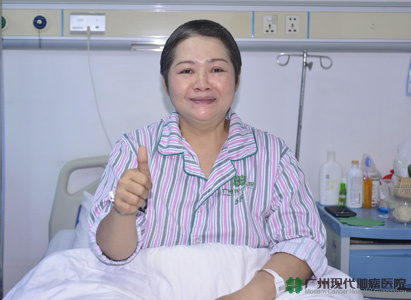 LANDRIANY
LANDRIANY fromIndonesiawas diagnosed with ovarian cancer in 2014. She took surgery and chemotherapy which made her lose hair completely. The doctor in Indonesia asserted her condition was too serious to perform surgery. But she consoled herself with faith of Christianity, and held that "Although reality cannot be changed, everything will be better as long as I accept cancer and take treatment positively".
By taking a comprehensive treatment combing interventional therapy and microwave ablation in St.Stamford Cancer Hospital Guangzhou, her tumor shrunk to 6cm and status turned stable."During my first interventional therapy in the operating room, because it is topical anesthesia, I stayed awake and I did not feel any pain. It just needed half an hour. After the therapy, my tumor began to shrink. I have got improvement a lot and my hair has begun to grow gradually." LANDRIANY said.>> For more information about cancer treatment, click to consult
If you have any questions, please contact us via online consultation, email or phone call. If you find our website useful, please follow our FaceBook and YouTube, health information will be updated regularly.
Online Inquiry
CLICK HERE!
Let's Have A Healthy Life!
Video
To show you
what is cancer by
videos
Chatting on Facebook

Become a fan of us!
+Follow
We are waiting for you.