Four Days Bringing the New Dawn of Life
  Since a long time ago, I have been worrying about my body, because my whole families have been in fight with cancer. My father had lung cancer, my sister was found having colon cancer cells and my brother has been unfortunately suffering from tongue cancer. My father and sister had left us; however, my brother has been struggling with cancer for five years. Now I still can see his friendly face and hear his familiar voice, but I have been thinking that my body that has always been not so good might also be entangled with a certain cancer.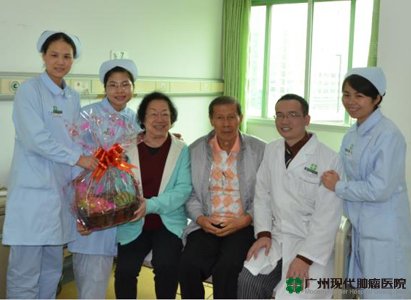 Group photo of Indra Kasih Tisnodjo, her husband and doctors & nurses
  Detection of breast cancer in 2010
  2010 was a year of my saddest, because my sister left us forever. One month later after my sister's death, I accidentally touched a lump in my right breast. A sense of foreboding hovered over me, I highly doubted that I myself might have breast cancer. I didn't dare to tell my husband in afraid of his worries on me, but also I didn't want to go to Indonesian local hospital for check. My brother has been receiving tongue cancer treatment in Modern Cancer Hospital Guangzhou, China and has survived for five years, and every year he would go to this hospital for subsequent visits. So I decided to go to China for Check in August together with my husband and brother.
  My worry was correct. The examination results showed that I have the right breast invasive ductal carcinoma, although I have been prepared, the news still blowed and upset us a lot. So we dealt with formalities in hospital. In the evening, I was lying on a hospital bed but my heart was very sad. Looking back on my life, it seemed that I have been spending a lifetime in fighting against diseases. Not only did I have breast cancer and hyperthyroid heart disease, but also gallstones, thyroid enlargement. Due to thyroid enlargement, my neck was very thick, even made my eyes outward and couldn't normally wear glasses. This disease has troubled me a lot and I have been treated in Indonesia for more than thirty years in many hospitals, during that period, I had done surgery, but did not get good curative effect. So cranky that night, I did not know when I fell asleep. Since I have a small lump in the breast, the quality of sleep and diet has been sharply declining and even has caused weight loss of 5-6 kg; I had no spirit and became scrawny when came to the hospital.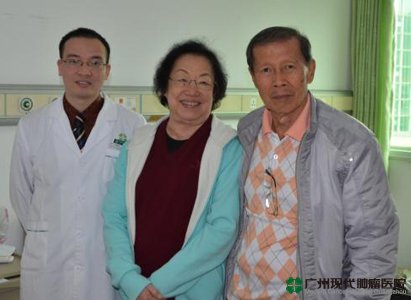 Group photo of Indra Kasih Tisnodjo, her husband and Dr. Tang
  Radioactive particle implantation makes tumor smaller
  The next day, my attending doctor explained to me about treatment program. Surgery was supposed to be the best choice for early breast cancer, but considering my age of 72 and the situation of many other heart diseases associated, I would face very large risk if I receive surgery, therefore, experts have designed a comprehensive treatment program involving radioactive particle implantation and natural therapy. I was very much in favor of this treatment program, because I really did not want surgery! On September 8, 2010, I was wheeled into the operating room: after local anesthesia, I maintained a sober awareness but daren't look around. I did not know when did the doctor transplanted the 10 particles into my body, instead, I just heard some busy sounds. An hour later, I was wheelchaired out of the operating room, my body did not feel any pain and discomfort. The next day I could walk like a normal person. The doctor told that four days later, well-cultivated immune cells would be reinfused into my body. However I did not feel any discomfort, so I asked the doctor whether I can discharge from this hospital and pay a visit to the ancestral home in Xiamen, Fujian, after 4 days later I would come back after treatment. The doctor agreed to my proposal.
  Four days later, I scheduled back to Modern Cancer Hospital Guangzhou to continue the treatment. The doctors wanted to confirm the effect of radioactive particle implantation, so he conducted detection to the tumor and said with surprise: "it is impossible to imagine!". I thought my condition had worsened, so I was very frightened. But I did not expect the doctor later explain to me: "The tumor has shrunk!" Only with one time radioactive particle implantation, the tumor shrunk! Tears of joy gushed out and I became speechless, just tightly holding my husband's hands.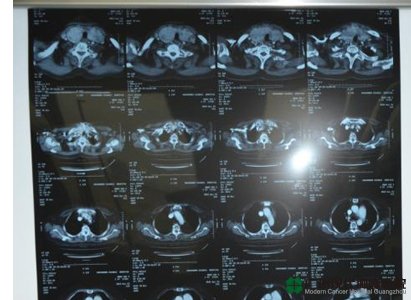 Breast CT scan film of Indra Kasih Tisnodjo
  30 years of hyperthyroidism is cured
  After reinfusion of immune cells and reinforcement of my treatment, the doctor has performed one time interventional embolization which has cured thyromegaly that had lasted for 30 years. Nowadays, my eyes slowly return to normal, not like that outward as before. By the end of September, I was discharged from this hospital and went home.
  The quality of life is improved significantly
  How time flies, things happened two years ago were just like happened yesterday, clearly printed on my mind. Now, I have come to Modern Cancer Hospital Guangzhou for the six times for review and biological immune consolidation treatment: each inspection shows good results and there is no evidence of recurrence of tumor. Over the past two years, my physical condition has improved obviously with appetite and sleep becoming normal, and even I have gained 10 kilograms weight gain. My husband and I love to travel very much, and we would always visit some European countries every year, while we also have left our footprints in many cities of China such as Beijing, Shanghai, Hangzhou, etc. Judging from my spiritual state, people can't believe I am a cancer patient.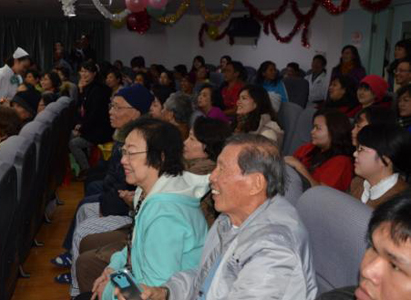 Indra Kasih Tisnodjo and her husband watched the Christmas party show in Modern Cancer Hospital Guangzhou
  Six times of hospitalization experience made me feel particularly warm. As Christmas just past, I participated in the Christmas party organized by the hospital, and all I felt here was a warm family of nations. Doctors and nurses took care of me and my husband so carefully and meticulously, we really thank for what they have done for us. Other patients and I would become stronger to fight with cancer.
  I hope that all cancer patients do not lose hope for their own lives, and now the technology is more and more developed, so there are more and more treatment methods, such as radioactive particle implantation, cryotherapy, interventional therapy, natural therapy, photodynamic therapy, etc. that can help us relieve suffering and prolong life, what is the most important is that we have to have optimistic spiritual states.
If you have any questions, please contact us via online consultation, email or phone call. If you find our website useful, please follow our FaceBook and YouTube, health information will be updated regularly.
Online Inquiry
CLICK HERE!
Let's Have A Healthy Life!
Video
To show you
what is cancer by
videos
Chatting on Facebook

Become a fan of us!
+Follow
We are waiting for you.