I wanna Survive
  Looking at the ceiling, I don't know how many sleepless nights I have through! Before April 2011, my life has been very calm as family is so blissful and growth of children leaves me no worry. This is just the beginning of my later life, but one day this calm was completely broken!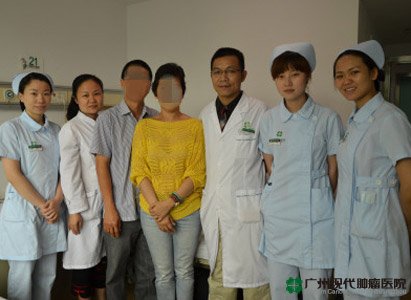 Calm is broken
  One day, I suddenly found that my right breast has a stiff bump, and gently press caused no pain. However, after knowing this, my family suggested me to go to a hospital for detailed check. The next day I came to a hospital for B ultrasound and biopsy, and the results showed there was a goose egg size mass inside my right breast, and it was diagnosed as breast cancer by Indonesian doctor. After knowing this, my brain got caught up in blank: What should I do? Am I going to die? How about my family, my children? I am only 47 years old, I want to live... These voices have been continuously circling in my head.
  Indonesian doctor suggested me to do surgical resection to remove the tumor, but I refused. I can't imagine the scene that operation knife gashes my body, but I fear more that whether breast cancer will get worse after surgery, and speed up my death. Indonesia doctors arranged me to take Chinese traditional medicine with foot massage treatment for breast cancer. During this period, my family and I were caught up in the infinite darkness. After period of Continuous treatment time, recheck has found that the lump has narrowed so that I thought that my life will face new hope and I can conquer breast cancer. However, I accidentally injured right breast and caused its swelling in May, then continuously-taken Chinese traditional medicine and foot massage therapy made no change to breast. My family searched everywhere for the chances for living, while I just wanted to quit treatment at that time. The pain from treatment and indefiniteness of carrying on living or not, all these scared and desperate me a lot. But all these came to an end at the time of May, 2012, when a new came.
  I want to live
  In July 2011, my family has inquired a hospital rich in cancer treatment experience -Modern Cancer Hospital Guangzhou. Looking at the expectation inside the eyes of families, I promised to go to Guangzhou to receive treatment in a trail mood, and I wanted to live.
  After taking off plane, I saw the car of Modern Cancer Hospital Guangzhou is waiting for me, and then I was accommodated into the ward. To my surprise, I was not arranged a series of examination and treatments immediately. Nurses and translators just came in to my room and chatted with me for introducing hospital environment and patients of surrounding wards, and to inquiry if there is any uncomforting? After that doctors asked me to talk about my condition and formal treatments, and then they told me to have a good rest. The doctor's professional and nurses kindliness eased and relaxed me a lot. I thought I would not get used to it and fear it greatly, but that day, I did really feel calm and peace
  The next day, nurses arranged me to take examinations, and experts of Modern Cancer Hospital Guangzhou confirmed that it was an infiltrating ductal carcinoma Ⅱ level as per the results of examinations. After consultation and discussion, they worked out the treatment plan designed for me. This made me firstly to know that treatment plan can be customized. Cancer experts of Modern Cancer Hospital Guangzhou have successively performed 6 times of interventional therapy and 3 times of Ar-He cryotherapy, as well as radiotherapy. I felt that my body condition is gradually improving.
  I can live
  I no longer get fever or feel bone pain without cause; mental health and appetite are improving, especially I finally can sleep a whole night without interrupt. Cancer experts Modern Cancer Hospital Guangzhou tell me that my illness is under control, after further treatment, the effect will be better. At this moment I feel I can live. Then I often chat with nurses, and other cancer patients as well for exchanging anti-cancer experience. Mutual encourages make us keeping positive attitude and strong belief to struggle with cancer. I feel that life has been gradually returned to my embraces. My family and I have formed a more firmed faith on treatment, I could live, I could live better and healthier!
If you have any questions, please contact us via online consultation, email or phone call. If you find our website useful, please follow our FaceBook and YouTube, health information will be updated regularly.
Online Inquiry
CLICK HERE!
Let's Have A Healthy Life!
Video
To show you
what is cancer by
videos
Chatting on Facebook

Become a fan of us!
+Follow
We are waiting for you.