Medical staffs, I love you !
  In March 2012, Mr. Antonio who comes from Manila, Philippines, began to find there is blood in his stool, but he did not pay much attention to that because the amount of the blood is very small and there is not any other serious symptoms occurred. He even considered that he is only happening to constipation, however, his health condition is getting worse and worse day by day. In June, he went to a local hospital for type B ultrasound examination and CT scans, and the results of which showed that he is suffering from colon cancer!
  Even if the 48-year-old men was unwillingness to accept the cruel fact, but he still have to face it and fight against it in a optimistic attitude. He consulted the staffs from Manila Office of Modern Cancer Hospital Guangzhou and decided to come to China for treatments. On May 29th, Mr. Antonio was admitted to Modern Cancer Hospital Guangzhou. After a detailed re-examination in the hospital, he was confirmed as a sigmoid colon cancer patient with liver metastasis. To aim at the condition of Mr. Antonio, experts of the hospital developed the treatment plan after a joint consultation, which is a combination of cryotherapy, interventional therapy and natural therapy.
  During four months' hospitalization in Modern Cancer Hospital Guangzhou, Mr. Antonio and his families have deeply felt the adorable and professional cares from every staff of the hospital. The doctors' technical skills made his body getting better and better, the translators' careful patience made him able to communicate with the doctors without obstacles, and the nurses' heartfelt cares made them feel warm in a foreign country. Everything that the medical staffs have done is so comfortable that Mr. Antonio's families think that they should express their gratitude with a thank-you note.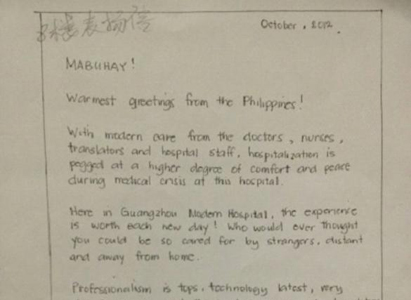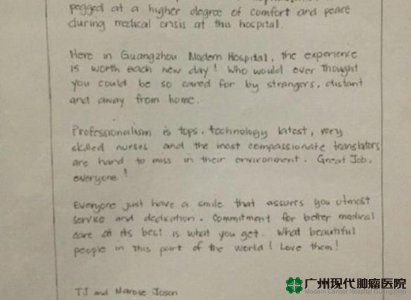 "What I want to say is, under the cares of the doctors, nurses, translators and other workers of Modern Cancer Hospital Guangzhou, Mr. Antonio is in a very comfortable and professional treatment period. Watching his body condition getting better day by day, we felt that it is worthwhile to come oversea from Philippines to China for treatments!
  We haven't expect that we can receive such a heartfelt care in a foreign country. We think that "the first-class professional services, the most advanced treatment technology, rich experienced and knowledgeable doctors and nurses, compassionate and caring translators", all these are the true portrayal of Modern Cancer Hospital Guangzhou. All employees from Modern Cancer Hospital Guangzhou, you are awesome!
  You are always smiling to every patient with the best services. You realized your promise -- to provide patients with the best medical services! You work tirelessly to take care of patients everyday. You are so lovely! I love you!"
   TJ and Marose Joso
   Manila, Philippine
   Oct, 2012
If you have any questions, please contact us via online consultation, email or phone call. If you find our website useful, please follow our FaceBook and YouTube, health information will be updated regularly.
Online Inquiry
CLICK HERE!
Let's Have A Healthy Life!
Video
To show you
what is cancer by
videos
Chatting on Facebook

Become a fan of us!
+Follow
We are waiting for you.