Non-surgery Treatment Helped Return My Life back to Normal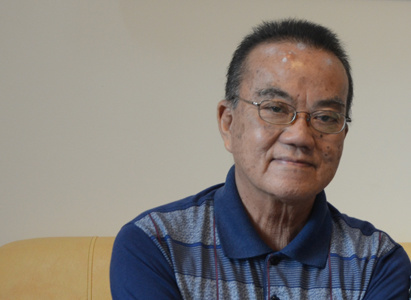 HATTA is an Indonesian patient, who was occurred to bloody stool suddenly during the Spring Festival of 2007. Neither ate anything wrong nor felt any pain in the abdomen, while the bloody stool came for no apparent reasons. So he decided to take a body inspection in the neighboring country. The result of CT scan showed that ulceration in large area in the rectum and the lymph lode was swelling. After further biopsy, he was diagnosed with moderately differentiated rectal cancer. The doctor suggested him undergoing surgery to remove the tumor and then have artificial anus. HATTA flatly refused the suggestion and he believed that that was not the best therapeutic method.
  The frequency of daily stool reached to 7-8 times and the blood amount had never reduced.
  By accident, HATTA knew the minimally invasive targeted technology in Modern Cancer Hospital Guangzhou, which could meet his need to get the same therapeutic effect as the surgery does. This technology raised his hope. In May, 2007, he was admitted in Modern Cancer Hospital Guangzhou.
  Considering that HATTA did not want to take surgery, MDT (Multidisplinary Team) made a therapeutic plan of "interventional therapy + biologically natural therapy" to him.
  Since 13th May 2007, he had received interventional therapy. In the process of treatment, the bone marrow suppression and reaction of digestive system were not improved apparently at first. However, after three sessions of treatments, his tumor was removed and the stool was reduced gradually. Doctor also gave him natural therapy and Chinese medicine to improve the immunity. HATTA's mental condition was getting well. After six sessions of interventional therapy doctors conducted the local radiotherapy for him to strengthen the efficacy. This integrated approach can not only improve the efficacy of treatments, but also eliminate bloody stool, his most worried issue. In March 2008, HATTA came back for the first returned check and the result showed that the tumor did not recurrent. HATTA was thrilled and went to that hospital, where the doctor suggested him taking surgery. He showed the medical report to the doctor and the doctor was surprised that there was no cancer cell in the CT scan report.
  Until now, it has been 8 years. HATTA is still having a normal life. His rectal cancer has not recurrent and he insists coming back to Modern Cancer Hospital Guangzhou for return check every year.
  HATTA said, "Modern Cancer Hospital Guangzhou is the best hospital for tumor treatment. The dream of regaining health and living comes true here." He also told us that he was attracted by the technology at first but what impressed him was the responsible and patient doctors, the meticulous and passionate medical workers. "They are the most amiable and nice doctors I have seen." HATTA said. Conjuring up the old days, he has mixed feeling. When he first came to Modern Cancer Hospital Guangzhou, he was confused and answered a lot of questions to the doctors. Sometimes, I asked the same question many times but Dr. Hu still patiently answered my questions with amiable smile. "Every time I feel annoyed and impatient, doctors and nurses patiently chat with me. This really makes me feel better. Cancer patients need more comfort and encouragement mentally. I think Modern Cancer Hospital Guangzhou does it well at this point." HATTA said.
If you have any questions, please contact us via online consultation, email or phone call. If you find our website useful, please follow our FaceBook and YouTube, health information will be updated regularly.
Online Inquiry
CLICK HERE!
Let's Have A Healthy Life!
Video
To show you
what is cancer by
videos
Chatting on Facebook

Become a fan of us!
+Follow
We are waiting for you.