Sincere Care Set Up His Confidence to Treatmen
  Mr. Zheng is a kidney cancer victim from Cambodia. He still remembers it was July, 2007, when difficulty in urination and waist pain first occurred on him. As these symptoms developed, he cannot sleep or eat that he lost weight greatly. The whole family worried for him so much and they went to Thailand for examination. But the result astonished them greatly: kidney cancer. When everyone was still in sadness, Mr. Zheng took the surgery suggested by doctor after discussion with family. His physical condition improved after surgery and went back to Cambodia. Even the coming follow-ups were indicating a good physical condition of Mr. Zheng. However, the family took a big knock when they wanted to ease their worry.
  The cancer comes back
  When Mr. Zheng was thinking that he had recovered from kidney cancer completely after 4 years of peaceful life, a tumor in size of 7*6cm was found in waist on Oct. 2011 in an examination. Doctor commented that was the recurrence of his kidney cancer. Mr. Zheng was shocked by this news. However, he did not give up but sought for other treatment positively with his family. Every disappointment
  Love takes away fear
  Mr. Zheng came to Modern Cancer Hospital Guangzhou on Aug. 2012. With the help of nurses he admitted quickly. The nurses patiently asked Mr. Zheng's condition and informed him that his primary doctor would come later for small examinations. This little thing comforted Mr. Zheng. Not long later, there came his primary doctor and interpreter in the ward to explain the examination reports and Mr. Zheng's physical condition. Besides they also encourage patient to fight cancer positively.
  The specialist team of Modern Cancer Hospital Guangzhou planned a combined treatment for Mr. Zheng according to his exact condition. Doctors also talked to him the details about treatment and effect. After his first treatment cryotherapy, the nurses watched over his condition carefully and regulated his diets. The primary doctor came to his room to check Mr. Zheng's physical condition each day. All those concern and care move Mr. Zhen and his family deeply.
  Express my thanks in letter
  The sleep and living quality improved after treatment. Mr. Zheng thinks that this is the contribution of doctors, nurses, interpreters and other medical staff. He wants to say thanks to them for the skilled and advanced treatment, the sincere care and concern from nurses, interpreters and other medical people. All they had done helped him set up the confidence to treatment. His thanks finally turned to be a letter of thanks and greeting.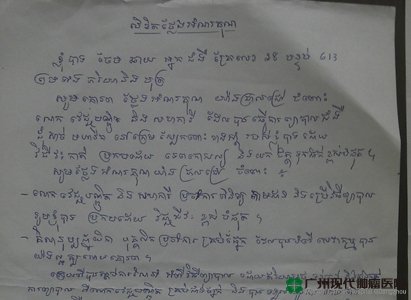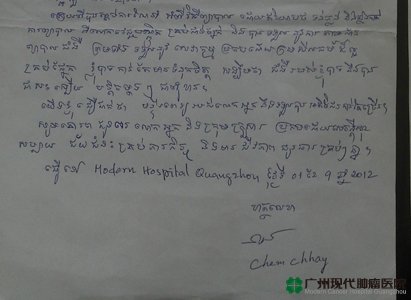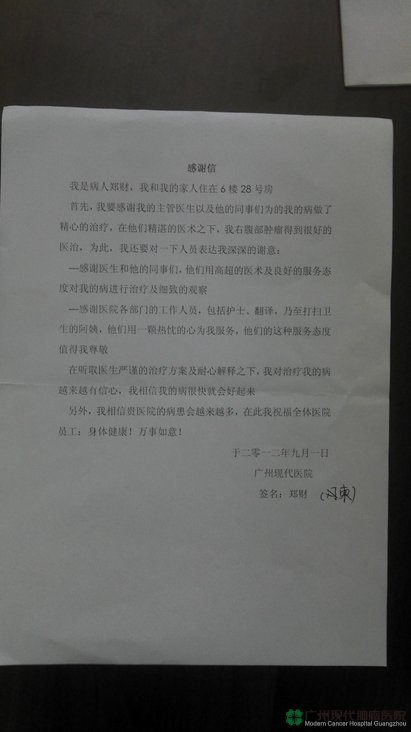 If you have any questions, please contact us via online consultation, email or phone call. If you find our website useful, please follow our FaceBook and YouTube, health information will be updated regularly.
Online Inquiry
CLICK HERE!
Let's Have A Healthy Life!
Video
To show you
what is cancer by
videos
Chatting on Facebook

Become a fan of us!
+Follow
We are waiting for you.